Michael Brown Protests Spread to Times Square
Several protesters have been arrested by the New York Police Department.
This article is from the archive of our partner
.
This evening, Americans across the country have protested the shooting and death of Michael Brown. New York City's protest began in Union Square, where a vigil was held for Brown. About a thousand protesters then marched to Times Square, just over 30 blocks north of Union Square. The peaceful protesters chanted "Hands Up, Don't Shoot," echoing the rallying cry of those in Ferguson, Missouri. 
When the protesters arrived in Times Square, the demonstration turned into a sit in, as the group stopped in front of the local precinct and refused to leave the area.
Police present on the scene were not dressed in riot gear and The Wire's Dashiell Bennett found that officers were standing in an organized line, posing for photographs. Tear gas was not used.
However, protesters still experienced issues with the police, even if it was not to the degree of Ferguson's protests yesterday evening:
Adam Staudacher, a protester who marched from Union Square to Times Square, spoke with The Wire about his experience with NYPD. Staudacher noted the protest and march were both peaceful. The march organizers prepared protesters for NYPD's presence, announcing, "We're about to be in Times Square. When we get there, there are going to be a lot more police" when the march reached 32nd Street.
When the protesters arrived in Times Square, they found the police had created a barrier and would not allow them enter the sidewalk surrounding the square. As it became clear the police were not planning to move their line, the protesters linked arms and tried to gently push forward step by step. Staudacher "saw one cop right in front of me put his hand on his gun right after pushing the woman next to me back." 
As the police firmly pushed against the mass of protesters, Staudacher spoke with a police officer near him, and recounted their conversation this way: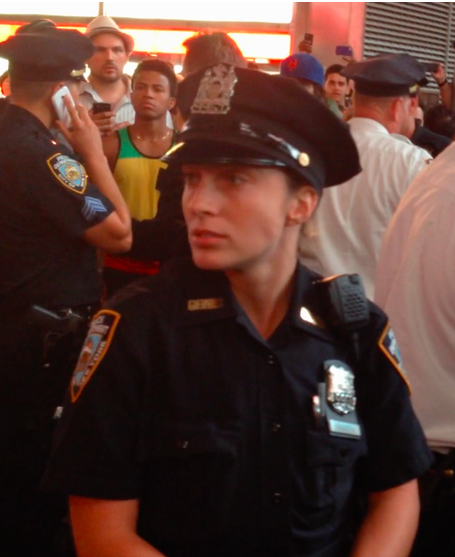 "On what grounds are you guys stopping us from advancing right now? What have your bosses told you?" 
She replied, "You guys are blocking traffic, we can't have you in the street."
"Yeah but you aren't allowing us to have access to the sidewalk either. Don't you think that infringes on our first amendment rights?," Staudacher asked.
"What first amendment rights?," she retorted.
"We have the right to peaceably assemble and demonstrate on the sidewalk if we want to," he explained.  
"Yeah, well the first amendment doesn't really apply here right now," said the officer, pictured right. 
At least four were arrested during the protest. Thus far, one has been identified as Jason J. Woody by a friend with whom he was protesting. The Wire has reached out to NYPD in regards to the other arrests and will update if more information becomes available.
Officers had boxes of zip ties on hand, makeshift handcuffs for mass arrests, and social media reports indicate at least several protesters were ziptied.
This Vine user also posted an image of himself in a squad car on Twitter with two other passengers:
The men in this group later said on Twitter that they entered a bank to avoid the crowd, but were instead arrested for "trespassing." They have since been released.
After 11 p.m., things seemed to be calming down in Times Square, as NYPD organized an exit strategy: letting small groups leave the area at a time. Officers told The Wire that marchers may head back down to Union Square, as they anticipate the protest may continue there, but the gathering largely dissipated after that.
Last year, a similar large protest was held in Times Square over the verdict in the Trayvon Martin case. They held a similar sit in which thousands attended.
This article is from the archive of our partner The Wire.