Hugh Calkins
An example of applying energy, abilities, and leverage to the public good. We can't have enough of these examples.
I learned recently that Hugh Calkins, a lawyer and educational-reform leader, had died early this month at age 90. He was very well known in Cleveland, where he raised his family and spent most of his career, but I think his achievement and character deserve wider notice.
Calkins's early years were as complete a sweep of meritocratic successes as you can imagine. He was born in Newton, Mass., and went to Exeter and then Harvard. He studied engineering, was president (editor) of the Harvard Crimson, graduated early, and enlisted in the Air Force. When he was out of the service, he went to Harvard Law School, where (like Barack Obama many years later) he was president of the Harvard Law Review. Then he was a law clerk, first for Learned Hand on the Second Circuit Court of Appeals and later for Felix Frankfurter on the Supreme Court. Not yet married, he decided to move to and start his career in Cleveland, on the hunch that he would find it more satisfying to be fully engaged in the life of a "large representative city" like this.
A tribute from Calkins's law firm, Jones Day, gives an idea of his day-job accomplishments as a long-time partner and head of the firm's tax practice. A site set up by his family lists more of his range of achievements, notably including his 61 years of marriage to Ann Clark Calkins and raising their four children.
I met Hugh Calkins, and came to admire him, in strange circumstances. In the late 1960s, when Calkins was in his mid-40s and I was in my teens, he rose to sudden prominence at his alma mater, Harvard. I had just become president of the Harvard Crimson when he was chosen as the newest–and youngest, and first Midwestern, and by a million miles most "progressive"–member of the Harvard "Corporation." The Corporation, formally known as the President and Fellows of Harvard College, is the ultimate governing authority for the world's brand-name university. (I see that Harvard's official site now embraces the body's name, saying that "The oldest corporation in the Western Hemisphere is the Harvard Corporation.") Now it is larger, but then it had only five members, so one forceful new person could make a big difference.
The university at the time, like many others institutions and like much of the country, was all but blowing up. Poor Harvard president Nathan Pusey, a distinguished leader with the sensibility of a bygone age, had absolutely no idea how to deal with student and faculty protest over the war in Vietnam and other sources of turmoil. Hugh Calkins—who had opposed the Vietnam war and earned a place on Nixon's enemies list, who was serving on the Cleveland school board, and who had been involved in a long effort to improve finances and standards in Cleveland's over-crowded schools—represented something entirely new. Yale already had the smooth president Kingman Brewster; soon Harvard would have the smooth new president Derek Bok. But for a while in 1969 and 1970, the closest thing this institution had to a smooth conciliator was Hugh Calkins of Cleveland.
The Crimson ran a profile at the time, "Who Is This Man Hugh Calkins?" I think I wrote it, and I know I did the reporting and interviewing of Calkins, but it's all a sixties-era blur. What I remember is the difference he made. It is embarrassing to quote oneself as a teenager, but for the record:
In the first week of the strike, Calkins talked about dissent and ROTC and all the other issues for two straight nights on television. He ate breakfast with students in the Houses and told them about ROTC. When he saw posters in the Yard giving some students' version of what he said, Calkins trotted over to the Crimson to type out a reply and explain why the poster version was a distortion.

With a somewhat disturbing energy and bounce, Calkins has spoken in House dining halls and appeared with SDS members on panel discussions. A few other Corporation members have tried the same thing on a smaller scale. But now, at the beginning of May, there are probably no more than five or six undergraduates who could give an accurate description of what any of the other Fellows looks like.

Who is this man Hugh Calkins, and why is he now so present on our campus?
That era passed, for the university, for the country, for Calkins himself. By 1984, when he was 60, he had become the senior figure on the Corporation and reached the end of his term. Through much of the rest of his career, his passion—apart from his family—was public education. He taught math in inner-city Cleveland middle schools. This former president of the Harvard Law Review went back to John Carroll University to get a teaching credential after retiring from Jones Day, and continued his teaching work. Eventually he founded a charter school and ran an organization called Initiatives in Urban Education. In the words of his son Andy, from an email letting me know about his father's death, "He cared deeply about injustice, poverty, the rule of law, and the right of every child to a high quality education."
I mention this because Hugh Calkins was a person of enormous talent and opportunity, who kept deciding to apply his energy, his abilities, and his leverage to the public good. It is an example worth noting. Sympathies, and admiration, to all of his family—including one of his daughters, who by chance* is now the principal of the public elementary school our children attended (before her time) in Washington D.C.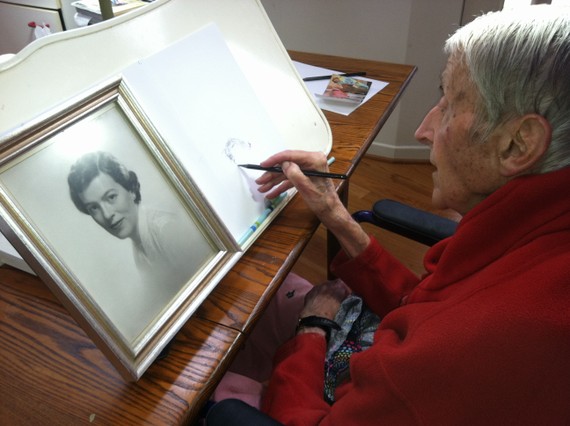 ---
There will be a ceremony celebrating Hugh Calkins's life and achievement in Cleveland on September 13. My wife and I hope to be there.
---
* Although we did not realize this connection until long afterward, by chance we sort-of owe our marriage and thus the existence of our children to the indirect influence of the Calkins family. My wife Deb and her sister Sue grew up in a very small town on Lake Erie. Ann Clark Calkins was interviewing candidates for Radcliffe/Harvard from northern Ohio and ended up steering them there, which is the only way my wife and I would ever have met.