Everything Your Facebook Friends Forgot to Mention About the Ice Bucket Challenge
Dumping a bucket of ice water on top your head has become the summer hottest—er, coolest—trend.
This article is from the archive of our partner
.
Dumping a bucket of ice water on top your head has become the summer's hottest—er, coolest—trend.
The Kennedys have done it. Matt Lauer has done it. Justin Timberlake, Martha Stewart, Ansel Elgort, Adam Levine, Paul Bissonette, Greg Norman, Chris Christie—entertainers, athletes (Sports Illustrated has a helpful list, if you're so inclined), politicians, you name it, they've done it.
Oh, and you've probably done it.
But the Ice Bucket Challenge wasn't the invention of a social media strategist, it was the idea of a former Division 1 baseball player who was diagnosed with ALS in 2012.
The campaign took hold in the Boston area in the beginning of August, when friends and family of former Boston College baseball player Peter Frates doused themselves to raise awareness of the disease. The 29-year-old, who was diagnosed in 2012, is now paralyzed, eats through a feeding tube, and cannot talk.
Frates first wrote of his condition for Bleacher Report, as part of the 75th anniversary of Lou Gehrig's "Luckiest Man" speech. He had been a star athlete, captaining Boston College's Division I baseball team. And as he continued to play both abroad and stateside, his skills started to falter, and his control of his arms and his play became frustrating.
In his essay, he described the moment he figured out his condition:
I was staring in disbelief at an ALS website, with a list of symptoms as if someone had been following me around and watching my every move. The patient they were describing was me.

It took many more months of tests and uncertainty, but my worst suspicions were finally confirmed.

I was mentally prepared for the fight of my life, but the hardest part of it all was telling my now-wife, family and friends that I no longer knew what the future held for me. The truth was I was now staring a disease in the face that had no cure and no effective treatment.

Prescribed little more than various over-the-counter vitamins, I was entering a gun fight armed with the equivalent of a plastic spork.
The Ice Bucket Challenge is meant to raise money for the national ALS Association, which raises awareness and promote research for ALS (amyotrophic lateral sclerosis), also known as Lou Gehrig's disease, which affects nerve cells in the brain and spine. As the cells die, the victim loses motor functions, leading to paralysis. Frates nominated himself for the challenge, posting a video on his Facebook page.
Here's how the Ice Bucket Challenge works, if you haven't seen it already (in which case, how?): You film yourself dumping a bucket of ice water onto your head, and at the end, nominate a friend to do the same. In the process, you make a fool out of yourself, look all winsome and altruistic on social media, and, hey, donate to a worthy cause, especially if you don't do the dousing within 24 hours.
And the months-old media-powered challenge that spread like wildfire in recent weeks as nominations reached public figures is jawdropping to see: So far, the cycle of bucket-dumping has raised $2.3 million for the ALS association since July 29, an amount that dwarfs the paltry $25,000 raised during the same time period last year. As of this week, more than 71,000 donors have done the challenge, meaning at least 71,000 buckets of ice and water sloshed over people's heads.
It's painful, of course, but it's meant to be.
"This is a little bit of discomfort for a second, but it's a lifetime of challenges for people with ALS," Boston City Councilor Tito Jackson told the Associated Press after receiving a bucket on his head.
Bleacher Report published Frate's essay July 2. Around that time, Frates had been inspired by his friend Steve Gleason, a former New Orleans Saints football star whose own battle with ALS launched the hashtag #NoWhiteFlags.
Gleason's connection helped Frates spread the word, reaching even NFL Commissioner Roger Goodell. By August 6, the ALS Association took notice of the donations pouring in. The association posted a release asking, "Have You Heard about the 'Ice Bucket Challenge?'"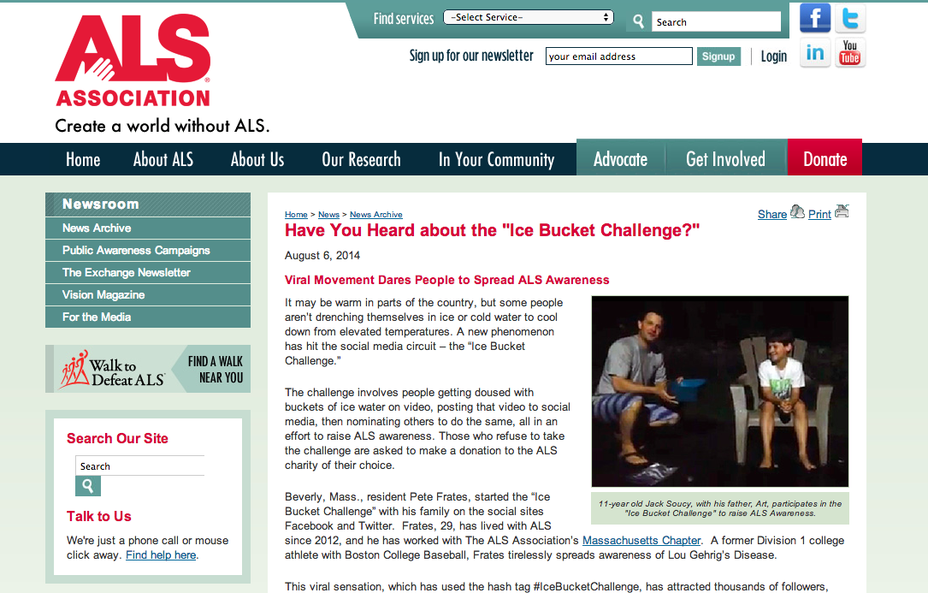 Gleason happily took the challenge himself and thanked Frates, but also added that "in the U.S., an ALS patient dies every 90 minutes."
"We could have 6 billion people dump ice over their head and it wouldn't change the brutal and silent death over 100,000 [people] worldwide will experience in the next 12 months," he said. "So in addition to dumping ice on your head: step up; donate; get involved; care for a patient. That's it."
Social media did the rest, using the #IceBucketChallenge hashtag. In particular, the hosts of the Today Show caught onto the trending topic early, dumping buckets of ice on hosts over a series of days. Each participant doled out more and more challenges until the act reached even Ethel Kennedy, who happily dumped ice on her head and challenged President Obama to do the same. He declined, but made a donation.
Yet, it's important to remember such campaigns are more than just, well, campaigns. When hashtag activism takes hold, they usually do little to effect real change (think #Kony2012, for instance), and TIME's Jacob Davidson warns of getting carried away with simply dumping ice water over people's heads while ignoring the debilitating disease, even if it's raising millions for the ALS Association.
"In an age where hashtag activism and information-free awareness campaigns are becoming more and more common, we should be very conscious of how to make viral trends as useful as possible," he writes. "The Ice Bucket Challenge has done a lot of good. Let's make sure the next one is even better."
The ALS Association's donation page can be found here.
This article is from the archive of our partner The Wire.