Alaska's Hottest Mariachi Band
An Anchorage-based musical group shows the northerly state's surprising racial diversity.
A costumed singer warbles his love for a girl named Micaela, who stole his heart. The strain of violins and brassy trumpets linger in the hot, gardenia-scented air.
It's the archetypical mariachi-band scene, one that might be found anywhere in Mexico. But in this particular band, Mariachi Agave Azul, only about half of the players are Mexican or Mexican-American—an unusual statistic in the mariachi scene. And the band is far from the U.S. border—they live in Alaska, which has unexpectedly become one of the most diverse states in America and the setting for a demographic transition: the growth of the Hispanic population in America.
Mariachi Agave Azul was created by two church friends three years ago. Both Mexican-American, they wanted to play mariachi music to fill a cultural void and express their own identities. The band's name mixes Mexico and Alaska together: Agave is the famous Mexican nectar from which tequila is distilled, and azul—Spanish for "blue"—is a tribute to Alaska's blue skies and ocean.
"At first, I just wanted to set up a band to practice and see how [we'd] do, and I never expected it to come this far," said guitarron player German Badillo, 23. "Before, it was just like, 'Hey, want to jam out?' And from then on we just started liking it."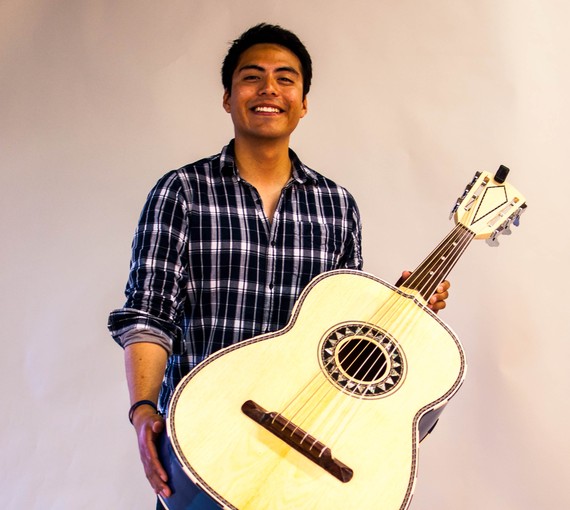 The thirteen musicians make up the first and—as far as they know—only mariachi group in Alaska. Judging by the number of gigs they score and the size of the crowds the band draws, the band's reputation is growing. The group's target audience is getting bigger, too: Alaska's Latino and Hispanic populations jumped by more than 51 percent between 2000 and 2010, according to Census data. Twenty percent of Alaskan Hispanics are Mexican. For years, Alaska has been thought of as little more than a snowy, racially homogenous outpost, but the state is transforming into a surprisingly cosmopolitan and diverse place.
"My intention was always to bring back Mexican culture to our Mexican youth, because I felt that our Mexican-Americans are forgetting how to speak Spanish or are ashamed of it," said Badillo, who grew up listening to mariachi music with his brother, another member of the group. "I'm proud of where I'm from, born and raised here in Anchorage. I'm really proud of calling myself an Alaskan. But I'm also very proud to be Mexican."
Violinist Mariana Herrera-Arteaga, Badillo's co-founder, moved to Alaska two decades ago but still visits Mexico frequently. Like Badillo, she sees the band's music as a way to carve out an identity for Mexicans and Mexican-Americans in Alaska.
"The way that my mom raised me was always, 'Show them the good side, the beautiful side of Mexico,'" recalled Herrera-Arteaga. "A lot of people here, even Mexicans, Latinos, white people … they're always like, 'Mexico's a dangerous place, a dangerous country,' and they don't know how culturally rich it is."
Herrera-Arteaga's family's move, like many others, was prompted by economic necessity. Twenty years ago, Mexico was deep in a financial crisis, prompting Herrera-Arteaga's father to find work as a cook in Anchorage. The family ended up staying, lured by the ease of finding work and Alaska's great natural beauty.
While the state has always been diverse, its heterogeneity has increased significantly in the past decade. The economic draw provided by seasonal fishing work and oil industries have contributed to the spike. The most recent recession may have tamped down social mobility and smothered hopes of finding a better life for many immigrants in the contiguous United States, but Alaska's economy remained strong throughout the 2000s by comparison. Another big employer is the military, which has a sizable presence: Alaska has nine military bases throughout the state. These job opportunities mean the state has gone from having an overwhelmingly white population to having the most diverse counties and neighborhoods in the nation. And as in the rest of the country, studies indicate that Latino populations are driving this dramatic change.
The state's newly settled minority groups are also getting married, having children, and settling in for the long term. Many of those marriages are interracial or interethnic, and often, family members move to Alaska to be near children or siblings. Several Anchorage neighborhoods are outpacing the rest of the United States in terms of minority growth and integration.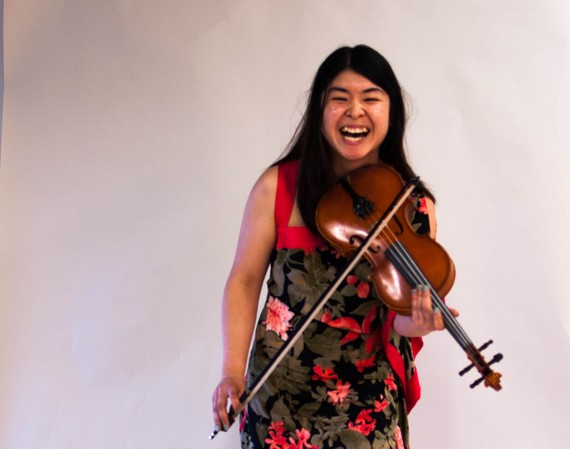 Another member of Mariachi Agave Azul, 23-year-old Leila Spelman, is of Japanese, German, and Indonesian descent. She was trained as a classical violinist, but for the past three years she has been performing with the mariachi band. Spelman said who she is seems less important to their audience than what she does—her diverse background is not just a novelty.
"Everybody's really impressed with the fact that there are more than just Latino people within the mariachi," Spelman said. "They love that there's people who aren't obviously of a Hispanic background."
Spelman said that while audience members have commented on the diverse backgrounds of Agave Azul's musicians, no one has ever complained about it. In fact, fans embrace it, along with Alaska's colorful new history.
"Because of the way I look [and] the way I sound, I don't present myself as somebody who, kind of saying it roughly, 'came off the boat,'" said Spelman. "[The audience will] just assume, 'Oh, she grew up here,' which is nice. Being in America, people don't really care about that anymore."