Reparations for Ferguson
Total police control over black bodies has echoes in American history.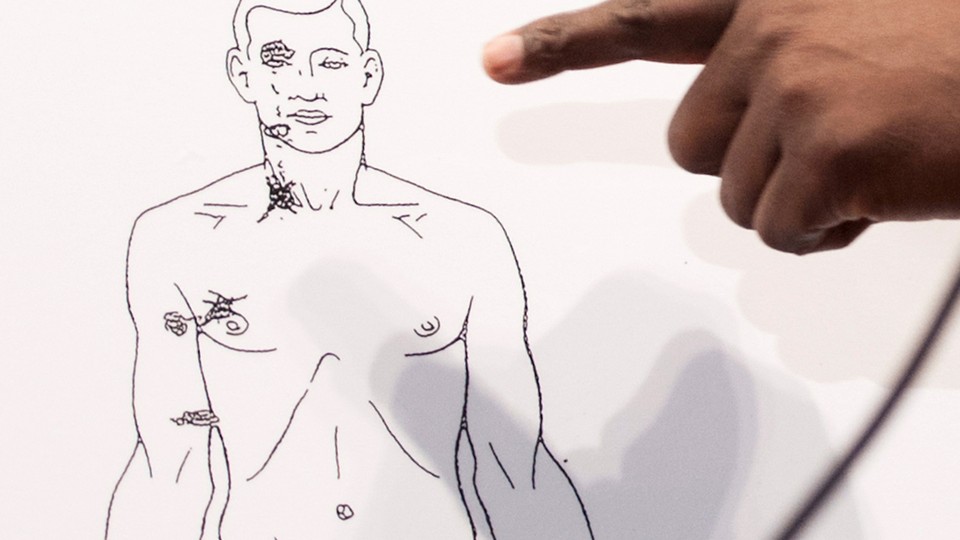 A few weeks ago I received an anxious text from my wife informing me that a group of young men were fighting outside of our apartment building. We've spent most of our adult lives in New York, and most of that time in New York living in Harlem. I love Harlem for the same reason I love all the hoods I have lived in. I walk outside in my same uniform, which is to say my same jeans, my same fitted, my same hoodie, and feel myself washing away, disappearing into the boulevard, into the black and (presently) the brown, and becoming human.
There have been young people fighting outside my window for as long as I can remember. I was no older than five sitting on the steps of my parents' home on Woodbrook Avenue watching the older boys knock shoulders in the street—"bucking" as we called it then—daring each other to fire off. From that point on I knew that among my people fisticuffs had their own ritual and script. The script was in effect that evening: show cause (some niggas jumped me in the park), mouth off (I ain't no punk), escalate (wait right her son, I'm bout to get my shit).
My wife wanted to know what she should do. She was not worried about her own safety—boys like this are primarily a threat to each other. What my wife wanted was someone who could save them young men from themselves, some power which would disperse the boys in a fashion that would not escalate things. No such power exists. I told my wife to stay inside and do nothing. I did not tell her to call the police. If you have watched the events of this past week, you may have some idea why.
Among the many relevant facts for any African-American negotiating their relationship with the police the following stands out: The police departments of America are endowed by the state with dominion over your body. This summer in Ferguson and Staten Island we have seen that dominion employed to the maximum ends—destruction of the body. This is neither new nor extraordinary. It does not matter if the destruction of your body was an overreaction. It does not matter if the destruction of your body resulted from a misunderstanding. It does not matter if the destruction of your body springs from foolish policy. Sell cigarettes without proper authority and your body can be destroyed. Resent the people trying to entrap your body and it can be be destroyed. Protect the home of your mother and your body can be destroyed. Visit the home of your young daughter and your body will be destroyed. The destroyers of your body will rarely be held accountable. Mostly they will receive pensions.
It will not do to point out the rarity of the destruction of your body by the people whom you pay to protect it. As Gene Demby has noted, destruction is merely the superlative form of a dominion whose prerogatives include friskings, detainings, beatings, and humiliations. All of this is common to black people. All of this is old for black people. No one is held accountable. The body of Michael Brown was left in the middle of the street for four hours. It can not be expected that anyone will be held accountable.
We are being told that Michael Brown attacked an armed man and tried to take his gun. The people who are telling us this hail from that universe where choke-holds are warm-fuzzies, where boys discard their skittles yelling, "You're gonna die tonight," and possess the power to summon and banish shotguns from the ether. These are the necessary myths of our country, and without them we are subject to the awful specter of history, and that is just too much for us to bear.
James Poulos is trying admirably to get at this, noting that we fear Lincoln's awesome prophecy. But even Poulos can't quite escape:
We know that America is exceptional in one key respect—we came to democracy without much bloodshed. Around the world, from Hungary and Russia to Iraq and Nigeria, we see the dream of peaceful democratization dragged again and again to what the philosopher Hegel called the slaughter-bench of history. Racial strife and murderous governments, not liberty and democracy, are the rule in history, the established pattern. We know that, mercifully, democratization scourged us only once in ferociously modern style: during the Civil War.
The last sentence here nullifies the first. Some 600,000 Americans—2.5 percent of the American population—died in the Civil War. What came before this was a long bloody war—enslavement—against black families, black communities and black bodies. What came after was a terrorist regime which ruled an entire swath of this country by fire and rope. That regime was not overthrown until an era well within the living memory of many Americans. Taken all together, the body count that led us to our present tenuous democratic moment does not elevate us above the community of nations, but installs us uncomfortably within its ranks. And that is terrifying because it shows us to be neither providential nor exceptional, and only special in the subjective sense that our families are special—because they are ours.
My family lives in Harlem. My wife did not call the police. An older head told the angry boys that they needed to take it somewhere else, which they did. Black people are not above calling the police—but often we do so fully understanding that we are introducing an element that is unaccountable to us. We introduce the police into our communities, the way you might introduce a predator into the food chain. This is not the singular, special fault of the police. The police are but the tip of the sword wielded by American society itself. Something bigger than Stand Your Ground, the drug war, mass incarceration or any other policy is haunting us. And as long we cower from it, the events of this week are as certain as math. The question is not "if," but "when."