Wealthy, Educated Women: Sort of Bored With White Weddings
The changing values of brides-to-be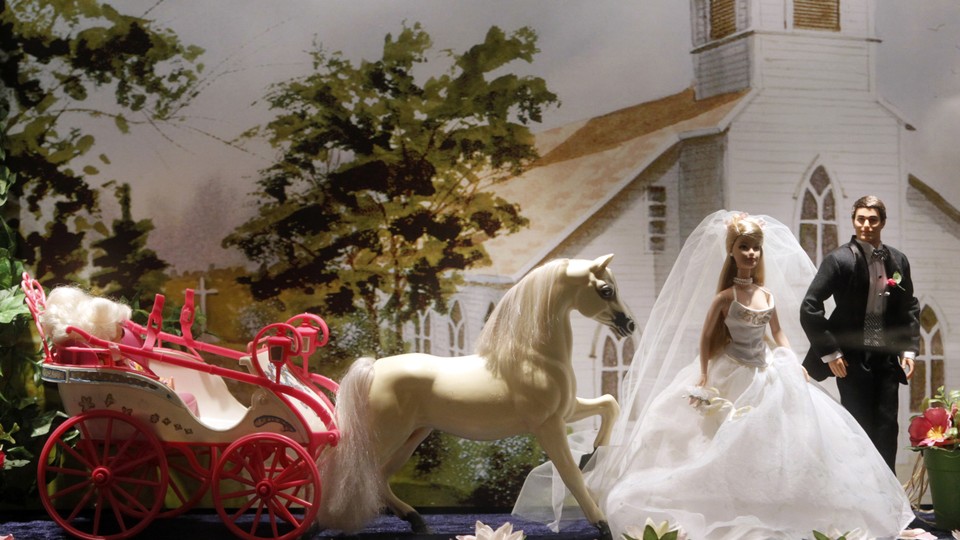 Ah, June: 'Tis the season to be married. Weddings are like the Rorschach inkblot test of American aesthetics—rather poofy and full of hairspray, sometimes buttoned-up and serious, often a little over the top. Girls are taught to fantasize about their perfect day from a very young age (see: Wedding Barbie, pictured above in her finest tulle). But when you're actually facing down an army of caterers and florists and bakers and bands that only play ABBA's greatest hits—that's when your values really show.
And, as it turns out, wealthy, educated, city-dwelling women are feeling lukewarm about traditional white weddings.
In a survey conducted by WeddingWire, an online wedding-planning site that gets 3.1 million unique visitors every month, nearly 40 percent of respondents described their ceremonies as "non-traditional" or "very non-traditional." Another 40 percent described their weddings as "average" in terms of level of tradition. Only a fifth of those surveyed said their weddings were "traditional" or "very traditional."
This isn't the death knell for David's Bridal. The survey included 475 of the site's users, who represent a very specific group of Americans. Some grooms-to-be may visit the site, but the users are overwhelmingly female. These women tend to be college-educated, slightly older than the average bride, and wealthy—their average household income is $75,000. They tend to live in cities, although they're not just coastal—"we get a lot of brides from Texas," explained Brooke Bellows, a senior data researcher at the company. They also do more than seven hours of online planning every week on average, which suggests they have a good amount of free time (and patience). 
But in many ways, wealthy, educated, urban people are the best predictors of wedding trends. They're getting married more often than lower-income Americans, and they're more likely to marry one another. Although overall marriage rates are declining, the wedding-industrial complex has nothing to fear: People with money are still spending multiple hours each week buying stuff for their "big day."
And their choices say a lot about trends in American culture. When the respondents were asked to pick three things that describe what a "traditional" wedding actually means, 60 percent said "church ceremony," 43 percent said "white dress," and 36 percent said "religious traditions." A few other qualities, such as standard vows, the father of the bride walking his daughter down the aisle, the bride not seeing the groom before the ceremony, were also popular choices. The women who described their weddings as "average" or "non-traditional" might have incorporated some of these customs—based on the way the survey was asked, it's hard to know what exactly their weddings actually looked like.
All the same, it's interesting that the women most likely to be brides in America seem only mildly enthusiastic about the aspects of weddings that make them wedding-ish: taking traditional vows of commitment; angling for a Godly endorsement; and following historic customs because, let's face it, newlyweds have no idea what they're doing. These are the non-superficial parts of getting married, the parts that aren't about acquiring vintage champagne flutes or throwing an awesome party. They're about publicly, meaningfully, and contractually bonding yourself to someone else—and if that's in decline, that's a pretty big deal.
Brides in America are only mildly enthusiastic about the parts of weddings that make them wedding-ish.
But it probably isn't. One possible conclusion is that couples are finding their own ways to make their ceremonies meaningful, rather than relying on old customs and traditions. This is in keeping with overall patterns in religiosity in the United States: According to Pew, roughly 30 percent of Millennials identified as religiously unaffiliated in 2012—the highest level in at least 25 years. Although unaffiliated Millennials don't identify with a particular church or faith, two-thirds reported believing in God, and a majority described themselves as either religious or spiritual. Ditching traditional "I do's" seems to fit with this trend. Even people who don't care about traditional church participation probably care about making their marriage meaningful—just in their own way.
Or maybe people are just sick of going to the same wedding over and over again. In a surprisingly funny follow-up to the survey, respondents were given the chance to offer their own definitions of what a "traditional" wedding looks like. Brides-to-be can be haters, apparently—here's a small sampling of responses:
traditional weddings are boring. Dont be afraid to spice it up! :)

a little cliche. a little dull. very timeless, however.

white, stuffy, long, boring

Church ceremony, reception with DJ

In a small church or barn like setting.

laid back setting such as a back yard, comfort foods, music list on mp3

Laborious
Barns, mp3 players, DJs—sounds laborious, indeed. In the survey, there were many alternatives to "traditional" weddings, but one of the most popular was the "glam" wedding, which is a thing, apparently. For all the ladies out there who want to ditch the traditional white dress, WeddingWire users say you have options: "Ritzy location. Lots of bling. Sparkles everywhere. Wedding in a castle."