Chinese Philanthropist Tricks New York's Homeless Into PR Stunt
A few enterprising homeless men, bitter about Guangbiao's bait and switch, plotted ways to sue him for false advertising by lying down and contracting heat exhaustion.
This article is from the archive of our partner
.
Chaos descended on Central Park's Boathouse restaurant on Wednesday after a Chinese billionaire promised the city's poorest residents a free lunch and $300. In reality, it was just an elaborate publicity stunt.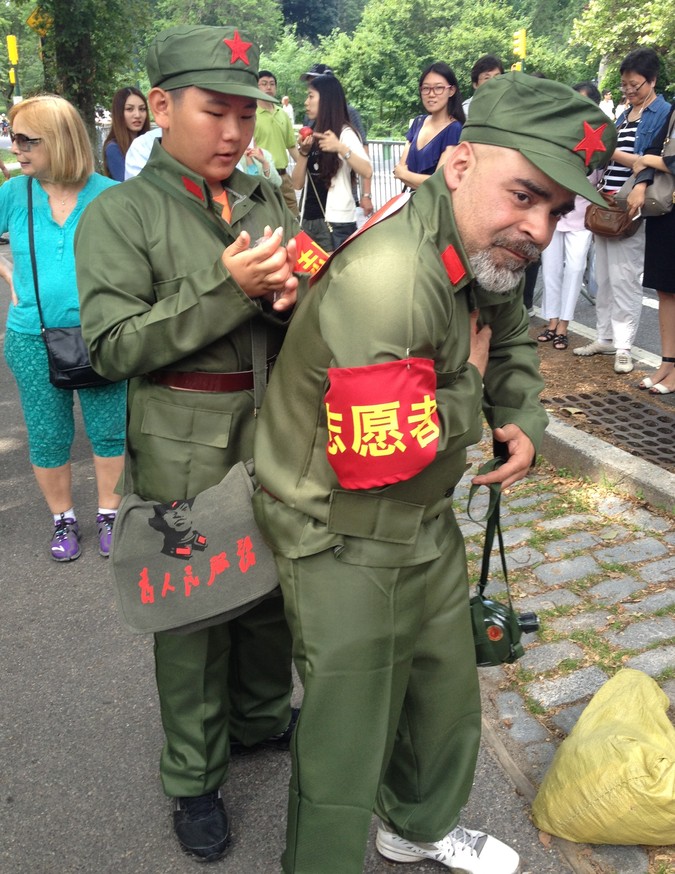 Chen Guangbiao, an eccentric Chinese philanthropist and recycling magnate with a history of pulling stunts, claims he wants Wall Street to open up its overstuffed pockets to those in New York who need it most. He took out an advertisement in The New York Times last week, promising a luncheon for a thousand people and $300 for each attendee. The lunch was actually just for 250 ticketed people, and the $300 supposedly intended for individuals in need was donated to the New York City Rescue Mission, the charity Guangbiao partnered with. Business Insider reports that Guangbiao handed out hundred dollar bills to 200 homeless people inside, but that's not the same as promising $300 to each attendee. Needless to say, many, many people weren't happy about that decision.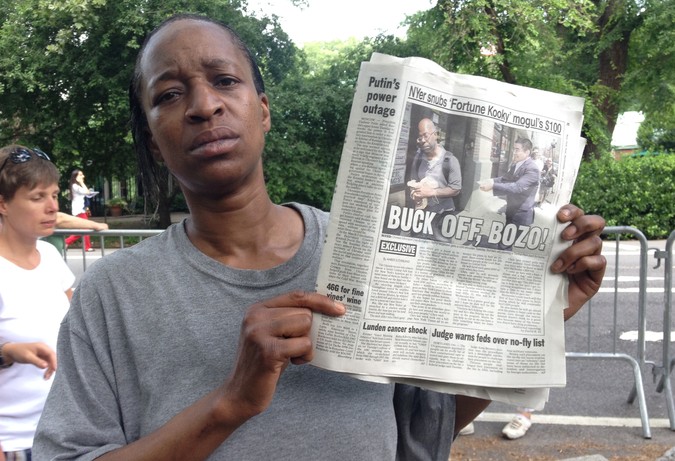 Barricades blocked anyone without a ticket or credentials from going anywhere near the Boathouse, where fresh juice costs $7 and a side of wilted spinach costs $6. Shutout homeless people who had heard about the "generous "lunch by a Chinese philanthropist were   openly disappointed that they were duped into a free meal they never got to eat and free money they'd never see.
"We walked from 32nd Street. The guy ain't coming out," said Kesha Leggett, 46, a homeless woman from New York City.
"We saw it Thursday in the paper, a guy came to the church where we eat and said 1,000 would get free lunch. We asked him if we need a ticket and he said no. We went by his word," said Kenneth Spratley, 48. "Then someone came out here and said that they'd picked the people already."
Leggett and Bradley were left to beg the volunteers wandering outside the event, clad in khaki green outfits reminiscent of Communist Party uniforms, for answers. Jose Rodriguez, 44, from New York City, was busy attaching heart-shaped stickers to his body that read: "Follow the good example such as Lei Feng."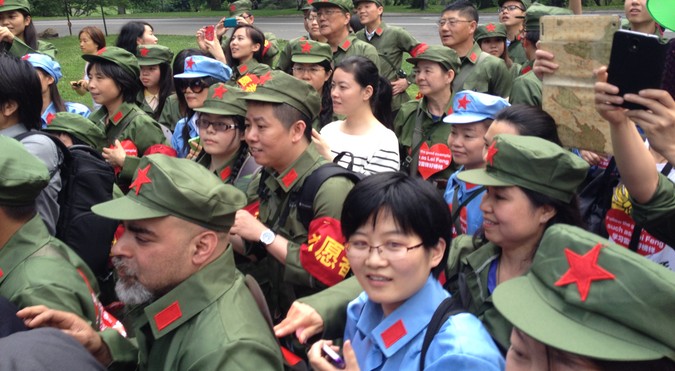 "They put me here to be one of his soldiers," Rodriguez said, adding that Guangbiao is "a great man, because he's trying to help people here."
Before long, Guangbiao arrived with his own army of ear-pieced guards and an entourage in tow. People stuck behind the barricades booed him and shouted, "Fuck you!" and "Liar!" while his uniformed volunteers excitedly crowded around him and waved their arms like he was a pop star. Chen's assistant and media liaison Margaret Yang clung tightly to her glossy black Chanel shopping bag amid the chaos.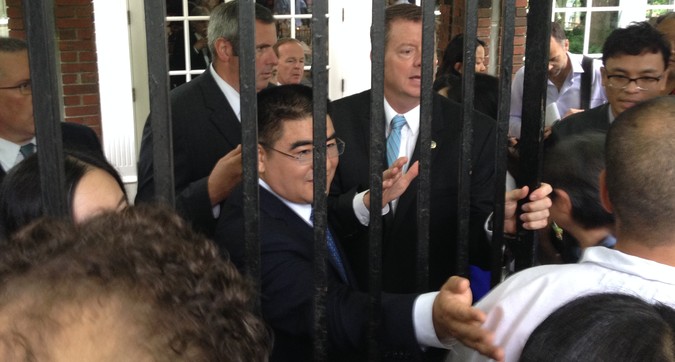 The gates to the restaurant soon closed. Several members of the press weren't allowed inside the Boathouse and milled around outside with the 100 or so volunteers, feeling the first prickling of late June heat exhaustion.
The 250 pre-selected guests eventually arrived in four buses driven from New York City Rescue Mission. They were greeted at the entrance by waiters in white gloves and bowties serving glasses of ice water on silver trays. One woman shouted, "I feel like a VIP today!" as she took a glass and walked inside. Many were reluctant to speak to the press, but Milles Mansa, took the time to defend Guangbiao.
"This is literally the wealthiest district in New York. There's more millionaires and billionaires in New York than in any other city in the world. [Guangbiao's] motive is to help the needy, that's his only motive," Mansa said.
But he agreed that the money should have been given to individuals. "It would have been better to give people the money," he said.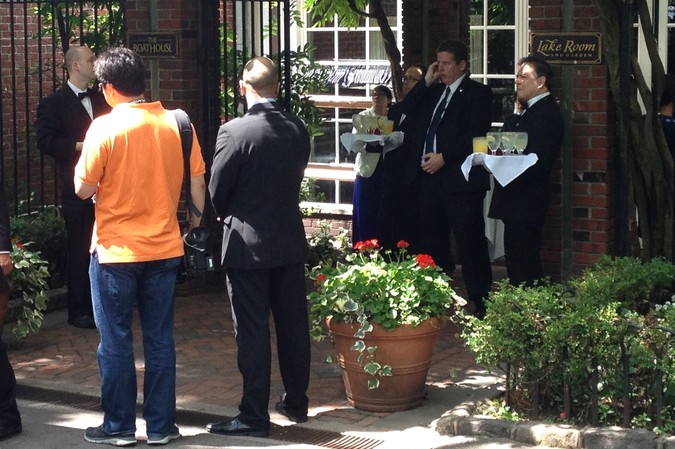 Lorna Richardson, 36, came to Central Park from Hempstead, Long Island, and has been homeless and living in a shelter for nine months. Richardson and her son, Stephen, had tickets to the luncheon, which they got from New York City Rescue Mission, but like many, she would have appreciated the money.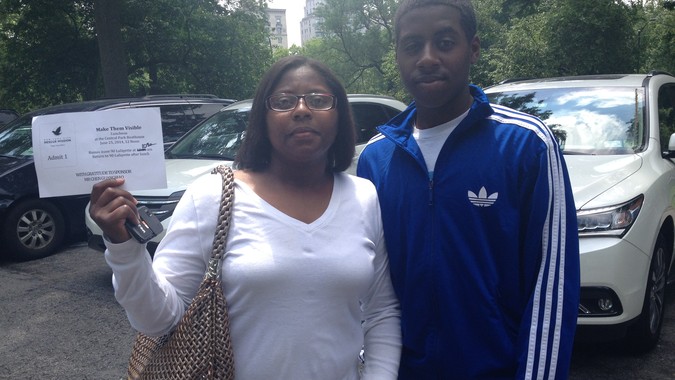 "It's been hard. I came to see the philanthropist, but at the same time I would have appreciated the money. That $300 could go towards me paying off my credit debt," Richardson said.
"I just happened to look on the Internet real quick and it said, 'Mr. Chen Guangbiao is giving away $300 to each attendee and a free lunch in Central Park.' We could put that money in an interest-bearing savings account at the credit union and that will help us buy beds, linen, towels, cookware," Richardson said.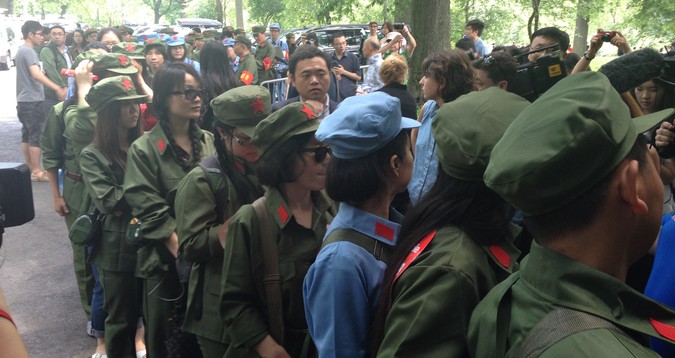 A few enterprising homeless men, bitter about Guangbiao's bait and switch, plotted ways to sue him for false advertising by lying down and contracting heat exhaustion.
This article is from the archive of our partner The Wire.