The National Park Service Shoots Deer, Feeds Them to the Homeless
The organization's controversial approach to population control in D.C.'s Rock Creek Park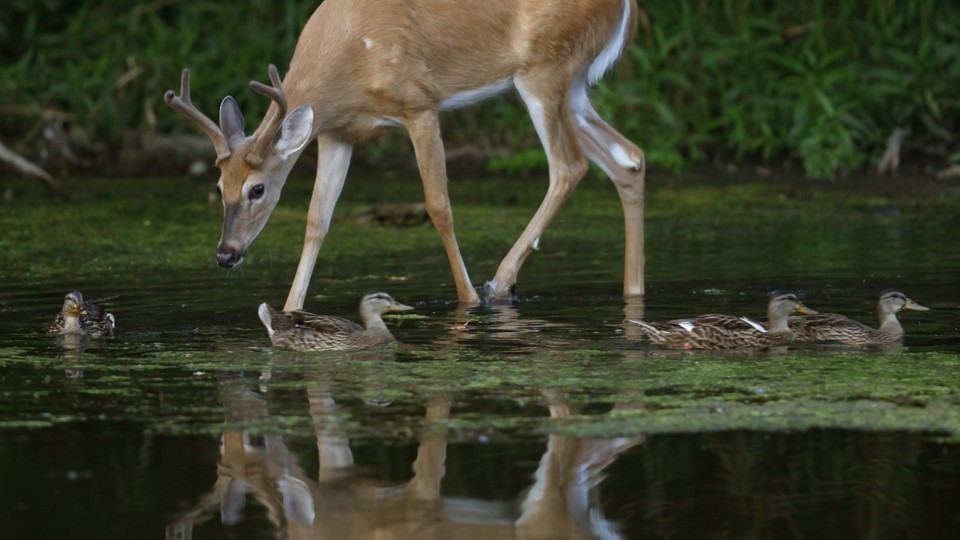 Rock Creek Park has a deer problem. Washington D.C.'s back yard, where the city bikes, hikes, jogs, and spies, has become the home to an absurd number of white-tailed bucks, does, and fawns in recent decades: about 70 individuals per square mile, according to the National Park Service. That's four times as many deer as there should be, scientists say, and it's threatening the park's ecosystem. Data collected since 1991 reveal a flora-versus-fauna battle: "Nearly all tree and shrub seedlings are being browsed by deer before they have a chance to grow," one report said. The deer population needs to be culled. This is why NPS decided to send sharpshooters into Rock Creek in 2013.
Residents of the greater D.C. metropolitan area have long been accustomed to seeing deer in their driveways at home and in their headlights on the road; the animals are disliked because they ravage gardens, transport lyme-carrying ticks, and cause car accidents. Suburban communities in D.C. and across the eastern United States have made active attempts to thin their deer populations in recent years. Pulling off a deer cull, though, is surprisingly difficult. The sharpshooter method employed in Rock Creek Park may prove to be the simplest and most effective, but it has not been the most popular.
Managed hunts are the norm, relying on residents with rifles and, in places where archery is the preferred practice, bows. But hunting activity close to residential and recreational areas is not always well-tolerated by the public at large.
The most humane-sounding plans involve deer contraception—"kinder, gentler," sure, but effective? Not in the short term, according to a 2005 Smithsonian magazine story by Anne Broache, who accompanied a wildlife biologist and his assistants on a mission to administer birth control drugs to does in Virginia. Even the biologist said that widespread hunting would be needed to bring the area's deer population down to a sustainable level.
But how to make widespread hunting acceptable in Rock Creek Park? The answer may be to translate "106 white-tailed deer" into "3,300 pounds of local venison turned into meatloaf, burgers and more for the surprised directors of homeless shelters and other charities across the capital." That's how the New York Times reported on the NPS's announcement that it has been processing and donating as much meat as possible from the deer it kills in Rock Creek Park.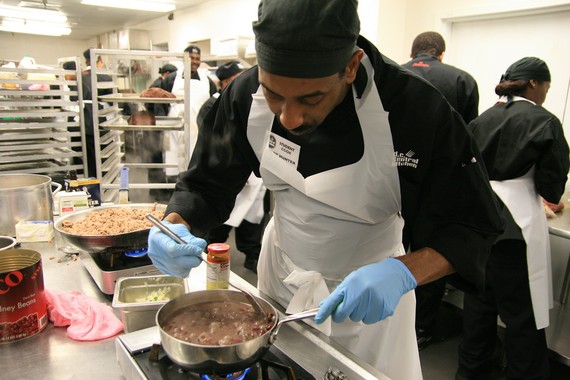 NPS donates the venison directly to D.C. Central Kitchen, which delivers meals to shelters around the city. As Brian Warmoth of D.C. news site InTheCapital summed it up: "Where you stand on this issue probably boils down to your feelings on meat-eating in general, but as far as traditional hunting for controlling animal populations and making use of meat that would otherwise go unused, it looks like the National Park Service has a found a strategy that works here."
For D.C. residents, knowing that the park service has taken care to kill a specific, pre-determined number of deer and have the meat inspected and processed for the benefit of D.C.-area shelters and food banks will hopefully make the hunting more, um, palatable.