A good side of the writing/journalistic life is that many of your friends end up being people in the business. Well, most of the time that's a good side. It's also the set-up for the news I'm presenting here: the arrival of five books worth your attention, all by people I happen to know. They're books I'd recommend anyway—just as I would urge that you read Ta-Nehisi Coates's new piece even if he weren't a friend and colleague.
Here goes: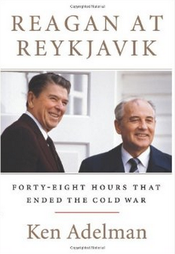 Reagan at Reykjavik: Forty-Eight Hours That Ended the Cold War, by Ken Adelman.
As director of U.S. arms-control policy under Ronald Reagan, Kenneth Adelman was on the scene in Reykjavik as Ronald Reagan and Mikhail Gorbachev held their dramatic talks that, Adelman argues, were the beginning of the end of the Cold War. The line from Reagan intimates and admirers over the years has been that the Gipper, beneath his casual and even befuddled-seeming exterior, was a shrewdly observant strategist. This is the impression conveyed by Phil Hartman's immortal SNL sketch about "Mastermind Reagan." Ken Adelman's view of Reagan is highly admiring (in the view of David Hoffman in the WaPo, too much so), but the book is full of color, details, vignettes, and drama that buttress Adelman's view and made me glad to have read his account. It's also a very useful refresher on a reality now easily forgotten: how stressful and genuinely dangerous those Cold War years were.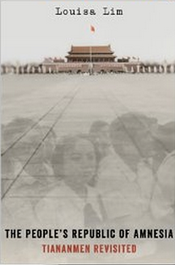 The People's Republic of Amnesia, by Louisa Lim. Over the past few years in China, there has always been some "special" circumstance that required an "unusual" tightening of censorship, surveillance, and vigilance against protest. If it's not the "Twin Meetings" it's the visit of a foreign dignitary or an important anniversary. Right now, the increasing tumult and anti-civilian terrorist violence in Xinjiang have further ratcheted up security.
Even without these latest events, China would have been on lockdown for the next few weeks, because of the impending 25th anniversary of the Tiananmen Square protests and resulting crackdown, on "May 35th," 1989. (Chinese censors tend to block out references to "June 4," giving rise to the "May 35" workaround.) Louisa Lim—well-known to US listeners for her NPR reports, and a friend and colleague when I lived in Shanghai and Beijing—has revisited the story with an emphasis on the nationwide depth and seriousness of the uprising in 1989—in contrast to what was usually portrayed as a Beijing-centered phenomenon—and the thoroughness of the government's effort to remove it from public memory. That's one more reason it's worth reading as a counterpart to Ta-Nahesi Coates's piece on what's been effaced from American public memory.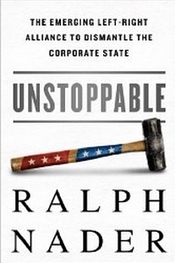 Unstoppable, by Ralph Nader. I first met and worked for Nader when I was 19 (and when he was a nationally famous figure in his mid-30s). I have kept in touch with him over the years, even though—like many of his one-time colleagues and supporters—I strongly disagreed with the way he continued his presidential run in 2000 and was at odds with him for a time after that.
Whatever your view of the Ralph Nader of 2000, or the 1960s, or other eras, I think you will be intrigued and impressed by the case and face he is presenting now. In a recent C-Span hour with Brian Lamb, Nader was relaxed and jokey. I will say more in another installment about the parallels between Nader's arguments in this book and the practical-minded successes my wife Deb and I have been seeing and writing about in our recent travels. (Eg, in comparing Burlington, Vermont, and Greenville, South Carolina.)
For now I'll say: at the national level, a pox-on-both-their-houses, all-politicians-are-crooks outlook on politics can be nihilist and destructive. We have two national parties; one or the other is going to hold power; and there are  big and growing differences in their values. But at the local and state level, a lot more is possible. So Nader argues, in a book and with a style that I think can broaden his appeal. Also, he's arguing for a right-left convergence to challenge corporate overlordism, something that neither of the major parties is positioned to pull off. Worth checking out.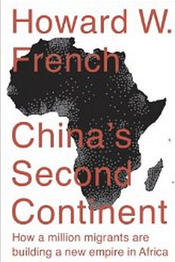 China's Second Continent, by Howard French. Four years ago in the Atlantic, Howard French—long of the NYT, now of Columbia Journalism School—had a great story about how Chinese interests and the Chinese government were extending their reach into Africa. It was a process that both resembled previous Western imperialism and differed from it—including, importantly, in the absence of gunboats and colonial administrators.
French's new book is on this same theme, and the wonderful aspect about it is its reportorial vividness. "Modern China" can sound boring in the abstract, to say nothing of "Modern China's relations with still-developing powers." But the actual human beings and organizations who make up modern China—with their dreams, their excesses, their dramas, their achievements and failures—are very interesting, and these are the stories French tells on-scene.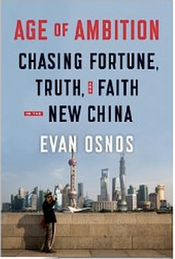 Age of Ambition, by Evan Osnos, of the New Yorker. My friends and family are sick of hearing me say that this is the golden age of writing about China—but that's still true, and Evan Osnos's book is another great illustration. It's the golden age because so many foreigners (and Chinese) are prowling around the country and learning about it; because there are so many facets of the country's story to tell; and because so many writers have found ways to make all the big points about the country's past, present, and future through novelistic or picaresque tales or memoirs.
Evan Osnos applies this universal-in-the-particular approach very well in this book. It is wryly funny throughout, laughing with rather than laughing at the absurdities of daily life in China; without being too obvious about the point, it conveys how contradictory and sometimes out-of-control the contending realities in China are; and it gives a clear sense of the mixed nature of China's modern "rise." Plus it's fun to read.
Make allowances, if you will, for the fact that I'm talking about books by my friends. Then, after making the allowances, dig in.