Cracks in Willis Tower's Glass Skydeck 'Fixed' with Carpet
The see-through glass floor of the Willis Tower's Skydeck in Chicago cracked while freaked out tourists stood on the platform Wednesday night. Building experts were quick on the scene to fix the problem — they covered the cracks with a rug.
This article is from the archive of our partner
.
The glass floor of the Willis Tower's famous 103rd-floor Skydeck cracked on Wednesday, freaking out tourists as they stood on the platform overlooking the city. Maintenance crews were quick to remedy the problem, however, by throwing a rug over the cracks.
NBC Chicago tracked down a family of tourists who felt the glass below them crack as they gazed out on the Chicago skyline, and tweeted this scary photo of the glass.
Despite that terrifying image and the more terrifying thought of plummeting to certain death, those in charge stated that the cracks were simply in the protective coating, and did not affect the glass or safety of tourists. "This coating does not affect the structural integrity of The Ledge in any way," Brian Rehme, a spokesman for public relations firm FleishmanHillard, told NBC Chicago. "Occasionally, the coating will crack, as it is designed to in order to protect the surface of the glass." The Skydeck reiterated that point on Twitter.
The solution, then, was largely to shrug and move on. "The attraction remained open Thursday with the cracked portion reportedly covered with a piece of carpet," NBC Chicago notes. The cracked part of the protective covering will be replaced, but the Skydeck is still open in the meantime.
That structural integrity is indeed intense. The 1,500-pound ledge consists of three half-inch thick pieces of glass that can hold at least 5,000 pounds. So, yes, despite the crack, the Skydeck is still safe to peer down.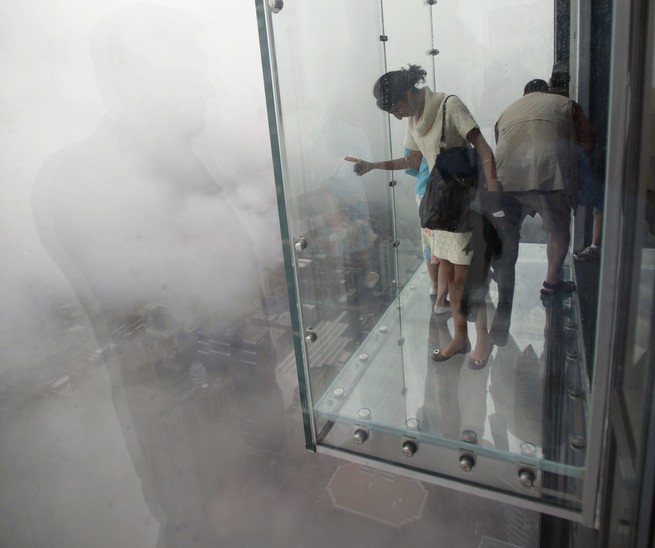 This article is from the archive of our partner The Wire.