Corporate America Doesn't Have Any Openly Gay CEOs. Or Does It?
Of the 1,000 companies in America, exactly zero of them are led by an openly gay CEO. That is, depending on how you define "openly."
This article is from the archive of our partner
.
The New York Times claims that of the 1,000 largest companies in America, exactly zero of them are led by an openly gay CEO. That depends, of course, on how you define "openly."
Claire Cain Miller writes on the Times' Upshot site today that "the business world is one of the slowest sectors of society to adopt new norms of acceptance," particularly in comparison with the barriers that have been busted in the NFL with Michael Sam and NBA with Jason Collins. "It may seem incongruous that corner offices trail, say, the testosterone-fueled world of N.F.L. linebackers in their apparent acceptance of homosexuality," she writes.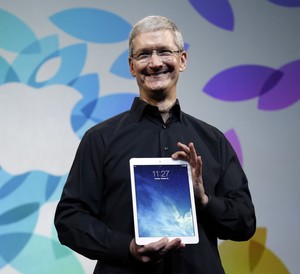 That is all true. However, as many people were quick to point out, her story does not even mention someone who is arguably the most powerful man, gay or straight, in American business: Apple CEO Tim Cook. 
While it's true that Cook has never made any grand official pronouncements about his sexuality, it's not exactly a secret to Apple's numerous followers. Press like former Reuters writer Felix Salmon and Gawker have discussed it openly for years, and he has even been on Out magazine's list of the most powerful LGBT persons in the country. Cook is known as a private person generally, but he has even spoken publicly about facing discrimination in his own life. Journalists at the Times have mostly ignored the issue when reporting on Cook and Apple. After all, he's not an activist and it's not relevant to his job duties or business plans as the leader of one of the biggest companies in tech.
It is, however, deeply relevant to a story directly talking about how there are no openly gay CEOs. The Times skitters around Cook's notable omission (and the fact that it's tough to make such a blanket statement about 1,000 people) in this awkward aside.
There is little doubt, for example, that there are gay people among the 1,000 top chief executives. But while some might be out in their personal lives, none has spoken publicly about it the way Mr. Sam and other public figures have.
It's another missed opportunity to discuss the importance of Cook's position in both the gay and business communities. Felix Salmon noted in 2011 that the lack of reporting on Cook's sexuality is not helping broader acceptance of gay people. "But now the risk of being ignored is bigger in the other direction: if the world can't see gay men and women in all their true diversity, if the only homosexuals they know of are the flamboyant ones on TV, then that only serves to perpetuate stereotypes," he wrote.
Still, the Times point remains: the number of CEOs who are both gay and discuss it publicly is quite low. Corporate America has become more accepting of LGBT workers in recent years, adding stronger non-discrimination policies and same-sex marriage benefits. "Corporate America stood out as a true leader in the fight for basic fairness and dignity," the Human Rights Campaign's Corporate Equality Index writes. "Both inside the boardroom and in the public eye, American companies stood by their LGBT employees in record numbers." But that hasn't translated to more activism at the top. 
"It's the fear factor," diversity consultant Kirk Snyder told the Wall Street Journal in 2012. "They're afraid consumers will boycott if they know the company is led by a gay CEO." In addition, the Times cites a study that found that "83 percent of gay, lesbian and bisexual people hide aspects of their identity at work," thus making them less comfortable and less confident with their colleagues and in the boardroom.
And LGBT people are not the only ones suffering from Corporate America's lack of diversity. Just 48 of the top 1,000 companies are led by female CEOs, according to Catalyst. And the first black CEO in the group only arrived in 1999, just 15 years ago. The difference, of course, is that they don't have to declare their diversity to the world, in order for it to be known.
This article is from the archive of our partner The Wire.