It's time for a little linguistic frolic around the country. In the last 9 months, we've flown in our small plane from Wyoming to South Dakota to Maine to the Carolinas to California. There were lots of places in between, and there are lots more to come.
One lesson I've learned along the way is that regional language is alive and well.  We all know the obvious examples:  In the South, it is the accents, of course. In New England, it is classic vocabulary like "wicked," and in the upper Midwest, there are the grammatical constructions like "Are you coming with?"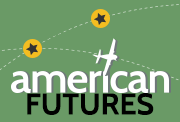 Reinvention and resilience across the nation
Read more
I've learned another thing, this one from listening to people talk about something very important to them: the particular traits of the place where they live. When people talk about their hometowns, they choose their words and phrases deliberately. It is interesting that there is a small set of  common words that pop up everywhere, the ubiquitous words of the era, to be sure. They are words like "community" and "sustainability" and "local."
It is equally interesting that there are very distinctive vocabulary sets for each town, which are oft-repeated by many people in the town. They form an odd collection:  "poised" or "balancing act" or "safe," for example.
And also, there are statements or questions unique and curious (at least to me), that seem to come out of nowhere and be part of the established lore of the town, like "Have you tried the tap water?" or "Sunday is family day."  People in Greenville SC and Holland MI, do you recognize yourselves?