Sex and the Single Man: What If Your Partner Has a Kid?
In 33 states, unmarried men can request to be notified if children they fathered—knowingly or not—are put up for adoption. But the system has serious flaws.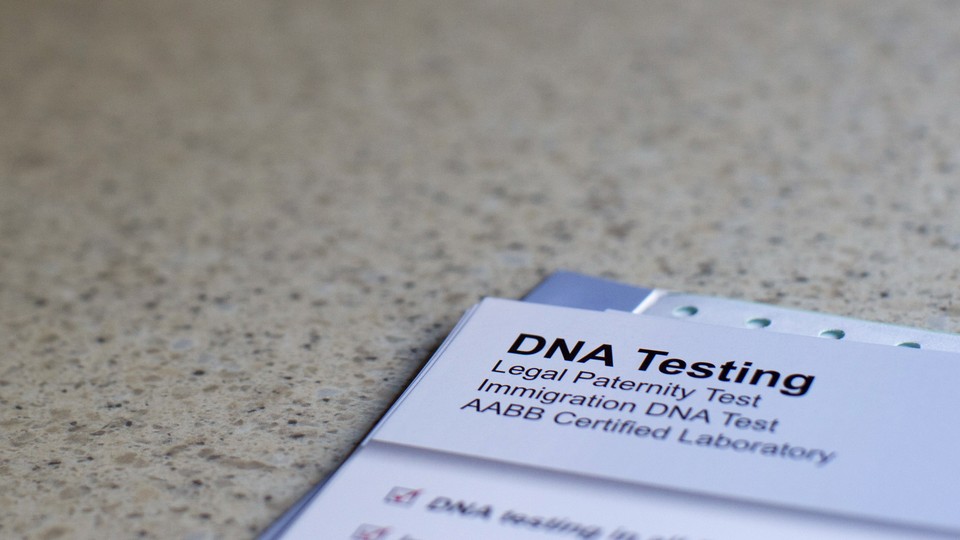 "How many people have ever heard of the Putative Father Registry?" I ask this every semester when I teach my family law class at Syracuse University. No one ever raises a hand. Only blank stares.
"What about deadbeat dads? Ever heard of them?" Students nod, self-satisfied in their recognition. I move to my next question.
"This one is for the men. Have you ever revealed to the government the name of every woman you've ever had sex with?" This is met with complete silence, confused looks, nervous smiles. As one young woman muttered under her breath, this may sound like "some dystopian shit."
But it's not. Since the 1970s, 33 states have created Putative Father Registries, designed as a way to link unmarried men to the mother of their child. States expect men to report—voluntarily and honestly—information about all their sexual partners; otherwise, they forfeit their right to be contacted if a partner pursues adoption. The registry is not a petition for custody or a determination of paternity—only a right to notification. Without registry, the wishes of the biological father are irrelevant.
Consider the case of Chris Carlton, a veteran whose girlfriend, Shalonda Brown, put their baby up for adoption without his consent. The couple first met in Pennsylvania, and after Brown got pregnant, the two lost contact. Carlton worked as a military contractor, and his employer transferred him to Afghanistan. While abroad, Brown reached out to Carlton to inform him that she had a baby boy in Utah who died shortly after birth. Upon his return home, he discovered that the child was actually alive, female, and adopted.
This situation could have been prevented if Carlton had registered as a putative father in Utah. Registration would have linked his name to Brown's, and he likely would have been notified of the adoption. Even if Brown willfully withheld Carlton's name at delivery and adoption, the state would have known his identity.
State governments see this as the simple solution to the logistical problem of keeping track of unwed fathers. The Supreme Court agrees—in 1983, it ruled in Lehr v. Robertson that registering is as easy as "mailing a postcard." Most states also have free registration, so cost shouldn't prohibit any man from participating. So when a man fails to register and subsequently loses a child, courts uniformly respond, "Your loss."
But this system has some big flaws. For one thing, it's relatively unknown. In Florida, only 47 people registered in 2004, but there were 90,000 nonmarital babies born. And even for the few people who seem to be aware of their right to register, the process can be hard to navigate. Some states require men to indicate their partners' height, weight, social security number, and more. You had a one-night stand? Don't wait three days to call—better to register, and quick. New relationship? Verify her identity and get a social security number. Just moved in with your girlfriend? Bed, Bath, and Beyond isn't the only place you should register. As Michael Higdon, a law professor at the University of Tennessee has argued, the burdens of registering are rooted in suspicion and mistrust. 'Lest the mother get out of his sight," he writes, "nonmarital fathers are being sent the message…to keep tabs on where she is at all times."
State registry systems can also seem like bureaucratic afterthoughts. When I asked a staff member at the Alabama Department of Human Resources if all men should register, he said it was a good idea to "cover all your bases." He wasn't entirely sure of the intricacies of the law, but he promised to send me some forms in the mail, since men can't register online in Alabama.
A few days later, I received a thick envelope containing a form labeled "Putative Father Intent to Claim Paternity Registration." It asked for the man's name, race, and social security number. It also asked for the woman's name, race, birthday, and social security number, as well as a "Possible Date(s) of Sexual Intercourse." The form was hand-typed and crooked from what looked like a rushed copy—or even mimeograph—job. The year on the form was listed as "19___."
And every state is different. In Illinois, men can register online. Texas requests a driver's license number. Utah requires an in-person court hearing and an affidavit stating plans for custody, child support, and pregnancy expenses. Illinois demands height, weight, and eye color.
But what happens when a father doesn't know all this information? A staff member at the Arizona Office of Vital Records advised that fathers should collect as much information as possible. But "if you don't have all the info," she said, "it's going to be hard for us to link to her."
Some may see the registry as a way of forcing a pregnant mother to maintain an unwanted connection with past partners. She may withhold information for reasons of safety and well-being: domestic violence, mental distress, or financial pressures. She could have become pregnant from a sexual assault or experience regret about an unwanted pregnancy. She might also disagree with the father about her reproductive choices to terminate the pregnancy or place the child with another family.  Privileging the mother's rights over the father's recognizes her right to bodily autonomy.
States also presume that most unmarried men don't want children. Men who impregnate women outside of marriage are caricatured: lazy, irresponsible, careless, oversexed. Serious concerns—that a man is stalking his partner, has threatened her, has tried to coerce her—can unfairly overshadow a father's legitimate desire for custody.
But many putative-father cases involve men who only want to keep their children, and most are caused by disagreements about putting a child up for adoption. If a woman chooses to leave or cut off communication with a partner, it can be very difficult for a man to stay involved with her pregnancy, mostly because it may be impossible to locate her. To preserve their rights fully, men are expected to fill out forms in every state where their partner may give birth—even if they didn't know their partner was pregnant. Every state has a different registry, though, and none of them communicate with each other. Plus, they all have different requirements. Arizona requires action no less than 30 days after the child's birth. Montana allows only 72 hours after the birth to "protect your right to receive notice of a hearing." Only a handful of states accept registration any time before the adoption of the child.
When I asked a staff member at the Texas Vital Statistics office whether men should register everywhere and for every partner, she just replied, "My, my, my. You have to register." Many fathers lose custody cases because it is difficult for them to develop an actual, enduring relationship with their child when the mother has relocated. Putative Father Registries pose significant challenges for unmarried men trying to protect their parental rights—doing so would require constant vigilance about regulations, registrations, and every relationship they've ever had. Even for fully-informed men with the best of intentions, the honest desire to be a parent may get lost in red tape.