Why Did This Guy Think a Confetti 'Bomb' at the Boston Marathon Site Was a Good Idea?
A barefoot art student named Kayvon Edson was taken into custody last night after he apparently left two backpacks at the site of last year's Boston Marathon bombings.
This article is from the archive of our partner
.
A barefoot art student named Kayvon Edson was taken into custody last night after he apparently left two backpacks at the site of last year's Boston Marathon bombings. The backpacks, later detonated by law enforcement officials, were filled will rice cookers — much like the pressure cookers used to make the actual marathon bombs — and confetti.
Why would someone leave a backpack filled with confetti at the site of a deadly backpack bombing? And on the anniversary of that tragedy? Edson hasn't explained himself, so we don't really know what he was thinking. But judging by his bizarre online persona and an extensive record of what could only be considered performance art on the internet, this hoax appears to be another page from that book.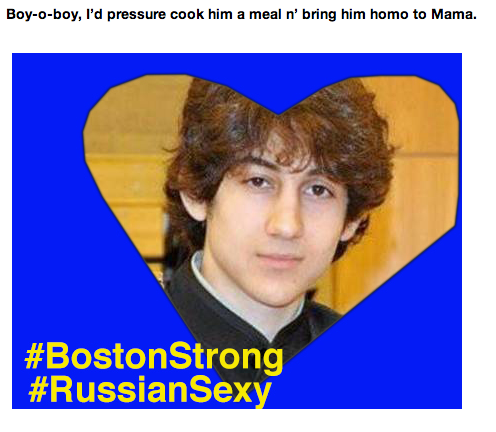 Yesterday, the 25-year-old Edson, who says on his Facebook page that he's a student at the  Fashion Institute of Technology (Update: FIT has said that Edson took classes at the college, but is not a matriculated student there.), posted a pretty dumb list of jokes about last year's bombings to his blog. A sample is at the right:
Another captioned photo of Dzhokhar Tsarnaev reads, "Had a blast at the marathon!!! Y U Stalin 2 Call Me????????" Super. He put that image on his Facebook timeline. That post is now appended with tons of comments from people who think he is an idiot. Like this one: 
During his apparent performance art thing at the site of the bombings last night, Edson wore a long black veil, no shoes, and yelled "Boston Strong!" according to witnesses. It was probably this veil, used in some other art he made last year and posted to Youtube.
And here's him on Boylston Street yesterday, just before placing at least one of two spotted backpacks at the finish line:
There could, however, be more to the story than just a terribly executed attempt at art. In another video on his channel, Edson says that he's previously been "diagnosed as bipolar." Except that video appears to be at least partially tongue-in-cheek. Alternatively, it could be totally genuine, but after watching his ridiculous videos for a solid 20 minutes, we might have to remove ourselves from the internet and retreat to a quiet tent in Montana. 
There's simply no way to know at this point, if Edson fascination with Tsarnaev is real; if it's a not-funny attempt at a joke; a grossly miscalculated piece of satire/art/political statement; or if he is a truly disturbed individual. Either way, he's facing charges of disorderly conduct, disturbing the peace and possession of a hoax device. Perhaps we'll get a better understanding of his mental state when he makes his first court appearance later today. 
​Update: Based on his court appearance today, we know that Edson suffers from bipolar disorder and believes that his stunt at the finish line of the marathon was performance art. The Boston Globe notes that he told police he "knew what I was doing, it was being conceived in my head. It's symbolism,'' adding,  "the performance got the best of me.'' A judge ordered Edson to undergo a mental evaluation at Bridgewater State Hospital, and set his bond at $100,000.
His family also released a statement. It reads: 
Our family is so sorry and emotionally overwhelmed by the events at the finish line of the Boston Marathon yesterday. To have this happen on the one year anniversary of such a horrific crime is unfathomable. My daughter and I have run the Boston Marathon six times for charitable organizations. It's a glorious event that embraces the spirit of friendly competition and good will. Crossing the finish line of the Boston Marathon is a feeling of accomplishment that can not be described.

Our son Kevin has been battling mental issues for several years. His illness has caused himself and our family years of anguish that is unimaginable. His multiple mental health issues, including the diagnosis of BiPolar Disorder, are a constant battle realized by multiple hospitalizations and close psychiatric treatment. Kevin is currently a college student and has not been living at home for several months. Unfortunately his mental health has deteriorated recently.

This is a tumultuous and trying time for our family. My husband is battling stage four head and neck cancer and is hoping to gain positive results from an upcoming Clinical Trial at Dana Farber Cancer Institute. We are trying to remain strong, hopeful and positive. We ask that you please respect our privacy at this time.

Boston is certainly, in many ways, a strong city. The first responders, the runners, the sports teams, the medical community and the citizens are all Boston Strong. What is NOT strong is the mental health system in Boston, our state, our country, and the world. I have two sons who struggle with mental illness and I have had to constantly fight for twelve years to get them the help they need. Advocating for assistance from mental health providers for my sons has been a full-time job.

We wish the runners of the Boston Marathon on Patriots Day a wonderful and celebratory day. Run Strong and enjoy your wonderful feeling as you cross that finish line.
This article is from the archive of our partner The Wire.