Last weekend my wife and I had three young software developers from Uzbekistan staying with us at our house. (It's a long story.) They were charming young men—Pavel, Igor, and Roman—who had come to America for a tech meeting in North Carolina and had driven from there up to Washington, to spend a little time touring before their flight back to Tashkent.
We mainly wanted to hear about Uzbekistan, but inevitably we had to ask: What's surprised you most in what you've seen in America? "I am surprised that it can be hard to know where a city ends," one of them said, describing his trip north on I-95. "In our country, you come to the end of the city, and it Ends. Here it keeps going on."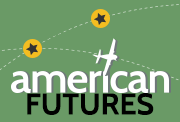 Reinvention and resilience across the nation
Read more
He was talking, of course, about American sprawl. The reality and effects of sprawl are more blatantly visible from a densely trafficked Interstate than some other places, but obviously they're a feature of much of the American landscape. We've thought a lot about sprawl, and in evolving ways, as we continue our flying trip. This is a placeholder note to hint at things that make us feel both better and worse.
The worse part: In virtually every place we have been, if you travel a few blocks from the most attractive or commercially viable revived downtown, or turn your head in a slightly different direction, you will see the familiar wilderness of Quickie Mart, Dress Barn, gas stations (which are morphing into grocery and liquor stores in many places), Applebees, Lowe's, Olive Garden, and the other 50 brand names any America can reel off. They make the country look the same; they're not walkable; their businesses are not local; and so on. (I'm talking here mainly about commercial sprawl; residential sprawl is a related but different phenomenon.)
For instance: Downtown Sioux Falls, SD, is going through a wonderful revival, but the periphery of the town has sprawl-based retail centers for shoppers driving in from smaller prairie towns. The downtown and historic-residential areas of Redlands, Ca., have beautiful Craftsman-era houses, public parks, and preserved orange groves, but two miles away is a typical ugly-congested freeway/mall conglomeration. Downtown Greenville, S.C., is a real gem, but the main road from there to Greer and Spartanburg could be any car-dealer, discount-mall, burger-joint, tattoo-parlor stretch anywhere in the country. St. Marys, Ga., has one of the oldest and most beautiful downtown residential areas in the coastal South, but the I-95 exits and related convenience stores are just around the corner. Really the only exception to this rule has been Eastport, Maine, which is too far from other population centers or thoroughfares even to support a sprawl zone. The closest it comes is a relatively new Family Dollar store a mile from downtown.