The Redemption Song of Rubin 'Hurricane' Carter
The wrongfully convicted boxer was a cause célèbre for the likes of Bob Dylan. But he built his true legacy after he was released from prison.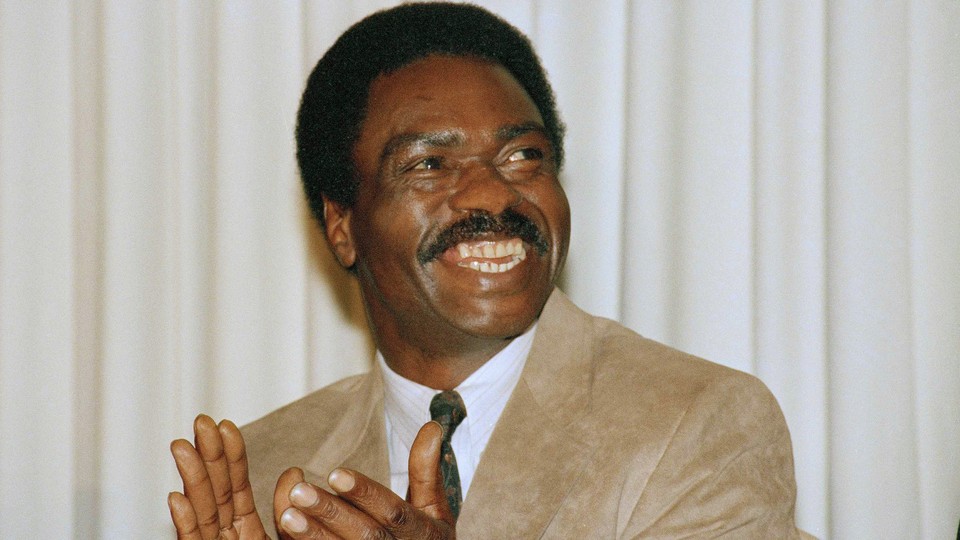 The New York Times obituary of Rubin "Hurricane" Carter was long on detail about the man's grim upbringing, boxing prowess, and wrongful convictions, but dreadfully short on the many ways in which he spent the last decades of his life helping other exonerees. Of the 2,500 words or so the paper employed to describe Carter's remarkable (and remarkably well-chronicled) journey, less than 200 words emphasized the good works he did for countless people upon his release from prison. Bob Dylan may have drawn attention to his wrongful conviction, but Bob Marley serves as a better soundtrack for his life. It was a redemption song.
William C. Rhoden, the Times' venerable sports columnist, did better, writing in his tribute Sunday that "Carter offers a reminder that one's deeds on the court or on the field will be quickly forgotten; contributions to society resonate across decades. Carter's name endures not because he had a great left hook but because of the principles he represented until the day he died." Let us now spend a few minutes highlighting the ways in which those principles were distributed to countless men and women less fortunate than Carter, who had little of his natural charisma or talent or celebrity, and who desperately needed him to help bring their cases and their causes into light.
Let us spend a few minutes, for example, with Mike Farrell, the noted actor and activist, who had this to say late Sunday night (in an email response to a query) as word of Carter's death spread around the world:
Like many, I had read Rubin's book (The Sixteenth Round) many years earlier and been deeply touched by it. In one of those incredible strokes of luck years later I was interviewed by a fellow for a documentary film and it turned out he was a friend. In fact, I think he was somehow involved in the making of the feature. At any rate, he put us in touch and became fast friends...

Rubin was such a life force, such a powerful fountain of energy, it's hard to think of him as low or sick or now gone. He was magnetic; his energy, his charisma, I suppose, affected everyone around him. Bringing smiles and laughs and a sense of possibility to everyone in his immediate vicinity.

We've spoken together in so many situations, in lectures, in debates, in press conferences calling attention to unjust and inappropriate incarcerations (his specialty), that I smile now when I think of his forever opening line: "Hello, my name is Rubin "Hurricane" Carter and I'm happy to be here. (pause) I'm happy to be ANYWHERE!" Then he would laugh that wonderful laugh and tell whatever part of his story was relevant to the situation at hand. He was a laughing, dancing, ambassador of possibility.

I know many exonerees and am proud to work with them. Too many of them are damaged, in some cases virtually destroyed by their experience. But in the best of instances, when the experience of having been wrongly convicted, imprisoned and dehumanized the way our system does has not crushed the spark of humanity within them, some seem to find an ability to rise above the anger and resentment and use their experience as a motivation to dedicate themselves to correcting the wrongs in our society.

They are, when given the opportunity, an inspiration to us all, and Rubin, with his joyful, indefatigable energy, was the prime example. We've lost a warrior.
Let us now spend a few minutes with Barry Scheck, the co-director (along with Peter Neufeld) of the Innocence Project, which has brought a measure of justice to hundreds of wrongfully convicted men and women in America over the past 22 years. The Innocence Project both enabled and benefited from Carter's indefatigable work. It both helped him and was helped by him, especially at the beginning, when he was famous and it was not. On Monday, via phone, Scheck told me that Carter was there at the very beginning of the current (and most successful) iteration of the exoneration movement:
People don't give him enough credit. When we did the first big [innocence] conference at Northwestern, on innocence and the death penalty, which led ultimately to the moratorium on executions by Illinois Gov. Ryan, Rubin was the keynoter. He did the keynote speech he always did. He would pull out of his pocket a copy of his writ of habeas corpus signed by [U.S. District Judge] H. Lee Sarokin, [the document that freed him from confinement, for the final time, in 1985]. "I never go anywhere without it," he would say.

He would appear whenever we would ask him, at conferences all over the country. He always answered the bell. I met him two years ago, in Perth, after he had been diagnosed with cancer. I immediately asked him to come to New York to our dinner. And he came. And there were like a thousand people there, at the Hilton, and the only thing that people wanted to do that night was to have their picture taken with Rubin. He was such a thoughtful man.
And, finally, let us spend a minute or two with another man who became famous around the world for having been wrongfully convicted and then later exonerated amid great fanfare. Few people understand Carter's life better than Gerry Conlan, the Irish exoneree of the Guildford Four, whose legacy (like Carter's) was memorialized both in song and in film. Conlan is in New York this week, by chance, and took the opportunity to tell me he considers Carter "a great man" who traveled across the pond to speak on behalf of the voiceless there, and who understood that "tragedies usually happen to the most disadvantaged people in the most disadvantaged circumstances."
The point here is not to enlarge Carter in death beyond what he was in life, or to diminish the profound legal and political significance of his wrongful conviction. He will forever be a symbol of a racially unjust justice system—a system that still exists today. The circumstances of his incarceration will always engender debate. Even some of the dubious choices he made after his release, some of the challenges he created for himself, allow us all to appreciate today that he was a quintessentially American hero—flawed, raw, edgy, but eventually resolute and on a righteous path.
"If I find a heaven after this life, I'll be quite surprised," he said shortly before his death. "In my own years on this planet, though, I lived in hell for the first 49 years, and have been in heaven for the past 28 years." It's a shame so many news outlets focused on the former and disregarded the latter. For in those 28 years of "heaven," Rubin Carter changed the world, one speech, one photograph, one exoneration case at a time. He had every right to give in to the anger he surely felt. Instead, famously, he said that "hatred and bitterness and anger only consume the vessel that contains them. It doesn't hurt another soul."