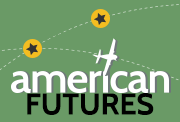 Reinvention and resilience across the nation
Read more
Last month Deb Fallows did several popular posts -- here, here, and here -- about regional variations in the question you ask someone when you've first been introduced. "Where do you work?" "Who are your people?" "How long have you lived here?" and so on.
I mention it now for two reasons. One is to tout the wonderful video that Katherine Wells, of the Atlantic's video team, has made about answers to just this question. She phoned people from around the country and recorded their responses, building on leads from Deb's items. I find it haunting and will be surprised if you don't think it worth a look. The direct link is here, and it is embedded below.
This video also ends with a lovely presentation on the opening question that I have used when meeting people for as long as I can remember.
Reason two is to highlight another Esri map that John Tierney has made to illustrate a linguistic/sociological point. Earlier, Deb reported that a standard opening question in St. Louis was "Where did you go to high school?" John's map showed why the question had such resonance there.
In Greenville and surrounding upstate South Carolina, a standard opening question is "Where do you go to church?" This new map by John Tierney gives an idea why: