When Prosecutors Admit to Cheating
Federal attorneys in San Diego knew they had gotten an unfair conviction. And to their immense credit, they asked an appeals court to make things right.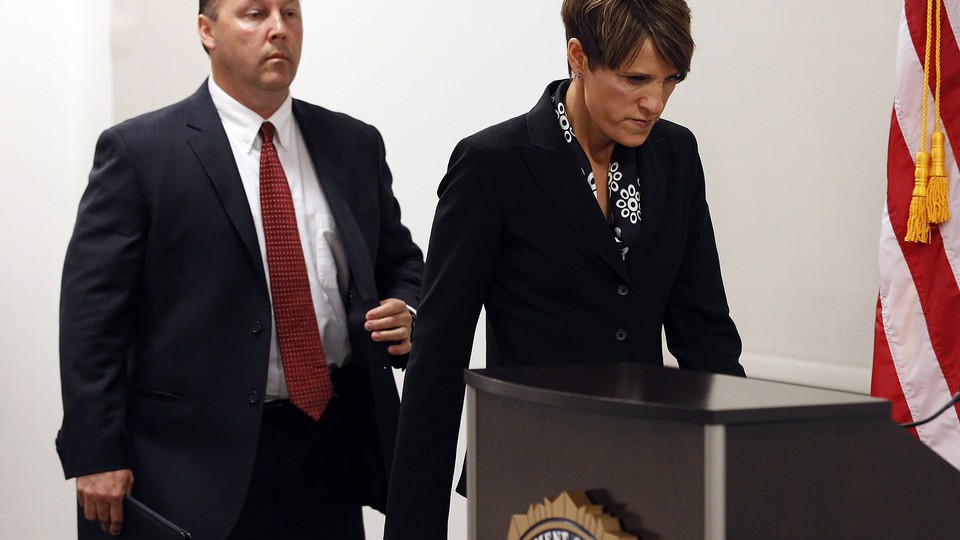 The story of a prosecutor doing an honorable thing, a courageous thing, should not be a news story. It should happen every day. But too often prosecutors do not act honorably. Too often they make mistakes and do not admit them. Too often they cheat, at trial or afterward on appeal, in their zealous attempt to secure or to defend a conviction. And too often our nation's judges are unable or unwilling to identify these instances to bring a measure of justice to the wrongfully convicted.
So the story of Laura Duffy, the prosecutor, and John Maloney, the wrongfully convicted man, is inspirational. Not because Duffy acted professionally throughout this case—she and her colleagues surely did not. Not because prosecutors promptly acknowledged their error and quickly moved to correct it—they didn't. But because in the end they did do the right thing.
What we have here, then, is the public acknowledgment by a prosecutor that an injustice was done in a pending case. More than that, we have a glimmer of the process by which this reckoning occurred. This is no small thing. One longtime defense attorney, who has evaluated countless trials including many in which prosecutors engaged in the type of official misconduct we see here, emailed back "Holy Shit" when I wrote to him about the results of this case. That gives you a sense of how remarkable United States v. Maloney turned out to be.
The story goes like this: A few years ago, federal prosecutors in San Diego convinced a jury to convict John Maloney of the felony charge of "knowing possession of marijuana with intent to distribute." The feds did so by cheating during the closing argument of the trial. During the rebuttal part of their closing argument to jurors, when they knew that neither Maloney nor his attorney could respond, prosecutors suggested at length that the defendant must have lied about his trip because he had no luggage with him.
The inference during the closing argument was clear. If Maloney was lying about the trip, if he had no luggage with him, than he must have "known" that he had the marijuana in question and thus was guilty of the crime with which he was charged. That's what the jury found, anyway, and it's what the 9th U.S. Circuit Court of Appeals initially found as well. The problem was: there was no evidence introduced at trial, either way, about Maloney's luggage on that trip. And prosecutors knew it.
Prosecutors knew it when Maloney's attorney immediately asked the trial judge for the chance to present a "sur-rebuttal" that would have clarified the record—a request the judge denied. Prosecutors knew it when Maloney's attorney asked a second time for a sur-rebuttal—and was again denied. Prosecutors knew it when Maloney's attorney asked for a mistrial— and was denied. And they knew it (and candidly said so) when Maloney's attorney made this argument to a three-judge panel of the 9th Circuit and was again (inexplicably) denied.
The 9th Circuit, to its credit, took another look at this case. Last fall, during oral argument (the video of which you can watch here), members of the federal appeals court bluntly urged Duffy over and over again to admit that the closing argument in the Maloney case was unprofessional, and perhaps unethical, and in any event a mistake of law. (Will Baude, the University of Chicago law professor, has well covered this case. Here is his piece on this argument. Here is his piece from Monday.)
A prosecutor plays fast and loose with the evidence. A trial judge refuses to "waste" time by declaring a mistrial. An appellate court rubber stamps the whole thing by deferring to the trial judge. This sadly happens all the time in every corner of the country and in both federal and state court. But it didn't happen this time. This time Duffy and company took the not-so-subtle hint from the judges and confessed their error in writing to the federal court. Here is how the 9th Circuit described what happened next:
On October 7, 2013, the United States Attorney for the Southern District of California, Laura Duffy, filed a Motion to Summarily Reverse the Conviction, Vacate the Sentence and Remand to the District Court. In that motion, the United States Attorney represented that she and several senior attorneys in her office had reviewed the video of the en banc oral argument and reconsidered the closing arguments made in the district court.

They thereafter concluded that "no reference should have been made to luggage in rebuttal argument." The United States Attorney's Office also stated that it planned to "use the video of the [en banc] argument as a training tool to reinforce the principle that all Assistant U.S. Attorneys must be aware of the rules pertaining to closing argument and must make every effort to stay well within these rules."
"Holy shit" is right. Most prosecutors in these circumstances would simply have waited for the appeals court to rule against them. And, as Professor Baude has long pointed out, the 9th Circuit (and the trial judge, for that matter) could and should have moved immediately to render a ruling that would have both recognized and remedied the prosecution's misconduct. If these judges were waiting for an epiphany from Duffy, they surely were lucky that they eventually got one. Most prosecutors, I bet, would undergo no such moral transformation.
So the 9th Circuit judges wrote:
We commend United States Attorney Laura Duffy for moving to summarily reverse the conviction, vacate the sentence, and remand to the district court. A prosecutor "is the representative not of an ordinary party to a controversy, but of a sovereignty whose obligation to govern impartially is as compelling as its obligation to govern at all; and whose interest, therefore, in a criminal prosecution is not that it shall win a case, but that justice shall be done." Berger v. United States, 295 U.S. 78, 88 (1935). More succinctly: "The prosecutor's job isn't just to win, but to win fairly, staying well within the rules." United States v. Kojayan, 8 F.3d 1315, 1323 (9th Cir. 1993).
I commend Duffy, too. The simplest way to compound a mistake in the criminal justice system is to refuse to acknowledge it. And while this mistake should not have occurred in the first place, and while it should have been rectified much earlier in the appellate process, and while this turnaround clearly came under pressure from the courts, at least now we have a result in this case that is worthy of respect.