The Swift Justice of the al Qaeda Messenger Trial
With jury deliberations now underway, Suleiman Abu Ghaith's case is proving to be a textbook example of why civilian courtrooms work better than military commissions.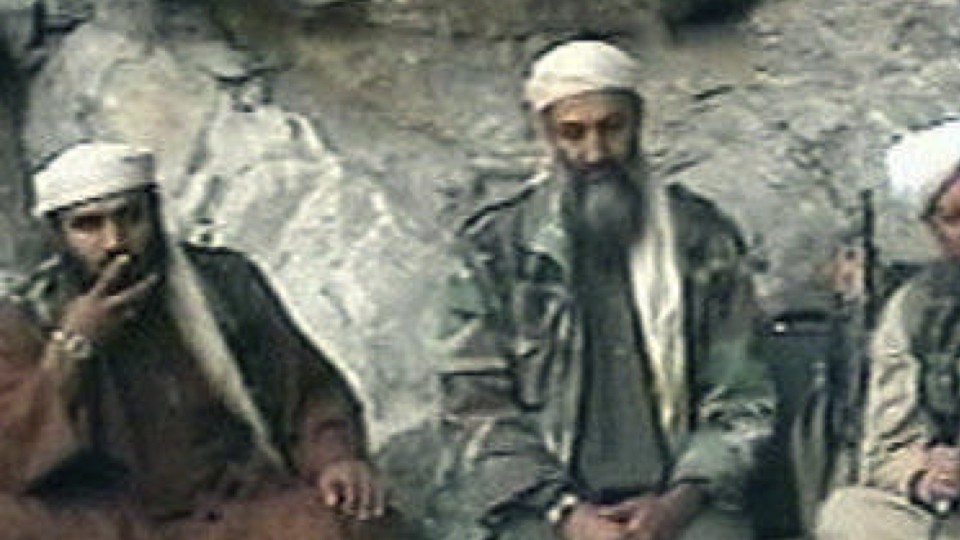 With jury deliberations now underway, the trial of alleged al Qaeda "mouthpiece" and "insider" Suleiman Abu Ghaith is proving to be a textbook example of why civilian trials work better than military commissions.  For the past three weeks, as Abu Ghaith has stood trial in Manhattan federal court, the judge and attorneys have relied on time-tested criminal laws and rules of evidence.
His case hasn't been mired by any of the changing rules, pretrial squabbles, and post-verdict reversals that have stalled justice at the U.S. military base in Guantanamo Bay, Cuba.  All told, the Abu Ghaith case could end up being only 13 months from capture to potential conviction.  Meanwhile, proceedings against admitted 9/11 architect Khalid Sheikh Mohammed and his four co-defendants could take 13 years from KSM's 2003 capture, as they await a military commission that will not commence before 2015.
Abu Ghaith, a 48-year-old Kuwaiti imam, is not being tried as a war criminal but a common criminal, albeit one charged with participating in al Qaeda's global conspiracy to kill Americans.  Starting the day after 9/11, Abu Ghaith emerged as an al Qaeda spokesman appearing in half a dozen videos justifying the massive killings and threatening future attacks.
"During the most important time in al Qaeda's savage history, Suleiman Abu Ghaith was bin Laden's principal messenger," Assistant United States Attorney John Cronan told the jury in closing arguments Tuesday. Cronan called these widely disseminated tapes a recruiting tool. He argued that Abu Ghaith, seated on camera at bin Laden's side, had used his authority as an imam to convince young Muslim men across the globe that they were "religiously required" to join the jihad against America. "This man's purpose was to strengthen Al Qaeda and solidify its future," Cronan said.
Abu Ghaith later went on to marry bin Laden's eldest daughter, Fatima, when the pair were under house arrest with other al Qaeda intimates inside Iran.
In January 2013, Abu Ghaith snuck across the Iranian border into Turkey and was arrested 10 hours later. The following month, he was transported to Jordan, where FBI agents picked him up.
There was no need for torture as veteran investigators questioned Abu Ghaith about his activities with bin Laden, both before and after 9/11. Although the agents informed him of his Miranda rights to remain silent and secure an attorney, Abu Ghaith spoke willingly to FBI agent Michael Butsch for the majority of the 14-hour ride aboard a Gulfstream V jet to New York.
The prisoner was handcuffed and hooded when he was brought on board and shackled when he was seated, but Abu Ghaith took naps and bathroom breaks whenever he wanted during the flight. Butsch and the other arresting agents say they never threatened him. Butsch addressed Abu Ghaith courteously as "Sheik Suleiman."
"I treated him like a gentleman. He did the same to me," Butsch testified at the trial.
"He said, I will be honest with you.  It was a respectful, relaxed conversation."
Butsch's summary of that interview ran 21 single-spaced pages. As a sign of its quality, there were no significant contradictions between Agent Butsch's report and Abu Ghaith's testimony at the trial.
When Abu Ghaith 's trial began the morning of March 5, it was business as usual in Lower Manhattan.  There were no demonstrations, no street closures . The defendant was brought to trial from the adjoining federal jail.  The courthouses of the Southern District of New York had been fortified in late 2000 in preparation for the first major al Qaeda trial for the 1998 twin truck bombings of U.S. embassies in Kenya and Tanzania.  Bollards still encircle the buildings.U.S. Marshalls and NYPD have the scene under control. Court watchers are required to undergo airport-style security at the front door and then pass through metal detectors before entering the courtroom.
During the trial, the government called two convicted terrorists who had agreed to testify in exchange for reduced sentences.  First came Saajid Badat, a 34-year-old British citizen who trained in Afghanistan with Richard Reid to hide explosives in their shoes and blow up a pair of U.S.-bound planes right before Christmas 2001. Reid tried and failed to execute the plan. Badat backed out.
Badat was sentenced to 12 years in British prison, but his sentence was cut in half after he became a government witness. Testifying via a live video feed from London, Badat explained what bin Laden hoped to achieve through another devastating airline attack.
"He then said that the American economy is like a chain, and he drew out a chain. He said if you break one link, you will bring down the American economy," Badat told the court. Although Badat never met Abu Ghaith , he said only people who were known and trusted could enter a guesthouse at the al Qaeda camps.
On that point, his testimony intersected with that of Sahim Alwan, the second terror convict to testify at Abu Ghaith 's trial. Alwan was one of the "Lackawanna Six"—a group of young Yemeni-American men from the depressed steel town outside Buffalo who attended al Qaeda camp for a few weeks in the summer of 2001.
Once feared to be a "sleeper cell," the Lackawanna Six were under surveillance for a year but did nothing criminal before the FBI arrested them on the eve of the first anniversary of 9/11.  In 2003, one after another, the men pled guilty to providing material support to a terrorist group. They received prison sentences of seven to 10 years.
Alwan served slightly less than eight years, earning time off for cooperation and good behavior. "I'm atoning for my mistakes," Alwan said at Abu Ghaith 's trial.
Alwan told the jury he saw "Suleiman the Kuwaiti" at an al Qaeda guesthouse on one occasion 13 years ago, in the summer of 2001, as the imam was telling recruits about bayat, the loyalty oath to bin Laden. They never spoke to one another, and Alwan said he never saw the defendant again until court.
Like Alwan and the rest of the Lackawanna Six, Abu Ghaith is accused of providing material support to al Qaeda.  As the U.S. government defines it, material support does not need to involve money or guns. Simply being present at an al Qaeda camp is enough.  Since 9/11, material support has been one of the most common terrorism-related charges, levied in dozens of federal cases.
In the military justice system, neither material support nor conspiracy were recognized war crimes until 2006.  By that time, every detainee except one had already arrived at Guantanamo. This drawback—along with a general preference for civilian trials—motivated the Obama administration to begin trying all new terrorism suspects in federal court, including dozens of foreign suspects captured overseas.
For years, the Bush administration assumed military proceedings would deliver rougher, swifter justice than federal trials.  But this has proven to be a gross miscalculation.  At Guantanamo, 154 detainees are still waiting in legal limbo.  Half of them have never been charged and have actually been cleared for release. Only six detainees are involved in active military commissions (five for 9/11 and one for the 2000 attack on the U.S.S. Cole in Yemen). In fact, since 9/11, nine detainees have died at Guantanamo, while only eight have been tried there. Most of those have been deported, and two of their convictions have been overturned.
During the same time frame, civilian prosecutions have achieved 500 terrorism-related convictions.  Federal prosecutors have about a 90-percent conviction rate, and judges handed down lifetime sentences to the most notorious convicts, including failed shoe bomber Richard Reid, would-be NYC subway bomber Najibullah Zazi, failed underwear bomber Umar Farouk Abulmutallab, failed Times Square bomber Faisal Shahzad, and Mumbai attack accomplice David Coleman Headley.
Unless there is a hung jury, the Abu Ghaith trial will validate the skills of seasoned prosecutors, defense attorneys, and judges who've handled these complex cases before. The U.S. Attorney's office for the Southern District of New York has successfully been prosecuting terror cases for two decades, starting with the trials for the 1993 truck bombing of the World Trade Center, the "bridges and tunnels" plot led by Sheik Omar Abdel Rahman, and the "Bokinka plot" to blow up a dozen trans-Pacific airliners created by Ramzi Yousef, who was convicted, and his uncle, Khalid Sheikh Mohammed, who was at large at the time.
Another Assistant U.S. Attorney in Abu Ghaith 's case, Nicholas Lewin, helped prosecute East Africa embassy bomber Ahmed Khalfan Ghailani, who was transferred from Guantanamo to Manhattan federal court five years ago.  U.S. District Judge Lewis Kaplan, who has presided over the Abu Ghaith trial, oversaw the Ghaliani case. And Abu Ghaith defense attorney Stanley Cohen has handled a series of Hamas cases. "Every human being—no matter where they're from in this world—that is brought to a courtroom in the United States is entitled to certain rights, a fair trial," Cohen asserted in his closing argument to the jury. "You send a message that it takes more than calling a person a terrorist, it takes more than hauling someone in a courtroom from a foreign land to produce a conviction."
If Abu Ghaith isn't convicted of conspiracy and material support, it may provoke widespread outrage. The Ghaliani case caused consternation in Washington when the jury returned not-guilty verdicts on every count but one: conspiracy to destroy buildings and property of the United States by means of an explosive. However, that sole guilty verdict gave Judge Kaplan the discretion to issue a life sentence. It is difficult to know whether a military commission could have delivered a harsher result. But it is likely that Ghaliani's fate and Abu Ghaith 's might still be up in the air if they'd been detained at Guantanamo.
UPDATE: Abu Ghaith was convicted on March 26 of conspiring to kill Americans and providing material support to terrorists. His sentencing has been scheduled for September 8.