The Courir de Mardi Gras
A look at an obscure Louisiana tradition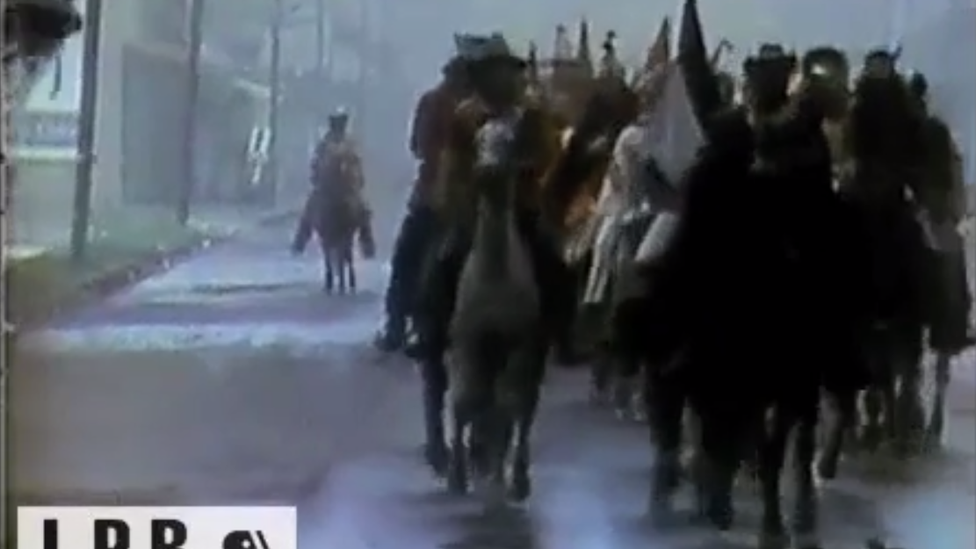 This article is the 12th in a series featuring clips from the American Archive of Public Broadcasting, which is working to digitize television and radio pieces so that they may be preserved for years to come. For more about the project, see our introduction to the series, where you'll also find a handy list of all the series' pieces so far.
---
Before Lent begins with Ash Wednesday tomorrow, many throughout Louisiana will participate in the "Courir de Mardi Gras," the "country cousin," as one writer called it, of the better known Mardi Gras festivities in New Orleans.
Caroline Gerdes tells a bit about the Courir's history:
The tradition of the Cajun Courir de Mardi Gras, or Fat Tuesday run, was brought with Cajuns from rural France to Acadie (modern Canada) to Louisiana where it evolved into a quest for gumbo. Men on horseback would travel from house to house throughout a Cajun town, begging for ingredients for a communal gumbo—offerings could be anything from onions to a live chicken.
Today, she says, the gumbo is often prepared before or during the run, with riders only collecting the chicken as they go.
In 1975 (or thereabouts—the date is not entirely certain), Louisiana Public Broadcasting undertook to explain this tradition to viewers. A lightly edited clip of that program has been provided to The Atlantic as part of our series on the public broadcasting.
Leslie Bourgeois, an archivist at LPB, wrote to me that such programming "fit in with LPB's mission to preserve the French language in Louisiana and to capture and share the unique culture of Louisiana with our citizens. "
The Jolie Louisiane series, from which this clip was drawn, aired during the day so that teachers could play it for students during school. "It was one of the first examples of LPB working together with other organizations with similar missions in order to create educational content specifically for the classroom," Bourgeois added.