Sheriff Joe Arpaio: The Most Lawless Lawman in America
The Arizona sheriff is in trouble again, just in time for a new run for governor—this time for getting caught on videotape disrespecting a federal court order that highlighted his longstanding discriminatory police practices.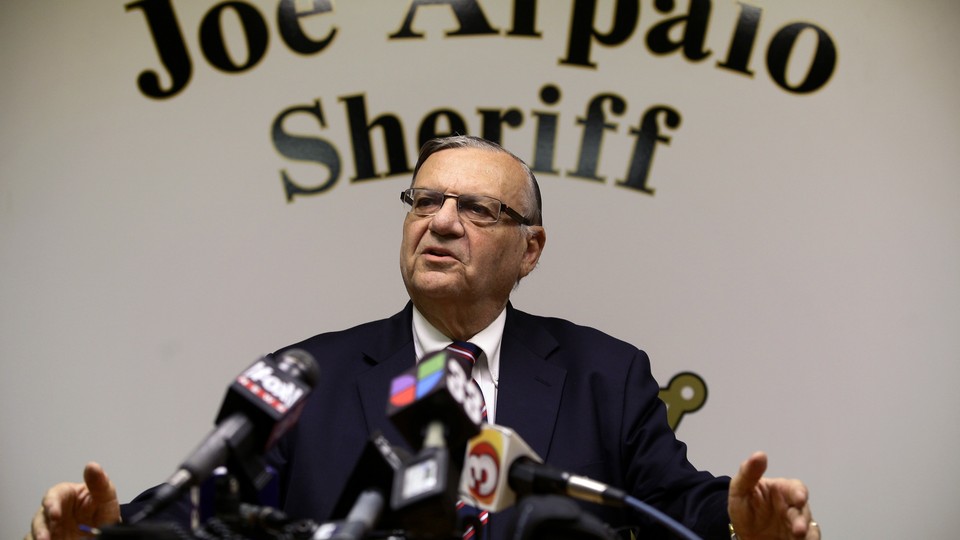 The unremitting disaster that is Arizona sheriff Joe Arpaio took a new twist Monday. The most unrepentantly lawless lawman in America was hauled into federal court to face an angry trial judge after Arpaio and a fellow Maricopa County official were caught on videotape mocking a ruling from the judge last year that found the County's enforcement practices broadly discriminated against Latinos. And not just mocking it under their breath, mind you, or mocking it after hours in a bar, but denigrating it in briefings to officers who of course also are required to comply with the court's enlightened directives.
The discrimination by Arpaio and his officers in Maricopa County has been documented for years. The ACLU's profiling lawsuit that ultimately led to last year's ruling began after a worker was stopped by a cop in 2007. The Justice Department also eventually had to get involved. In 2012, there was a full-blown trial, for about a month, in which witness after witness testified about the ways in which Arpaio and company waged a systematic, ill-willed campaign against Latinos, whether they were lawfully present in America or not. It is not an open question anymore about whether the law was broken. It clearly was. Over and over again.
And yet, after all of that, the news of this video tells us that these public officials still do not accept, and are not fully complying with, the remedial order the judge issued last year to try to fix the County's unconstitutional profiling. And that means that the official discrimination which has disgraced Maricopa County for years surely still exists, despite the order, despite the presence of a federal monitor, despite everything. The rule of law is not working, or is working far too slowly, for the Latino men and women who live and work there. Here is how The New York Times covered Monday's drama:
A federal judge strongly rebuked Sheriff Joe Arpaio of Maricopa County and one of his chief deputies on Monday, saying that they had defied and even mocked the judge's order last year to stop singling out Latinos during routine patrols, traffic stops and workplace raids.

"Whether or not the sheriff likes it, there is a distinction in immigration law that was not understood by the population and, with all due respect to you, it is not understood by the sheriff, which is that it is not a criminal violation to be in this country without authorization," said the judge, G. Murray Snow of United States District Court here, staring down the 81-year-old sheriff, whose tenure has been framed largely by his unforgiving stance against illegal immigrants.
And here (a little more softly) is how the Arizona Republic, Arpaio's hometown newspaper, covered it:
A Maricopa County Sheriff's administrator's decision to call a federal racial-profiling ruling "absurd" and "ludicrous" were made in the heat of the moment and do not reflect the agency's intention to prevent racial profiling among deputies, attorneys for Sheriff Joe Arpaio argued in U.S. District Court on Monday.

The remarks from Chief Deputy Jerry Sheridan drew a rebuke from U.S. District Judge Murray Snow and the agency will likely receive a letter that clarifies Snow's ruling in response to Sheridan's statements. But experts said the hearing was likely designed to put the agency on notice that Snow and his court-appointed monitor are paying close attentiont to how Sheriff Joe Arpaio's agency enacts the changes Snow ordered last year following his racial-profiling ruling
What is happening here is the sort of open defiance of judicial authority by local law enforcement officials that America hasn't seen since the massive Southern resistance to desegregation in the 1950s and 1960s. Arpaio and company aren't just arguing in an appeals court that the trial judge got it wrong. They are signalling to their subordinates that a valid court order, supported by extensive evidence and clear legal precedent, is bogus. What does a line officer in Maricopa County take away from these sorts of comments? Surely not that Judge Snow's order ought to be respected. Surely not that public officials, like everyone else, must comply with even those laws with which they disagree.
And through all of it, through years of litigation and investigations, costing taxpayers there tens of millions of dollars that otherwise might have been spent on actual law enforcement, never once has Arpaio expressed remorse or regret for the damage he has done. Instead, there has been only defiance and scorn for those who have caught him breaking the law. Arpaio said nothing during Monday's hearing. He didn't avail himself of the opportunity in front of the judge to apologize for his conduct. But afterward, once he was out of earshot of Judge Snow, he told reporters that "we'll be appealing this case anyway."
If you or I behaved like this, if we violated a court order so defiantly after a case about willful disobedience of the Constitution, we would be held in contempt. And that's what should have happened to Arpaio Monday. None of this patient deference to officials of another branch of government. None of this separation-of-powers politesse. The sheriff should have been held in contempt, and fined, until he was willing to publicly apologize (to the judge, at least) and also to convince Judge Snow that he understands at last that the Constitution belongs not to him but to all of the people he serves.
It's not that he doesn't get it. It's that he gets it and still doesn't care. The more the feds press him, the more the constitutional violations pile up, the more he's able to lament to his supporters that he is the real victim here. This lawsuit, this court order,  surely will be a talking point when Arpaio finally runs for governor. The real victims, of course, are the citizens of color in Maricopa County who still suffer under his yoke. To them,  the contents of that ugly videotape aren't a revelation. They've been living with that attitude for years. And if Arpaio wins his next race perhaps all of the citizens of Arizona will get to experience it, too.