John Boyd, From US News
Appreciating "a towering intellect who made unsurpassed contributions to the American art of war"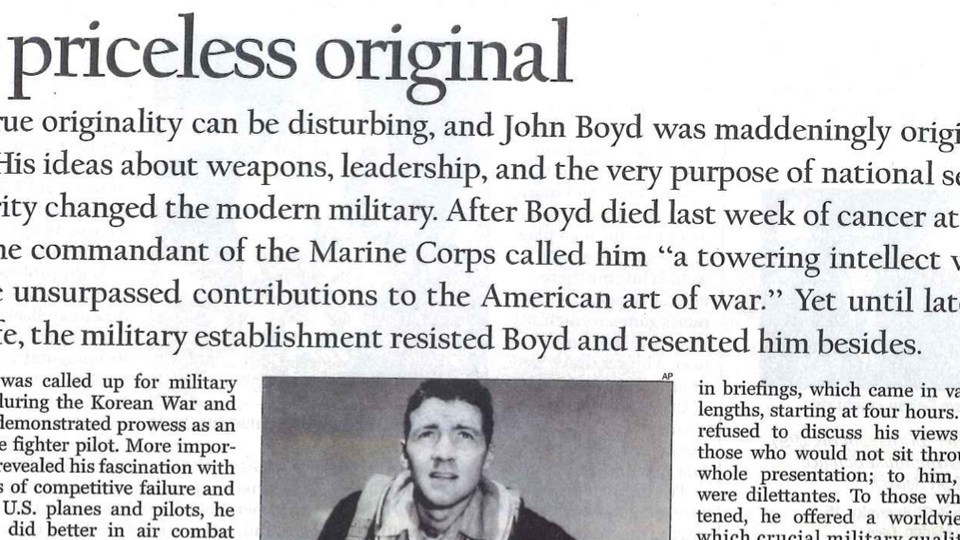 I mentioned last week that among the contents of its pre-2007 archives that US News had irresponsibly eliminated, without warning, was a short essay I wrote when the military strategist John Boyd died. I met Boyd in the late 1970s, described him in (and was guided by him for) my book National Defense, and stayed in touch until his death in March, 1997.
Somewhere in the attic I have my physical copies of US News from that era, when I was its editor. But I am not there to go pawing through the boxes, so I am grateful to Bill Tallman of the University of Miami, who went to the library, found that issue, and made a photocopy of the page.
Below you'll see the page layout with a picture of John Boyd in his Korean War-fighter pilot era, followed by the text of the article. I post it here partly in thanks to Mr. Tallman; partly to give this account of Boyd's life and influence some continuing online existence, now that it has been zapped from its original home; and partly because the latest Pentagon budget (including the decision to discontinue the A-10 "Warthog" airplane) is the kind of thing Boyd would have had a lot to say about. 
More on the substance later. For now, I give you John Boyd ca. 1997, from back in the era when Dick Cheney was among the "military reformers."
---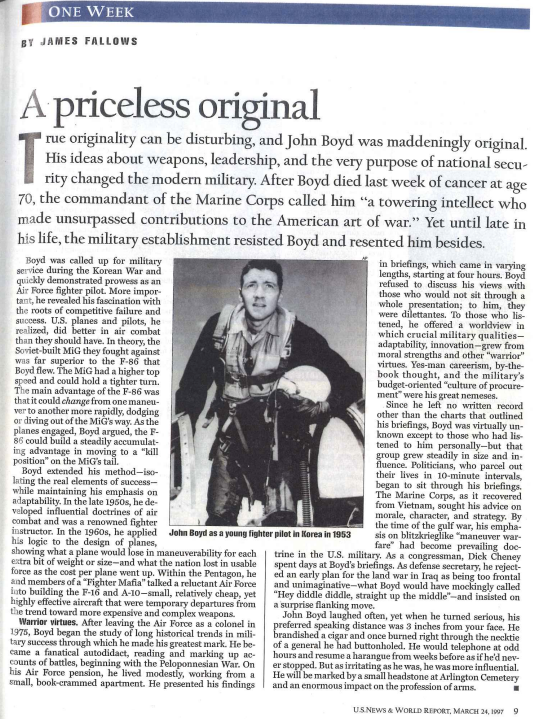 ---
A Priceless Original

True originality can be disturbing, and John Boyd was maddeningly original.

His ideas about weapons, leadership, and the very purpose of national security changed the modern military. After Boyd died last week of cancer at age 70, the commandant of the Marine Corps called him "a towering intellect who made unsurpassed contributions to the American art of war.'' Yet until late in his life, the military establishment resisted Boyd and resented him besides.

Boyd was called up for military service during the Korean War and quickly demonstrated prowess as an Air Force fighter pilot. More important, he revealed his fascination with the roots of competitive failure and success. U.S. Planes and pilots, he realized, did better in air combat than they should have. In theory, the Soviet-built MiG they fought against was far superior to the F-86 that Boyd flew. The MiG had a higher top speed and could hold a tighter turn. The main advantage of the F-86 was that it could change from one maneuver to another more rapidly, dodging or diving out of the MiG's way. As the planes engaged, Boyd argued, the F-86 could build a steadily accumulating advantage in moving to a "kill position'' on the MiG's tail.

Boyd extended his method--isolating the real elements of success--while maintaining his emphasis on adaptability. In the late 1950s, he developed influential doctrines of air combat and was a renowned fighter instructor. In the 1960s, he applied his logic to the design of planes, showing what a plane would lose in maneuverability for each extra bit of weight or size--and what the nation lost in usable force as the cost per plane went up. Within the Pentagon, he and members of a "Fighter Mafia'' talked a reluctant Air Force into building the F-16 and A-10--small, relatively cheap, yet highly effective aircraft that were temporary departures from the trend toward more expensive and complex weapons.

Warrior virtues. After leaving the Air Force as a colonel in 1975, Boyd began the study of long historical trends in military success through which he made his greatest mark. He became a fanatical autodidact, reading and marking up accounts of battles, beginning with the Peloponnesian War. On his Air Force pension, he lived modestly, working from a small, book-crammed apartment. He presented his findings in briefings, which came in varying lengths, starting at four hours. Boyd refused to discuss his views with those who would not sit through a whole presentation; to him, they were dilettantes. To those who listened, he offered a worldview in which crucial military qualities--adaptability, innovation-- grew from moral strengths and other "warrior'' virtues. Yes- man careerism, by-the-book thought, and the military's budget-oriented "culture of procurement'' were his great nemeses.

Since he left no written record other than the charts that outlined his briefings, Boyd was virtually unknown except to those who had listened to him personally--but that group grew steadily in size and influence. Politicians, who parcel out their lives in 10-minute intervals, began to sit through his briefings. The Marine Corps, as it recovered from Vietnam, sought his advice on morale, character, and strategy. By the time of the gulf war, his emphasis on blitzkrieglike "maneuver warfare'' had become prevailing doctrine in the U.S. military. As a congressman, Dick Cheney spent days at Boyd's briefings. As defense secretary, he rejected an early plan for the land war in Iraq as being too frontal and unimaginative--what Boyd would have mockingly called "Hey diddle diddle, straight up the middle''--and insisted on a surprise flanking move.

John Boyd laughed often, yet when he turned serious, his preferred speaking distance was 3 inches from your face. He brandished a cigar and once burned right through the necktie of a general he had buttonholed. He would telephone at odd hours and resume a harangue from weeks before as if he'd never stopped. But as irritating as he was, he was more influential. He will be marked by a small headstone at Arlington Cemetery and an enormous impact on the profession of arms.