Injecting Lethal Drugs Into Death Row Convicts–After They've Been Executed
Officials have said the practice follows appropriate protocol.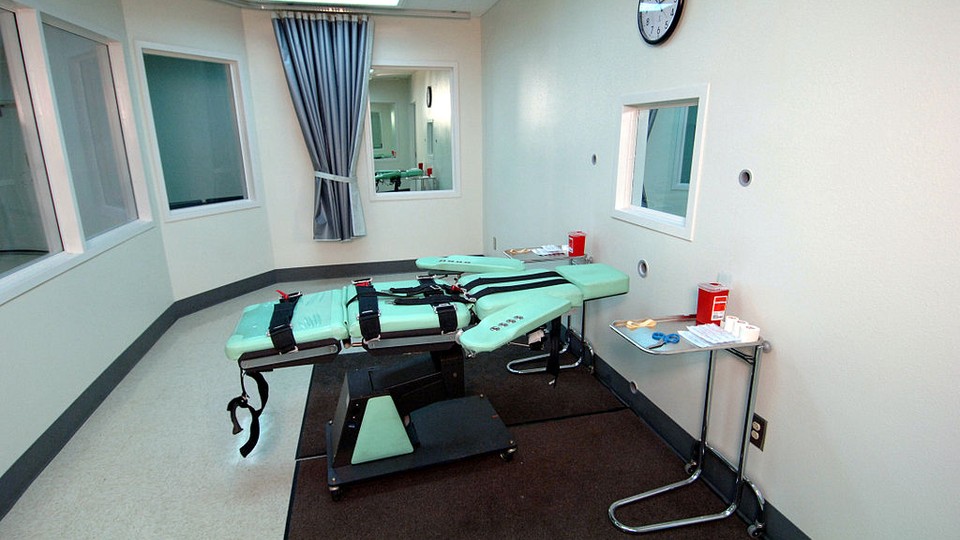 The state of Oklahoma injected executed convicts with lethal drugs for "disposal purposes," newly published state records show.
The macabre practice, first reported Tuesday by The Colorado Independent, could tamper with postmortem toxicology results in a way that obscures from public knowledge the amount of pain endured during execution, a revelation that calls into question the state's methods for administering capital punishment at a time when lethal-injection protocols nationwide are drawing renewed scrutiny.
"Convicts executed in Oklahoma have in some cases died from overdoses of pentobarbital or sodium thiopental, the anesthetic, rather than the second and third injections in the three-drug cocktail, according to documents obtained by The Independent," reporter Katie Fretland writes. "Records show executioners then injected the remaining two drugs into convicts' dead bodies for what forms turned over in response to an open-records request refer to as 'disposal purposes.' "
State prison officials defended the practice, telling The Independent that it follows appropriate protocol.
Fretland's reporting also examines emails between Oklahoma officials joking about helping Texas obtain certain lethal drugs in exchange for college football tickets.
"Looks like they waited until the last minute and now need help from those they refused to help earlier," an official wrote in January 2011. "So, I propose we help if TX promises to take a dive in the OU-TX game for the next 4 years."
Separately, the Oklahoma Court of Criminal Appeals announced Tuesday it would push back two imminent executions, after the state announced earlier this week it did not possess the drugs necessary to carry out the death sentences. Assistant Attorney General Seth Branham told the Appeals Court the state had undergone "nothing short of a Herculean effort" to carry out the executions of Clayton Locket, scheduled for March 20, and Charles Warner, scheduled for March 27.
Warner and Lockett's executions have been pushed back to April 22 and 29, respectively.
"We hope that no execution will go forward until we are able to obtain full information about how Oklahoma intends to conduct those executions, including the source of its execution drugs," Madeline Cohen, an attorney for Warner, said in a statement.
Several states around the country are running out of the drugs they have relied on for decades to carry out death sentences, as European manufacturers are making it increasingly difficult to procure such chemicals if they are intended for a lethal injection.
In response to the growing difficulties, some states have recently considered a return to older methods of execution generally considered less humane. Virginia weighed a bill in January that would have mandated electrocution be used to perform an execution if a lethal injection could not occur. The measure passed the state's lower chamber before dying in the Senate.
Lawmakers in Wyoming and Missouri have also flirted with a return to the firing squads.