Scary Photos of Today's Train Crash at Chicago's O'Hare Airport
This article is from the archive of our partner
.
Early this morning, an eight-car commuter train derailed in Chicago, crashing into an airport platform and injuring at least 32 passengers. It seems like a miracle that no one was killed, given the damage sustained at the station.
The train didn't stop where it was supposed to, in an underground station at O'Hare International Airport, instead crossing a platform and barreling part of the way up an escalator in the busy airport. According to Chicago Fire Commissioner Jose Santiago, "the train actually climbed over the last stop, jumped up on the sidewalk and then went up the stairs and escalator." Luckily, officials say none of the injuries appear to be critical. The photos of the crash, as you may expect, are rather dramatic:
A spokesman for the Chicago Transit Authority said investigators are trying to figure out what happened, but they suspect that the train was going too fast, according to the Chicago Tribune:
CTA spokesman Brian Steele told reporters that the train appeared to going faster than normal when entering the station. "We will be looking at everything — equipment, signals, the human factor," Steele said.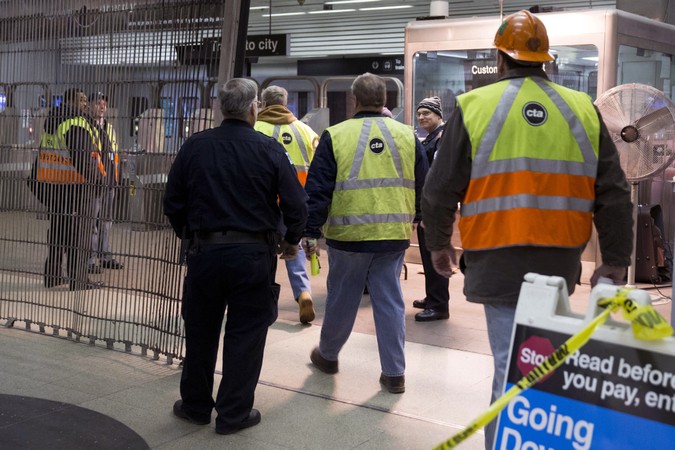 Now, officials must figure out how to deal with the mess. Again, the Chicago Tribune reports:
Steele said that the train operator was in the westernmost car on the train, the car that ended up off the tracks on the escalator. The other seven cars remain on the track, Steele said, and officials believe they could be moved. Dealing with the car on the escalator, however, will be more difficult, Steele said, and officials are still debating what to do. One option, he said, would be cutting the car up and removing it piece-by-piece. Steele estimated that it could be 12 to 24 hours to clean up the mess.  
Officials said the station will likely remain closed for 12-24 hours.
This article is from the archive of our partner The Wire.