Death Toll from Harlem Building Collapse Rises To 8, Search Continues for Missing
At least eigth people were killed and at least 60 injured by a gas explosion that caused two buildings in East Harlem, 1644 and 1646 Park Avenue, to collapse yesterday morning, and that more are feared dead as the search for nine missing building residents continues.
This article is from the archive of our partner
.
There are now seven eight confirmed deaths and at least 60 injured by a gas explosion that caused two buildings in East Harlem, 1644 and 1646 Park Avenue, to collapse yesterday morning. However, that number could rise higher as the search for nine missing people continues. (Update: it has. An eighth body was found Thursday night.)
As of Wednesday evening, police reported six killed, but a seventh victim was reportedly found by rescue workers early this morning:
BREAKING: 7th victim pulled from rubble in East Harlem

— New York Daily News (@NYDailyNews) March 13, 2014
Now 7 dead in the #building collapse in East Harlem after @FDNY discovered another body beneath the rubble

— Aaron Katersky (@AaronKatersky) March 13, 2014
A team of National Transportation Safety Board investigators has been dispatched to the scene and will focus on figuring out the role of Con Edison, which manages the gas line in Manhattan, in the disaster. They were reportedly called to the scene to investigate a gas leak, but had not yet arrived when the explosion happened.
"We want to find out not only what happened, but we want to find out why it happened . . . to make sure something like this never happens again," said NTSB board member Robert Sumwalt, adding "We will be looking at Con Edison . . . their integrity management system, seeing how they handled complaints . . . oversight of Con Edison by federal and state officials."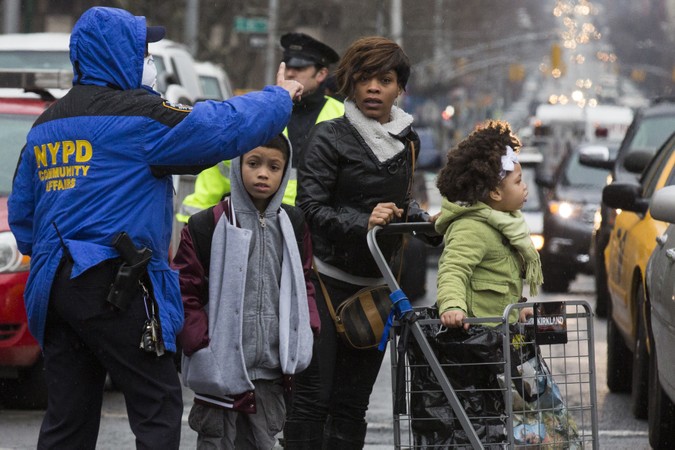 NYC Mayor Bill de Blasio described the event yesterday as "a tragedy of the worst kind because there was no indication in time to save people." He also said that "There's a tremendous amount of anxiety, but suffice it to say, every effort is being made to locate these [missing] individuals." Rescue workers continue to search through the rubble in hopes of finding those residents unaccounted for, a process that the mayor warns "will take quite a bit of time."
It's still not entirely clear what caused the gas leak on Wednesday night. Officials are considering the possibility that a water main break outside of the building may have contributed to the explosion. Those who live in the area said that it smelled like gas briefly on Tuesday night. "Last night it smelled like gas, but then the smell vanished and we all went to sleep," said Jennifer Salas, whose husband and dog were in their apartment in 1644 Park Avenue when it collapsed and are still missing. Others told an ABC local news affiliate that the smell of gas had persisted for months:
A resident of one of the collapsed buildings, Ruben Borrero, said residents had complained to the landlord for weeks about the smell of gas, as recently as Tuesday. Con Ed says it received no gas complaints from the building before Wednesday. The Fire Department said it was checking its records for any gas complaints at the building.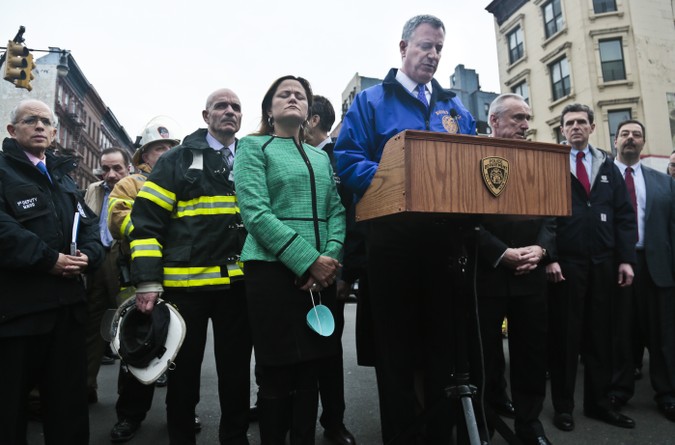 Officials report that after the gas leak was reported, the explosion and collapses happened rapidly. Per the New York Times:
Elizabeth Matthews, a spokeswoman for [ConEd], confirmed that a customer at 1652 Park Avenue called to report a heavy gas odor at 9:13 a.m. Two minutes later, two Con Ed crews were dispatched, and they arrived just after the explosion. The Fire Department said it received the first report of a fire at 9:31 a.m., and discovered on arriving two minutes later that the buildings had collapsed. There were a total of 15 apartments in the two buildings; one had a church on the ground floor, and the other had a piano store.
Roughly 250 firefighters responded to the emergency yesterday. 
The event shone a light on the city's crumbling infrastructure, especially the threat posed by old cast-iron pipes that are prone to leaks and prevalent throughout the city. The buildings themselves were two of the oldest in the neighborhood, and a Building Departments records shows that in 2008, the rear exterior of 1646 Park Avenue was found to have "several vertical cracks, which is hazardous for the safety of the structure."
Families of the missing are urged to call 311. 
This article is from the archive of our partner The Wire.