America Just Had the Worst Winter for Potholes in Recent Memory
Cities spread across a wide swath of the country are finding themselves in a prolonged pothole purgatory.
This article is from the archive of our partner
.
It may have been hell all winter, especially on the East Coast, with record-breaking cold temperatures and mounds of snow that never seemed to go away. But now cities spread across a wide swath of the country are finding themselves in a prolonged pothole purgatory.
"The potholes that have resulted from this year's severe winter weather are the worst that I can recall in many years," as Angel Taveras, the mayor of Providence, put it last month.
"It's a whole lot worse because of that extra cold," adds Cleveland's Director of Public Works, Mike Cox, of road conditions in his domain. "We've been battling this problem all winter, and we're still in winter mode."
During an average Cleveland spring, six crews deploy about six tons of asphalt each day to repair potholes. This year, it's regularly been 10 crews going through 100 tons of asphalt per day. Cox has even brought in extra help in the form of PatchMasters, a professional company with specialized equipment to fix potholes. His city-employed crews, who do the patching by hand, work alongside two PatchMasters teams and their machinery. The worst holes in the roadway get highest priority, and crews keep working through the list day after day fixing as many problems as possible.
"We work in between the snow storms and just do what we can," he says. "It never stops."
Cox is far from alone. From Milwaukee to Maine, further below the Mason-Dixon line and even in the thick of New England, where officials are more accustomed to brutal winter weather, cities are reporting the worst pothole plights they've faced in decades.
In Indianapolis, where the city maintains IndyPothole, a real-time, color-coded map showing the status of all pothole repair requests, the public works department has fielded 12,000-plus pothole complaints as of this week, with 2,300 still needing to be addressed.
Compare that to New York City, where the Department of Transportation says it has filled nearly 255,000 potholes across the five boroughs this winter, well above the sums for previous winters in recent memory.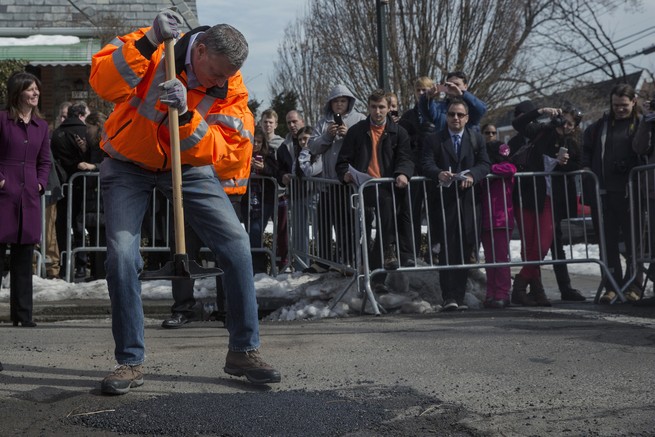 To do that, New York City's DOT dispatched a whopping 50 crews on weekends — along with 30, on average, during the week — to address pothole problems exacerbated by late-season snow. The workers also doubled the amount of asphalt they carried. Residents can keep track of their progress on The Daily Pothole, a Tumblr maintained by the NYC DOT.
In Chicago, Mayor Rahm Emanuel has not been shy about how badly this winter's storms have damaged his city's infrastructure. Earlier this month, his administration announced five different strategies to deal with triple the number of pothole complaints compared with the the past two winters. Between December and early March, Chicago logged about 47,200 complaints about crumbling pavement.
"Mother Nature has decided to leave nothing but pothole ruin on our streets throughout the city of Chicago," Emanuel said during a speech to residents. "Everybody is seeing what Mother Nature left. It also shows you the wear and tear and how old our streets are."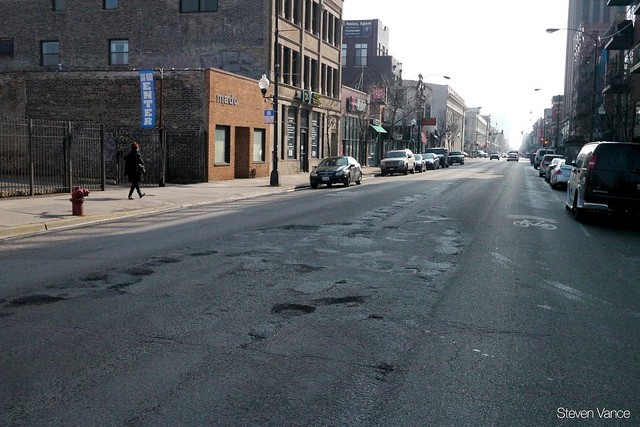 The city's answer has been to deploy so-called "striker teams" to proactively focus on repairing the busiest roads instead of just responding to complaints one at a time.
"All over, we're seeing a bumper crop of potholes," says Carolyn Kelly, associate director of research and communications for TRIP, a nonprofit that researches transportation safety issues nationwide. "The combination of an extremely harsh winter and a lack of funding that many states and municipalities have to handle it has made it especially hard." By the group's counts, in some cities as many as two-thirds of major roads are in poor condition and in dire need of upgrades.
Not only has heavy snow wreaked havoc for months as it fell from the sky and then settled on the ground; it's harmed roads in fundamental ways.
Kelly explains that when the temperature drops below freezing, rainwater and melted snow on roadways expand as ice in any fissure, opening a crack that will take on more water when the temperature rises. This freezing-thawing cycle creates potholes quickly. Potholes also develop when water seeps under the road's surface, freezes, forces the surface up and then melts again. This process leaves air pockets that vehicles can break into, creating more damage.
This article is from the archive of our partner The Wire.