The US News Editor on the Disappearance of Its Online Archives
"There was no 'plan' to discontinue the pre-2007 stories." How it happened.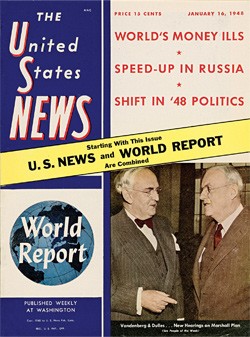 Last week Jim Romenesko first reported that US News—a major print newsweekly from 1933 through 2010, an online publication since then—had in effect erased its online archives for any time before 2007. I weighed in on the topic here.
I was editor of US News for two years in the late 1990s. Many people I'd worked with then—reporters, editors, photographers, cartoonists and graphic designers—plus people from other US News eras have written in to ask whether, since the change was apparently very recent, the archive might still be opened temporarily so they could collect and store copies of their work. Versions of the text of the stories exist in the (expensive) proprietary LexisNexis and EBSCO systems, and some libraries may still have bound copies. But the place where most people had assumed their work would "live" for search and retrieval purposes, the magazine's own site, had been removed for the first 74 years' worth of the magazine's existence.
---
Tech interlude: a few articles still show up via the wonderful Internet Archive Wayback machine, whose ambition is to provide an ongoing, permanent record of the Internet. Unfortunately, as this screen shot shows, the Wayback machine has nothing at all for US News before 1997 and only spotty coverage until late 2004. (Each vertical entry in the chart indicates an issue it has captured. There's only one for 1998.)

---
I wrote to Brian Kelly, the magazine's current editor, about the decision to eliminate the archives without any advance notice, given that even a few days' warning would have cost the magazine nothing and allowed people who cared to find and store their past work. Here is his reply just now:
There was no "plan" to discontinue the pre-2007 stories. It was a result of a migration to a new content management system.  The stories in that pre-2007 window are in multiple formats and rarely if ever searched. They still exist, just not as conveniently. We understand individuals and institutions may want access to these articles and that is why we direct them to database services [EBSCO and LexisNexis] where those stories are archived.

Before I sign off, I do want to pass along one thought about your previous reporting on this matter.  You suggested that the transition to our new system changed the way archival college, graduate school and other ranking data appears on our site.

In fact, we have never provided archived academic rankings and data on usnews.com. We only provide the current year, as has been our policy since we started publishing the rankings on usnews.com.  In our experience, the higher education community keeps good records of their rankings and information. We give them access to their current information and archival information going back a year, and we charge for compiling additional years. Bob Morse, Director of Data Research and I also personally work with members of the media to provide historical comparisons.  While I'm not seeking a correction, I wanted to make you aware of this.

I agree that there may be an interesting story in the state of old web copy as technologies migrate. I don't think it's a simple problem to solve.
On the point about archived rankings, I appreciate the clarification—which, even as a one-time editor, I had not known—that previous years' rankings had never been put online. But I do know that in addition to the charts, each year's "Best Colleges" issue contained accompanying articles describing ranking trends, changes in methodology, changes at the schools, and so on. For instance, in 1999 the college issue had articles on what it meant for the ranking system, and for American higher ed, that Caltech had suddenly leapfrogged to become Number One. Before, you could find those articles online. Now, you can't.
I am grateful to Brian Kelly for answering; I know the rigors of his job; and I agree with his last point, that this is a harder problem than it seems. Here's where we probably differ:
As publications work out their solutions to the economic/technological challenge of online archiving, I suspect that the US News approach, that of making decades' worth of material unavailable with no advance word, will be studied as an example of what not to do.