I have an article about Greenville, South Carolina, and some other cities, just being wrapped up for the April issue of the magazine. Whenever the snow and wintry storms stop rolling through the eastern half of the country, which should be soon, we'll resume our travels, again headed south.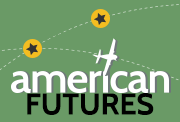 Reinvention and resilience across the nation
Read more
The watchword for this America-by-small-plane journey has been: there's no place we "have" to be, so there's no reason to take off when there is weather to worry about.
Low-altitude flight in good weather can seem almost magical (as Deb Fallows has described). In bad weather, it's unpleasant at best and foolishly dangerous at worst. Here is the kind of forecast map, retrieved just now from the National Weather Service's wonderful Aviation Weather Center site, that makes me think: Well, I have a lot of writing to catch up on anyway. It's forecast icing severity early tomorrow as the latest snow storm comes through, at the altitudes we'd be likely to fly headed south. The red hashmarks are for "Supercooled Large Droplets," which are worse than they sound and can mean trouble for even big, powerful jet planes.
So for the evening, two intriguing bits of data on the main question we're pursuing in America as we once did in China: why certain communities are proving resilient in tough times, and whether their successes are purely idiosyncratic or offer clues that might be applied elsewhere.