By Deborah Fallows
When we were in Greenville SC recently, I was surprised to learn that a very common follow-up to the greeting of "How do you do?" or "Nice to meet you," is the question "Where do you go to church?" I wrote about it here.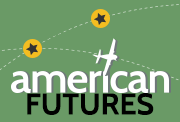 Reinvention and resilience across the nation
Read more
Lots of you wrote in about this question,  "Where do you go to church?" Some of you considered the question to be intrusive and even offensive. From a reader in Washington DC: "If someone asked me 'Where do you go to church?' I'd be flummoxed at least and offended at worst." Others were not at all flummoxed, and wondered why I would be surprised. And on a web forum at city-data.com discussing just this question, writers from places as distinct as rural Maine and Kentucky said this expression is commonly heard.
Many more of you reported other queries that you would be likely to say or hear in your own hometowns. So far, I would say that your suggestions fall into 3 different categories: social orientation, work, and neutral territory. (And to be clear here, I'm ruling out pickup lines; that's another topic. I am referring to general conversation openers that aim for a sweet spot between impersonal and too personal, between vapid and too pungent.)
Social orientation:  The two women I met in Greenville SC, interpreted the real meaning of "Where do you go to church?" as something to orient you socially, like "Who are your people?" or "Where do you fit in?" A New Yorker who posted on the city-data forum echoed this and suggested the socially orienting analogy there might be pizza: "It's just like someone asking you what grocery store you go to or what pizzeria (New Yorkers love pizza) you go to," she wrote.