Should 'New York's Finest' March on Saint Patrick's Day, If Gays Can't?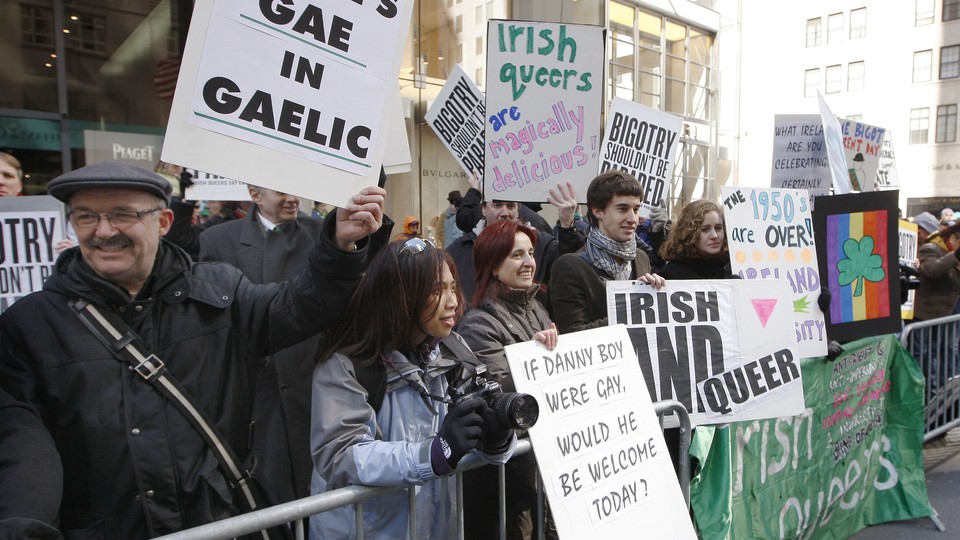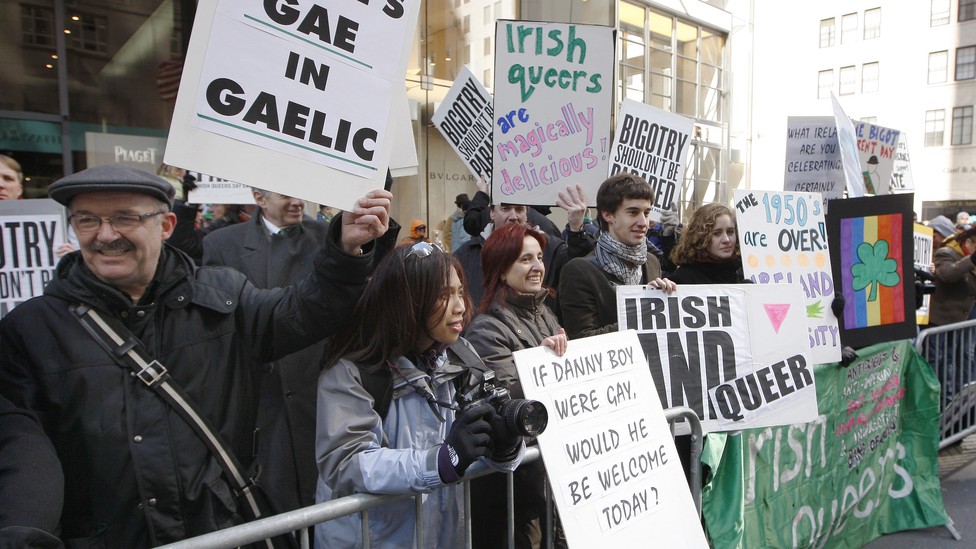 New York City's Saint Patrick's Day parade dates back to 1766, when Irish soldiers serving in the British army organized "a parade of sorts … including fife and drums at dawn." Today the parade maintains an air of militarism, its ranks swelled by uniformed police officers, as well as firefighters. They march to express ethnic pride, or so one assumes. But ethnic pride can be a form of tribalism, and tribalism has a dark side: ethnic (or religious) bias. New York's St. Patrick's Day parade excludes identifiable Irish gay and lesbian groups, and GLBT rights advocates regard the participation of uniformed officers as official discrimination.
"The presence of uniformed police and firefighters in such a procession sends a clear signal to LGBTQ New Yorkers that these personnel, who are charged with serving and protecting all New Yorkers, do not respect the lives or safety of LGBT people," a coalition of organizations, individuals, and public officials recently asserted in a public letter to Mayor DeBlasio.
They characterized the participation of uniformed officers as a violation of the City's Human Rights Law (although its application here is unclear), and they asked the mayor "to direct all City departments not to organize marchers for or allow personnel to participate in this anti-LGBTQ procession either in uniform or with any banner that identifies them with the City."
De Blasio has already directed himself not to march, citing the exclusion of gay and lesbian groups. But his power to ban uniformed personnel from participating is questionable at best, unless he bans all personnel from participating in all private parades, in uniform or with any official banner. If De Blasio cedes to the demands of LGBTQ advocates in this instance, he'll invite a federal lawsuit, which he'll probably lose.
If the immorality of discriminating against LGBTQ groups seems clear (at least to the Mayor and other LGBTQ advocates), the legalities are complicated, involving the interplay of private speech and associational rights and public obligations to ensure equality. The complications are familiar to federal courts.
First, consider the First Amendment rights of St. Patrick's Day parade organizers to exclude LGBTQ groups, or others with whom they don't wish to associate. In 1995, in Hurley v Irish American Gay Lesbian Bi-Sexual Group, a unanimous Supreme Court upheld the exclusion of a gay and lesbian group from the Boston parade, overturning a state court decision that ordered the group's inclusion, under a state anti-discrimination law. Justice Souter's opinion in Hurley confirmed what was constitutionally obvious—that a parade is "a form of expression," as the Court had previous recognized in cases involved protest marches.
Every identity group participating in a parade "affects the message conveyed by the private organizers," which means that an official order requiring inclusion of a group that organizers prefer to exclude is a fundamental violation of their right to say what they choose according to the dictates of their collective conscience. Organizers of a gay pride parade, for example, have an essential right to exclude identifiably homophobic groups.
Uniformed police officers, clothed in official power, behind an official banner, have no obvious or equivalent private rights to march in any private parade. But, as a general rule, they have rights to equal treatment by the Department and enjoy First Amendment protections from viewpoint discrimination.

Gay and lesbian officers no doubt appreciate these rights: They had to fight for permission to march in uniform in New York City's gay pride parade, accompanied by the NYPD marching band. They marched for the first time in 1996, after the Gay Officers Action League sued the NYPD for discrimination in federal court. Their official recognition was an emotionally resonant moment for the gay community, as a New York Times report back then suggested:
Gay and lesbian police officers brushed the lint from their dress uniforms yesterday, polished their buttons and shined their shoes. Today, for the first time, members of the Gay Officers' Action League will be marching in full dress uniform, accompanied by the New York Police Department marching band and representing New York's Finest in the 27th annual Lesbian and Gay Pride March.
The equal treatment granted by the police department to gay and lesbian officers in 1996 (under threat of litigation) was definitively vindicated in federal court a few years later. A group of Latino officers successfully sued the NYPD for the right to march behind their own banner in a Puerto Rican Day parade.
"(T)he NYPD already permits at least 25 such organizations to march in uniform," the Second Circuit Court of Appeals observed, in 1999, in Latino Officers Association v City of New York. "Having allowed these organizations to use the NYPD uniform in such a manner over many decades, the NYPD cannot now deny plaintiffs the same privilege without demonstrating that their use of the uniform is both distinguishable from that of the various authorized organizations."
The court was careful to note that it was not deciding "whether or not (city officials) could constitutionally prohibit all fraternal organizations from marching in uniform." That's an observation DeBlasio might be advised to consider. A comprehensive ban on all city employees marching in uniform or behind official banners should be and, I suspect, would be constitutional and might be wise.
When police and firefighters march in uniform they march with the aura of power and authority the uniform confers. Arguably, marching becomes, in effect, a sort of hybrid private and public speech, giving the impression that the marchers speak for or with approval of officialdom. Is there an important expressive right to march in a private parade in order to express private views (or private pride) while wearing a public uniform that implies your views are quasi public? I don't think so. But LGBTQ advocates who want to bar uniformed officers from the St. Patrick's Day parade, while allowing them in the Gay Pride parade, would, on occasion, disagree.