The World's Largest Solar Energy Plant Is Also a Massive Death Ray for Birds
Last week, the world's largest solar energy plant opened in California's Mojave Desert. Things are already taking a not-unexpected turn for the worse.
This article is from the archive of our partner
.
Last week, the largest solar energy plant in the world opened in California's Mojave Desert and things are already taking a not-so-unexpected turn for the worse.
The $2.2 billion Ivanpah Solar Electric Generating System is made up of three massive generators, and covers about 5 square miles of land close to the California-Nevada border. Ivanpah is on federal land, but is owned by private companies, including NRG Energy, BrightSource Energy and Google. Brightsource earned a coveted $1.6 billion federal grant to invest in the project. The plant is designed to power 140,000 homes with nearly 400 megawatts of energy — a possible game changer in the clean energy sphere. Though the plant did not formally open until last week, it began producing energy last year. 
Last week, Energy Secretary Ernest Moniz offered high praise for the plant in a dedication speech. He said:
The Ivanpah project is a shining example of how America is becoming a world leader in solar energy. As the president made clear in the State of the Union, we must continue to move toward a cleaner energy economy, and this project shows that building a clean energy economy creates jobs, curbs greenhouse gas emissions, and fosters American innovation. 
Naturally, he didn't mention anything about how the project also functions as an avian death trap.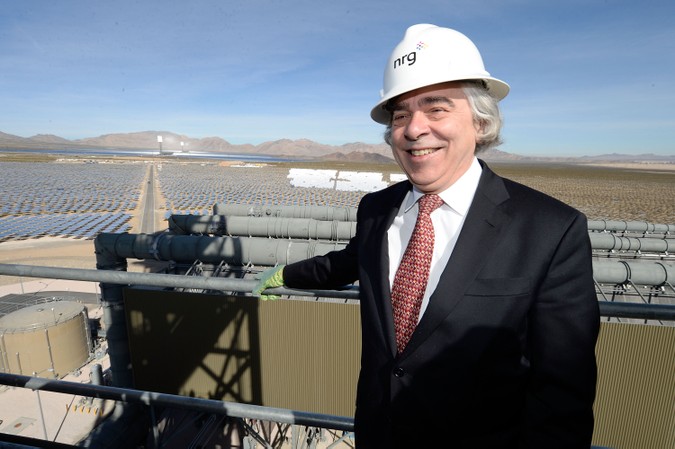 Authorities were all aware that birds cannot withstand the furnace-like heat generated by the unprecedented collection of solar panels. Unfortunately, the 350,000 energy-culling mirrors make the whole think look like a glittering oasis, luring birds to the area, where they are burned to death in the searing heat.
The Wall Street Journal reported last week that California's energy commission urged BrightSource to steer clear of tower-based solar farms like Ivanpah in future projects because of their cost and effects on wildlife: 
The BrightSource system appears to be scorching birds that fly through the intense heat surrounding the towers, which can reach 1,000 degrees Fahrenheit. The company, which is based in Oakland, Calif., reported finding dozens of dead birds at the Ivanpah plant over the past several months, while workers were testing the plant before it started operating in December. Some of the dead birds appeared to have singed or burned feathers, according to federal biologists and documents filed with the state Energy Commission.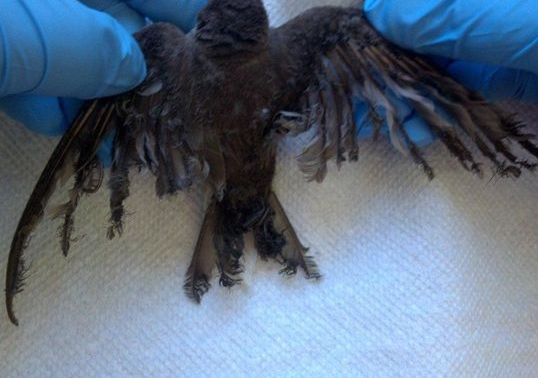 This is not the first environmental concern connected to the plant, which previously came under fire for displacing desert tortoises with the solar towers. Bloomberg Businessweek reported back in 2012 on the tension between the project's green ambitions and not-so-green execution:
Early on, the project gained green cred from the Sierra Club and Natural Resources Defense Council. That was before its 45-story towers began rising from a 3,500-acre dry lake bed in California, uprooting scores of desert tortoises from their burrows, far more than federal wildlife officials had estimated.
BrightSource took steps to protect the animals, spending $56 million to relocate tortoise populations.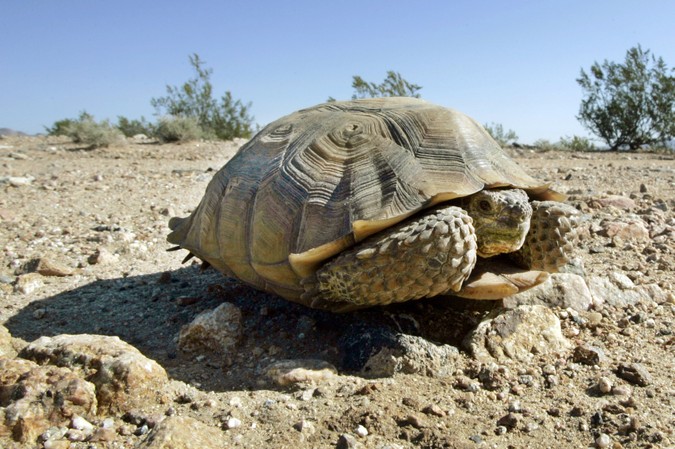 According to the Los Angeles Times, it was a Sisyphean effort, with some tortoises run over by vehicles, hatchlings attacked by killer ants and others picked up by predatory eagles. Now, evidence of bird deaths is mounting. According to a monthly compliance report on the project by the California Energy Commission, nearly one dozen birds were found dead or injured, many with singed wings, while the site was being tested in November. Long-term effects are unknown, but this number of fatalities was apparently higher than expected, per the WSJ. Then again, 11 birds month might be an acceptable cost for all that renewable power.
Or maybe not? Not only is the ambitious project beleaguered by animal-killing concerns, but some analysts are saying it's just too expensive for the end result. On its website, BrightSource boasts "next-generation solar field design," that relies on solar energy instead of fossil fuels or nuclear power. The company lists benefits like "more reliable and consistent power output than intermittent renewable resources,' and "increased production capability through thermal energy storage and hybridization with fossil fuels." The New York Times, however, wrote last week that the project is already outdated:
Since the project began, the price of rival technologies has plummeted, incentives have begun to disappear and the appetite among investors for mammoth solar farms has waned. Although several large, new projects have been coming online in recent months — many in the last quarter of 2013 — experts say fewer are beginning construction and not all of those under development will be completed.
Tech research analyst Matthew Feinstein told the Times that "I don't think we're going to see large-scale solar thermal plants popping up, five at a time, every year in the U.S. in the long-term — it's just not the way it's going to work." Sounds like the birds may actually win this one. 
This article is from the archive of our partner The Wire.