Inside the Love Story That Brought Down DOMA
An interview with the filmmakers who put Edith Windsor in the national spotlight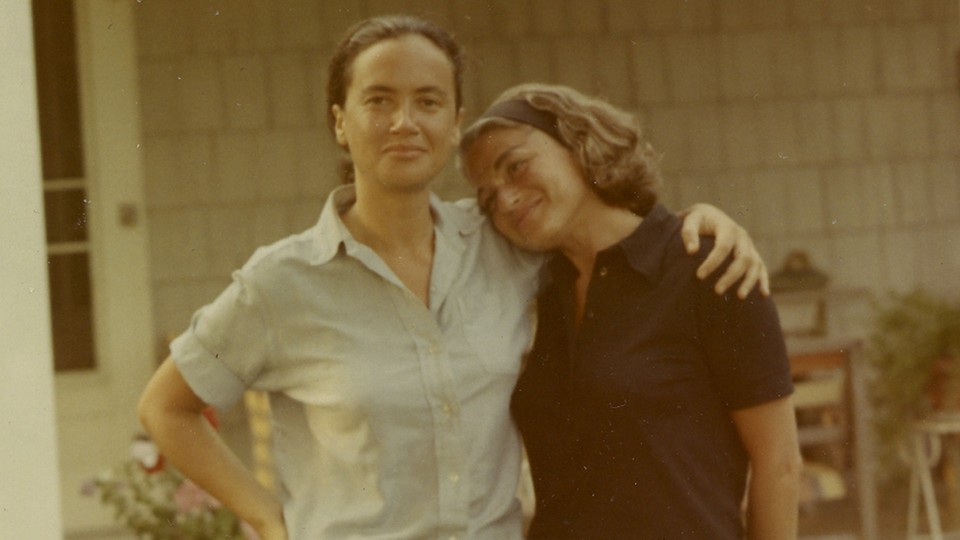 In 2007, New Yorkers Edie Windsor, 77, and Thea Spyer, 75, made plans to travel to Toronto, Canada, so they could be legally married after four decades together. When one of the wedding organizers introduced them to renowned documentarians and longtime partners Susan Muska and Gréta Ólafsdottir, the filmmaking duo quickly realized that they'd found their next project.
Edie & Thea: A Very Long Engagement premiered in 2009 at San Francisco's Frameline Film Festival, four months after Spyer passed away. "It got a standing ovation," Ólafsdottir remembers, sitting in the Manhattan apartment she shares with Muska. "It was a beautiful gift to Edie."
It soon became something even more. After Windsor was forced to pay $363,053 in estate taxes, she sued the federal government to recognize her exemption as Spyer's surviving spouse. The Supreme Court ultimately ruled in her favor—and struck down the Defense of Marriage Act in the process. The couple's love story, captured so compellingly in Edie & Thea, played a huge role in the outcome. As Muska puts it, "Edie will say the film was the evidence for her case that she had a relationship that could be called a marriage."
The film documents Windsor and Spyer's remarkable romance and their struggle to thrive in a homophobic world. Despite their ever-present fear of being outed, the two women managed to hold onto their hard-won careers—Windsor was a computer consultant at I.B.M and Spyer a clinical psychologist. The cosmopolitan beauties lived large, drinking and dancing at the hottest underground queer clubs, sunning at the Hamptons in the summer, traveling from Suriname to Venice, and loving one another with passion and devotion. After Spyer, a sultry brunette, was struck with chronic progressive multiple sclerosis, Windsor remained by her side, caring for her and finding innovative ways to preserve their sex life. Gay rights aside, this may be the film's most groundbreaking achievement: It depicts two septuagenarians—one disabled—as vibrant partners full of fun and palpable sexuality.
Muska and Ólafsdottir have been making socially conscious films for the past 20 years, beginning with their Emmy-nominated first effort, The Brandon Teena Story. The filmmakers spoke to me about the love lessons they learned from Windsor and Spyer and described some of the movie's revealing outtakes.
---
Stephanie Fairyington: How did you two meet Edie and Thea?
Susan Muska: Through one of our filmmaking friends, Brendan Fay, who was running this organization called The Civil Marriage Trails. It was like the Underground Railroad for gay and lesbian couples in New York to be legally married. In 2007, while you still couldn't get married in New York State, your marriage would be recognized if you were legally married elsewhere. So everyone was going up to Toronto, and Brendan was an intermediary with all the facts and logistics. On day he told us, "I met this great couple and I think you should meet them."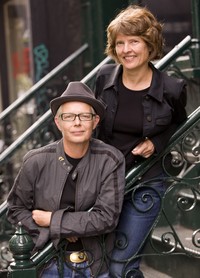 Gréta Ólafsdottir: I think we all kind of clicked. It was quite amazing.
SM: Because we didn't start out wanting to make a film only featuring them. We interviewed lots of people.
GO: We were in that period where you are forming your ideas and we saw the possibilities of telling a much bigger story through their love story. Because they were in their 70s, it gave us a chance to cover a big swath of LGBT history and civil rights.
SF: Did you learn things about that history from them that you didn't already know?
SM: I had already worked on a lot of LGBT stories for DykeTV in the 90s, so nothing was totally new. But it was very enlightening to spend a lot of time with people who had lived with the kind of oppression they'd lived with, the secret lives and underground social worlds. Edie and Thea really had to be careful because they were very academically and professionally successful people, and they were operating in a world that believed that homosexuals had a mental disorder. The reality of that was made very clear for us while we were making the film. Thea was kicked out of Sarah Lawrence College when they found out she was gay. When I told that to the PR person of the school, she said, "You've got to be kidding!"
SF: Sarah Lawrence is the gayest school on earth.
SM: I know!
SF: It must be challenging being a couple and working together so closely. Do your visions ever clash? How do you negotiate your creative differences?
SM: We beat each other up! I always want to include too much information. Greta is good about paring down. We have a lot of back and forth, until we get something we like. Or, we just wear each other out.
GO: When you are making documentaries, if something doesn't fit in the story, no matter how much you love it, you have to cut it.
SM: Because we get so close to the material, we can't simply rely on our own judgment. So we invite friends of ours who are editors and really good story tellers over for drinks and dinner to get their feedback.
SF: Can you share some scenes you loved but had to cut from Edie & Thea?
SM: There's a lot! We had some very fun stories about sex.
SF: Like?
SM: Just about how in the 60s and 70s there were sex toys you couldn't buy because they were illegal.
GO: But, you could import them from other countries. And they did.
SM: They had to learn the words for things they wanted to purchase from other countries. It's amazing that they actually lived through that time period.
GO: Another bit that was cut, but was very telling: While we were filming a scene of them swimming together, Thea had hardly been in the pool for more than a minute when she had a seizure and had to be given her heart medication. She had to leave the pool. We were sitting around her, trying to make sure she was okay.
SM: After a few minutes, Thea recovered and insisted on going back into the pool because she knew we had not gotten enough footage. We didn't want her to. It seemed too risky, but she kept saying "No, you didn't get what you needed!" Like Edie, Thea was an unstoppable force.
SF: Were there other challenges to making this film due to Thea's health?

GO:  It took a long time for Thea to get ready for us to come over and film. Also, there was a limit to how long we could interview her. We always had to make sure we didn't go too long so it wouldn't be exhausting.
SM: For someone who is quadriplegic and can only move her head and one finger, everything is dependent on health and assistance in getting ready. We weren't doing an exposé, so we could afford to work with them on their time, when they felt ready or when they took an initiative. We often forgot that Thea actually had limited time. When we met her, she had less than a year to live and that was the impetus for their marriage. But as we got to know them, we sort of were in denial about that—even though we were constantly reminded when she'd have heart seizures and have to take medication.
GO: I can't tell you how many times we would forget her illness because of her energy and her humor. Her persona was grand. Each of them was a force.
SF: Did your film help bring Windsor's case to the Supreme Court?
GO: As far as we know, it was used as evidence.
SM: Edie will say the film was the evidence for her case that she had a relationship that could be called a marriage. I can't speak for her legal team, but Edie said, "Without the film, you wouldn't have had that emotional connection."
GO: Anyone who might have questioned the status of their relationship before the film didn't after watching it.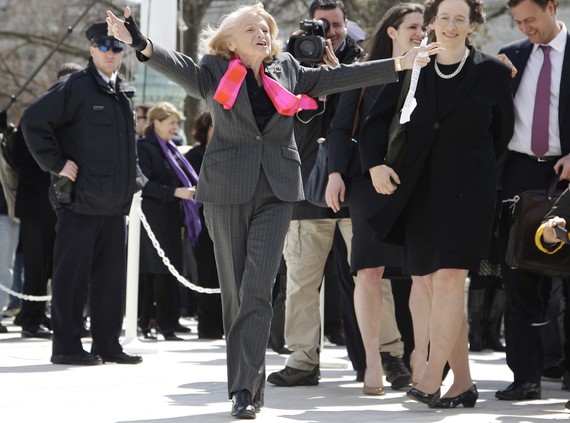 SF: Did Edie or Thea ask you to take anything out of the finished film that they didn't like?
GO: Well, Thea passed away before we finished the film.
SM: But when we did the interview that covered Thea's background—her family were Jewish refugees from Holland—she called up and said, "You know, I really didn't like that interview. There are things that I reflected on more that I would like to add." And we honored that.
SF: How did Edie react to the film?
GO: We showed her the film before we premiered it at Frameline, a queer film festival in San Francisco, when Proposition 8 was in full swing. We thought that was a very important place to show it. We wanted Edie to see the film beforehand because we didn't want to surprise her in a Castro theater full of people.
SM: But she had also seen parts of it throughout the process. She really liked it.
GO: None of us knew what to expect when we showed it, but we had a standing ovation.
SM: It was four months after Thea died.
GO: So it felt like a beautiful gift to her.
SF: You make films to affect social change. Does that influence how you craft your films? For example, were there scenes that you cut because they might have made Edie or Thea less likable?
SM: No—well, yeah, we did partly. We thought, How can the film be a tool? How can it be used? So we included Edie's activism, her struggle to get married, and the people who participated in that marriage happening. When the film was done, we knew it could be used by different organizations as a way to put a face on the marriage issue. We think, What organizations will want to show the film? What libraries? What departments at what universities? Edie & Thea has been shown in all sorts of law schools and nursing programs. Through the film, we'd gotten involved with organizations like Freedom to Marry, Marriage Equality, and the ACLU. But the point is that all documentary filmmakers make films because they have an agenda. You make a film because you feel strongly about it. Otherwise, you wouldn't be doing it because you're not going to make money!
SF: Do you know of any instances where the film changed someone's anti-gay marriage stance?
SM: Predominantly, we hear from adult children of older gay parents who had a secret love life—either one they knew about, or one they discovered after the parent passed away or went to a nursing home. The film helps them finally put the pieces together, like, "This is what my parent has gone through."
But many younger gay people also show it to their parents to let them see someone of their own generation speaking about a gay relationship. One of our many requests was from a Romanian woman who was getting married to an Italian woman in Italy. She said, "Can you please get a copy of your film with Italian subtitles made? I want to give it to my Italian Catholic mother-in-law and my father-in-law because they are very, very angry and upset about our pending nuptials." So, we were actually able to get the Italian subtitles from the organization that had shown it in Italy. We cut them into the film ourselves. Then, we sent it to them.  After they saw it, the woman translated a letter from her mother-in-law for us that was very moving. It thanked us for the film and said it really helped her understand what her daughter and her daughter's wife were going through.
GO: The film is a love story. And all of us, no matter where you come from or who you are, fall in love. Everyone understands a love story.
SF: The international edition of the DVD comes out this spring.
GO:  Yes, it will have different language subtitles, and it will include an update on Edie's life, including her case against the U.S. government and the historic victory over the Defense of Marriage Act.
SF: What did you two learn from Edie and Thea about keeping the flame alive in a long-term relationship?
GO: One thing we learned is to take more pictures of ourselves, which is kind of interesting because we are documentary filmmakers! Thea was an addict. She took photos all the time. The beautiful photos in the film are just a small percentage of her collection. It made me really aware of how important it is to document your own life. Usually, when we're traveling, we're shooting something besides us.
The other thing we learned from them was to just bloody live. Embrace every day. Like Edie says, "Don't postpone joy." That's really important.
SM: Their level of conscious commitment to each other is something that is very easy to forget when you're in a long-term relationship. All of a sudden, years can go by and you're like, "Man, I need to pay attention to my spouse." It makes a big difference when you have that awareness. Their example reinforced that for us.
SF: Staying monogamous over four decades is a tall order for many people. Did they talk frankly about desires outside of marriage, and did either of them ever step out of their relationship?
SM: No. Keep in mind that they got together later in life and by then, both were ready to settle down. They were extremely possessive of each other. Thea, for example, didn't even want to see photos of anyone who might have been of interest to or interested in Edie before they got together. They realized how important keeping their relationship alive sexually was. As Thea's physical condition deteriorated, they actively pursued making things work. Pretty early on in their relationship—about the time many relationships stagnate and fall apart—Thea was diagnosed with MS. It seems that the commitment to stay together through that disease also gave them extra impetus to be creative sexually within the relationship.
GO: It was never, "We can't do it." It was always, "How do we approach it? How do we make this better?" I can imagine a lot of people would walk away. But that was never an option for them. They always sought to solve the problem. They were almost always ahead of the game. It's unbelievable.
SF: Did you two have any ambivalence about marriage at any point?
SM: We're not married!
SF: There's a queer camp that opposes same-sex marriage because it stigmatizes single people and sort of coerces people into coupledom by rewarding them with special social status and government benefits. Do you understand that point of view?
SM: Oh, yeah. It's also a feminist point of view. Marriage is a heterosexist institution. On the other hand, I can totally understand wanting to get married because of the rights and the social respect it gives you. We understand both sides of that coin.
GO: Absolutely.
SM: I never even wanted to get married, although we do see the rights and advantages that we'd have. We don't have any kids, either. But even if I had children, I don't think I'd want to get married.
GO: We come from that feminist mindset. Historically marriage was the only way for heterosexual women to have rights. And marriage is still the only institution where a relationship is actually protected under the law. There are more than 1,100 benefits that come with marriage. Think about it: We have been together for 20 years and our relationship is not respected in the same way. 

SM: Although I wouldn't say that we have ruled out marriage. After making this film and meeting so many couples, I do see that it's really important. I see that not being allowed to marry in a heterosexist society is denigrating to many LGBT people. So I'm not against gay marriage. I am for it.
SF:  Is there any risk that mainstream acceptance will cause queer culture to lose some of its unique sensibilities?
SM: Who wants to go backward? I don't think anyone would say, "I'll trade having to live in fear in a world of rampant homophobia and be thrown in jail if I go to a gay bar or lose my job for queer culture." A lot of minority culture comes from this need for revolution. But then what happens once you start gaining rights and winning your revolt? Things change. You can't perpetually be in conflict.
SF: It's been almost five years since Thea passed away. Do you think Edie is open to finding new love?
GO: Absolutely!
SM: She has a social life. She's a very vibrant person. In fact, she's on a lesbian cruise right now!