Colorado's Prison Director Spent 20 Hours in Solitary—but That's Not Enough
Rick Raemisch subjected himself to hours of isolation and wrote a stirring op-ed for the New York Times. But will he offer relief to the mentally ill inmates who have been suffering for years under the system's inhumane treatment?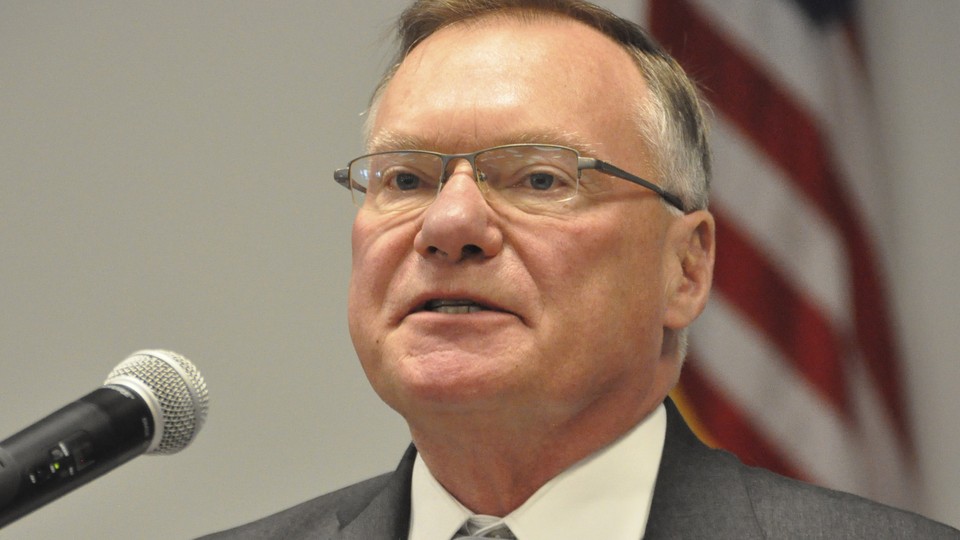 Rick Raemisch, the new-ish director of the Colorado Department of Corrections, sure gives good sound, as we say in the electronic news business. Not only did he voluntarily spend a night in solitary confinement in one of his prisons last month but he then wrote an op-ed about his experience that appeared Thursday in The New York Times, a piece that highlighted his concerns about the use of solitary in a way that surely catapults him to national status as a different sort of prison reformer—an insider with both a mandate and a conscience.*
Raemisch lasted 20 hours in a cell—a "blink," he candidly called it. If it were my call, every single corrections chief in every single state would have to spend not a single day but a week, or a month, in solitary confinement, without knowing when the confinement would end, to better understand what it does to a person's heart and mind and soul and body. Only then would this odious and unconstitutional practice be swept away for good from our nation's prisons. Read this piece, "The Science of Solitary Confinement," published this week by the Smithsonian Magazine, and tell me otherwise.
Still, you won't find me criticizing a corrections official for pulling a stunt like this. If nothing else, it shows that Raemisch is open to the idea of gaining empathy for inmates (especially mentally ill inmates) who are thrown away like this, often for decades, without proper care or treatment. And if the hearts and minds of prison officials are going to change, everywhere and without costly litigation, they are going to change through the nurturing of empathy—the ability of officials to understand what occurs to these prisoners when they are confined like this. Good for Raemisch for doing it—and then writing about it.
Before we all beknight Raemisch, however, it's important to point out that there remains a significant gulf between the noble words he sent to the Times and the ignoble arguments state officials are still making in Colorado to prevent mentally ill inmates from leaving solitary confinement and getting the care and treatment they need. Some of the claims he's made simply aren't supported by the facts. And some of the definitions he uses are misleading. Like New York state, which last week announced it was turning away from solitary, Colorado has made significant strides toward reform but still has a long way to go and two cases in particular help explain why.
Sam Mandez
Raemisch spent 20 hours in solitary, knew that he could leave at any time, and yet still lamented its profound impact upon his soul. Contrast his experience with the experience of Sam Mandez, a man who has spent nearly half his life,  nearly all of the past 17 years, in solitary confinement in Colorado. Prison policies and practices long ago made him severely mentally ill, yet he has not been released from solitary or given adequate care and treatment—even under the reformist regime that Raemisch is heralding. Mostly what Colorado has done in its new age of enlightenment is to change the label of the program.
In December 2012, Mandez was transferred from one form of solitary confinement—officials call it "administrative segregation—into another form of solitary confinement—officials call it a "resident treatment program." The idea, from the perspective of the Department of Corrections, is that the "treatment program" is less harsh and more proactive in treating Mandez's mental illness. But that's not what is actually happening. According to his attorneys and other advocates who have reviewed prison records, Mandez still is being held in isolation for 22 hours a day and still isn't being adequately treated for his illness.
Here is the link to a letter the ACLU of Colorado sent earlier this month to Director Raemisch chronicling the ways in which the "reforms" he has loudly implemented have not made a meaningful difference to Mandez's conditions of confinement. The document is a must-read for helping us understand that true reform in these cases can come only from focused care and treatment and the embrace of policies that reduce the amount of time these inmates spend alone in their cells. An illustrative paragraph shows how far Colorado has fallen in providing adequate mental health care to this prisoner:
Of perhaps greater concern, while in isolation at the RTP, Sam receives negligible one-on-one contact with mental health professionals. During his first nine months in the RTP, Sam spent an average of seven minutes every week meeting one-on-one with a mental health professional. It was surprising to us to learn that the longer Sam has been in the RTP program, the less time he has spent meeting individually with a mental health professional.

Recent data provided by CDOC shows that from May 28, 2013, through December 31, 2013, Sam spent an average of four minutes each week meeting one-on-one with a mental health professional. Many weeks and months Sam had absolutely no individual mental health contacts. In Spring of 2013, for instance, Sam went 114 days without an individual mental health contact.
Raemisch responded to this letter (and an expert's report) thanking the ACLU for bringing to his attention Sam's continuing plight. But the director of corrections should long have known about Mandez and the deplorable treatment he has received. Last November, for example, we chronicled Sam Mandez's heartbreaking story here at The Atlantic. If Raemisch is serious about reform, and I believe he is, he must bring relief to Mandez, the poster child for cruel prison policies. The conditions of his confinement must change for real and the care he receives for his illness must be individualized and substantial.
James Sardakowski
James Sardakowski is another mentally ill man, who is also developmentally disabled, who has been in solitary confinement in Colorado for four years. A few years ago, his lawyers sued Colorado prison officials, alleging that the Department of Corrections had "denied him adequate mental health care" and housed him "in prolonged solitary confinement" in violation of his Eighth Amendment rights. Last December, again, during the Raemisch regime, state lawyers responded to the lawsuit by seeking to dismiss it long before trial on the grounds that Sardakowski has no factual bases for his claims.
But he does. In this pending federal civil rights case case we see many of the same problems that still doom Mandez and other inmates still living in one form of solitary confinement or another. Like Mandez, Sardakowski was transferred from "administrative segregation" to the "residential treatment program." Like Mandez, the switch in the title of the programs didn't make a material difference in the conditions of his confinement or in the care and treatment for his mental illness and development disabilities. Here is the link to Sardakowski's court filing seeking the opportunity to bring the case to trial.
For example, Sardakowski's attorneys assert, citing deposition testimony from prison officials, that their client "has not received a single individual therapy session since arriving in the [residential treatment program] in February 2013." They contend that prison policies require officials to discuss with mentally ill inmates "individual treatment plans" with "targeted behavior goals" but that Sardakowski "does not know what is in his treatment plan because [program] clinicians have never discussed it with him." This is not the sort of reform Raemisch heralds. This is plain old incompetence on the part of officials.
There is much more to the Sardakowski case. His illness and disabilities are so profound, for example, that he often engages in self-harming behavior, including attempted castration. Yet Colorado officials have not transferred him to a "self-injurious unit to provide immediate and specialized assessment and treatment." Here is the link to Mr. Sardakowski's Declaration filed in response to Colorado's motion to dismiss his case. If Raemisch has read it, there is no excuse for the continuing failure of prison officials to better treat this man. And if he has not read it, he cannot fairly claim, as he does in his Times' piece, that he's got his head wrapped around the scope of the problem.
Postscript
In some ways the men and women who represent these mentally ill prisoners are caught betwixt and between here. On the one hand, they want to encourage  Raemisch's reformist tendencies because they believe he is sincere in trying to fix a terrible problem. On the other hand, there are wary of prison bureaucrats and politicians who say one thing in public—say, in The New York Times—and do another thing in private. The old Reagan saw, "trust but verify," is probably the most way to describe their views in the wake of Raemisch's op-ed.
So the final words here go to a source with extensive knowledge of Colorado's treatment of mentally ill prisoners, who asked not to be identified but who is in a much better position than I am to respond to some of the factual assertions Raemisch made, especially about the numbers of inmates who are (or are not) still in solitary confinement. Here's a rebuttal of sorts to that op-ed piece—and a warning to those who are ready today to declare victory in Colorado. Not yet, says my correspondent, not yet:
[W]hen Director Raemisch says that "we have gotten the number of severely mentally ill inmates in Ad Seg down to the single digits," that's somewhat misleading. [The Department of Corrections] has created a new category of mentally ill people-- those with what it calls "major mental illness".... A person can still be seriously mentally ill-- and many are-- but if they don't have one of these particular diagnoses, they don't "count" as mentally ill for purposes of the Department of Corrections' figures.

The other bit of wordplay [in Raemisch's piece] is that the Department of Corrections has created a "Residential Treatment Program," (a recycled version of its former "Offenders with Mental Illness" Program that had a 61% failure rate), and they take the position that if a person is housed in RTP, he is, by definition, not on "administrative segregation status" (because you can't be on two statuses at once, and RTP is itself a status)...

So when Director Raemisch says the Department of Corrections is down to "single digits," he's talking about people who (1) meet its narrow "major mental illness" definition AND (2) are on ad seg status. But that number doesn't take into account all of those who are housed in the lower levels of the RTP.  James Sardakowski is a perfect example of this. He is in the Department of Corrections' Residential Treatment Program, but he is held in classic solitary confinement conditions in that program...

[Another Colorado prisoner] Troy Anderson, for example, has a serious mental illness. He's been in ad seg for a dozen years. But because his mental illness diagnosis doesn't fall within one of the Department's listed diagnoses, he doesn't "count" as having a "major mental illness" for the Department's statistics. Of course, that doesn't change the fact that he's seriously mentally ill and in solitary confinement.
If Raemisch is serious about reform, after he orders the release of Mandez and Sardakowski from solitary, after he ensures that they receive adequate mental health care and treatment, after he ensures that result for every mentally ill inmate now in solitary, he also will revise these definitions and make them more transparent and candid so that state officials no longer may rely on cheap definitional tricks to skew their figures in a way that makes it look like they are making more progress than they are.
And, while he is at it, Raemisch can also use his considerable skills at public relations to reform Colorado statutory law. The state legislature is currently considering a bill "to prohibit seriously mentally ill prisoners from being housed in long-term isolation, a practice Mr. Raemisch recognizes must end," the ACLU of Colorado's Rebecca Wallace told me Friday. "To make sure that no future DOC leadership moves Colorado backward, the prohibition against placing seriously mentally ill prisoners in long-term isolation must be made into law." I'd like to see Raemisch testify on behalf of that bill.
I am rooting for Raemisch. I wish every state had a corrections director like him who was willing to experience even briefly the perspective of the wretched, ill men who live in these conditions. I want him to succeed. We all should. And perhaps he will if he never forgets how short 20 hours in solitary confinement is compared with the half a lifetime that the severely mentally ill Sam Mandez has spent there.
---
* On Tuesday, Sen. Richard Durbin, the Illinois Democrat, will convene a hearing on solitary confinement, the second in eight months in the Senate, under the auspices of the Senate Judiciary Committee. One of the witnesses will be Raemisch. Another will be Charles Samuels, the director of the Bureau of Prisons. Because of public interest in the hearing, the venue of it was changed to a bigger room.