'Why Is Pennsylvania So Haunted?': The U.S. According to Autocomplete
The state of our union is ... curious.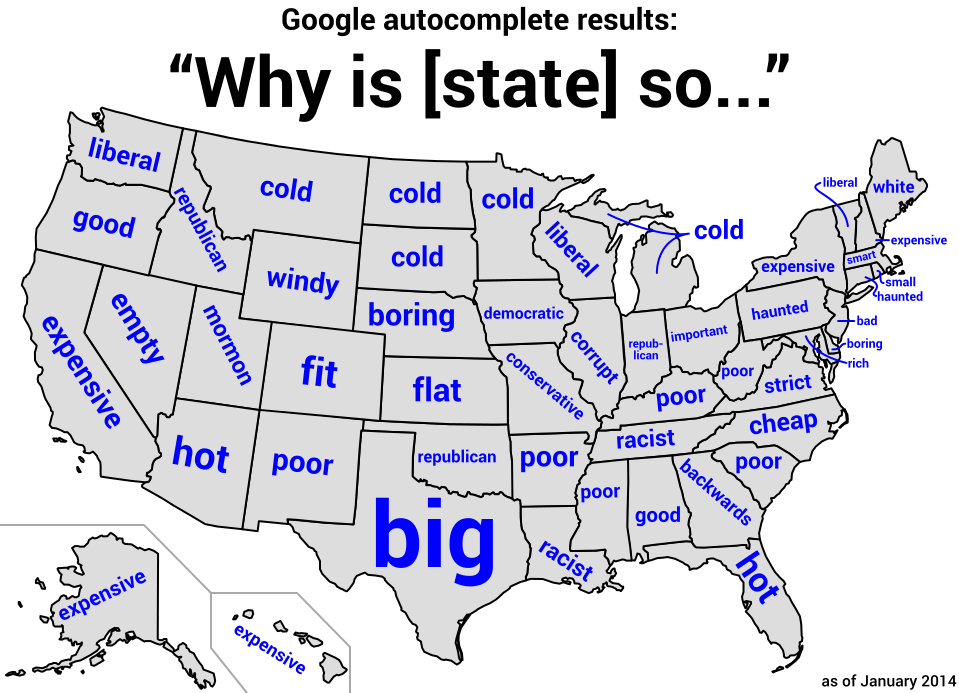 Why is Oklahoma so Republican? Why is Maine so white? And why is Pennsylvania so haunted?
Not to be too Benedict Anderson about it, but if there is such thing as a national psyche, that thing is ably documented by Autocomplete. Do a Google search for "Why is Mississippi so...," for example, and you will be greeted with this:

Do one for Pennsylvania, and you will be greeted, oddly, with this:

And for Virginia!

And for Ohio!

We are a nation, in other words, of curious people. And our curiosity can lead us to weird places (those places including, apparently, states that are haunted). We know all this in part because of the good folks at @Amazing_maps, who ran Autocomplete searches for each of the 50 states in our Union, tracking the top search returns (as they stand as of January 2014). They then mapped those results. Those results are ... revealing.
They're also not unique. There is, at this point, a long (in-Internet-time) tradition of using Autocomplete for map-making purposes. Renee DiResta created a similar "why is [state] so..." map in 2012 (it features different results from those of @amazing_maps, since Autocomplete results change over time). Flip Collective created a U.S. map that's coded according to states' top fill-ins for the search "the United States is..." There's one for stereotypes of Manhattan neighborhoods, and of Europe.
So why is [@Amazing_maps' rendering] so [notable]? Because many of the Autocompletes it unearths are themselves so ... surprising/hilarious/weird. Why, indeed, is Illinois so corrupt? Why is Texas so big? Why is Oregon so good? Why are people wondering these things?
Perhaps we should ask someone from Massachusetts, the only state on the map whose top return was "smart."