Chemical Spill Ruins Water Supply for Some West Virginians
Up to 300,000 West Virginians in nine counties have been told not to drink, cook, wash, or bathe in tap water following a chemical spill that leaked a harmful agent into the Elk River.
This article is from the archive of our partner
.
Up to 300,000 West Virginians in nine counties have been told not to drink, cook, wash, or bathe in tap water following a chemical spill that leaked a harmful agent into the Elk River. The contamination of local water supplies has even prompted Washington to declare a federal disaster in the region.
Governor Earl Ray Tomblin declared a state of emergency late on Thursday, and told residents of the affected areas — including Boone, Clay, Kanawha, Putnam, Lincoln, Logan, Roane and Jackson counties — that they should only use tap water to flush toilets and fight fire. He added that, "Right now, our priorities are our hospitals, nursing homes and schools." Even boiling the water would not rid it of the chemicals which, if swallowed, could cause severe eye irritation, difficulty breathing, skin blistering, and (shudder) "non-stop vomiting." It's not surprising that the chemical, 4-Methylcyclohexane Methanol, is harmful to humans, as it is primarily used as a coal-cleaning agent.
The methanol was spilled from a 48,000-gallon tank belonging to Freedom Industries, a "producer of specialty chemicals for the mining, steel, and cement industries," located one mile from the West Virginia American Water Company. This type of Methanol emits a licorice-like smell, which reportedly alerted authorities to the danger.
Officials have not determined the extent of the damage, and say that at this point all measures are precautionary. It is possible that the water diluted the chemical enough to reduce harmful effects.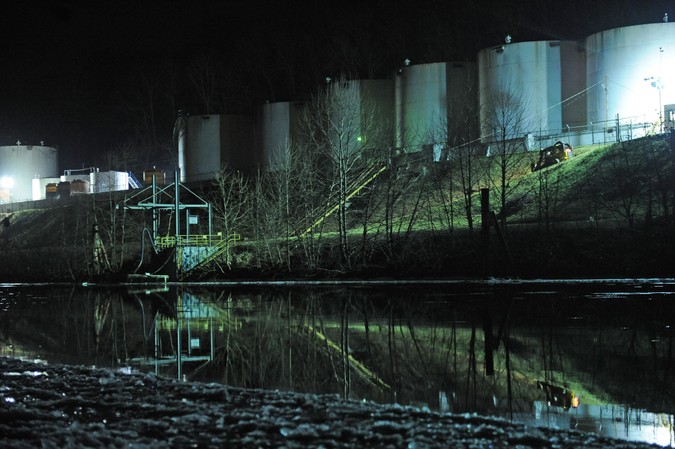 Still, the water company will have to flush out all affected equipment and tanks before residents can resume use of the water supply. The incident is already wreaking havoc in the area, prompting schools and restaurants to shut down, and hospitals to announce that elective surgeries are postponed until the crisis has passed. According to the Associated Press, the West Virginia National Guard is set to start distributing water to those in need:
[Military spokesman Lawrence] Messina said the drinking water will come from several different suppliers. After distribution, the various county agencies "will use their own game plans to distribute it, with hospitals and nursing homes getting priority," Messina said.
Naturally, panicked residents have already bought up all the bottled water they can. Again, the AP:
Once word got out about the governor's declaration Thursday, customers stripped store shelves in many areas of items such as bottled water, paper cups and bowls. As many as 50 customers had lined up to buy water at a convenience store near the state Capitol in Charleston.
West Virginians seem to be taking the news in stride, however. One woman was polite in describing the water rush, saying, ""Some people were getting - well, they could have shared more." A teenage resident pondered moving in temporarily with her grandmother, who lives in another county, saying "I kind of want to shower and brush my teeth."
On Twitter, West Virginians joked about the situation: 
Welcome to West Virginia.. Where drinking whiskey is safer than drinking the water

— Huπter Perry (@Hunt_Perry) January 9, 2014
Goodmorning West Virginia, if you drink the chemically infested water you WILL turn into a superhero
my toilet has a nice licorice smell when flushing .. love it ..

— Jason D. Mitchell (@jasondmitchell) January 10, 2014
Criticism seems largely reserved for Freedom Industries rather than the state or water company. The chemical company has yet to issue a statement on the incident (but is expected to do so this morning). Detractors took to Twitter to express just how they feel about this company, some pointing specifically to the implications of its pro-liberty name:
Who polluted the drinking water of 9 counties in WV w a chemical leak? "Freedom Industries." Gee, I wonder if they're anti-regulatory types.

— David Waldman (@KagroX) January 10, 2014
@wvamwater Don't be passing the cost to your 100,000+ customers for cleaning up this chemical spill in your system #Bill-FREEDOM-INDUSTRIES

— Sonora Perry (@WVU_Turtle_Mom) January 9, 2014
The incident has generated interest on Twitter beyond just West Virginia or even the U.S., with reactions coming from an Australia-based journalist and the hacking group Anonymous:
Why aren't you at the door of Freedom Industries CEO, demanding clean water, demanding compensation, hey #WV? #WVWater #Water

— Asher Wolf (@Asher_Wolf) January 10, 2014
"4-Methylcyclohexane Methanol, a chemical used in the froth flotation process during coal washing, came from a tank at Freedom Industries "

— Anonymous (@YourAnonNews) January 10, 2014
It is not yet clear when residents will be able to safely use their water. For now, we hope the licorice smell is a silver lining to an unfortunate situation.
Update: Freedom Industries has issued a statement about the incident, saying that they "have been working around the clock since the discovery to contain the leak to prevent further contamination," adding that "at this point, Freedom Industries is still working to determine the amount of 4-methylcyclohexanemethanol, or Crude MCHM, a chemical used in processing coal, that has been released, as the first priority was safety, containment and cleanup." The company promised more updates as they are available.
Onlookers are reporting that law enforcement officers are on the Freedom Industry grounds:
FBI on the scene at Freedom Industries along with state troopers and deputies

— patrick mcmurtry (@patmcmurtrywchs) January 10, 2014
Earlier today the West Virginia water company added Culloden in Cabell County to the list of areas that should not use tap water. There is still no timeline for when the ban on tap water will be lifted. 
This article is from the archive of our partner The Wire.