'The Most Expensive Sheriff in America' Is Getting More Expensive
Another multi-million-dollar bill comes due this year for Sheriff Joe Arpaio's reckless antics in Maricopa County, Arizona. And that's why more taxpayers may finally be asking: Who keeps voting for this guy, anyway?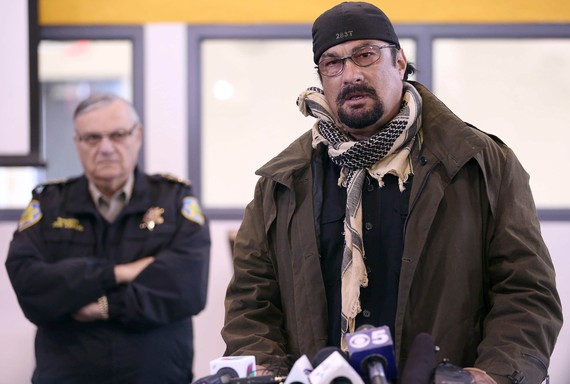 It's another year in paradise for the taxpayers of Maricopa County, Arizona, home of America's most famous sheriff, Joe Arpaio. On New Year's Day, The Arizona Republic reported that Sheriff Joe's unconstitutional antics over the years—the systemic racial profiling chronicled so meticulously last May by a federal judge, for example—has cost his constituents another $21.9 million.  That's on top of the tens of millions in other legal fees and penalties Arpaio already has cost the good people of his county during his 22-year reign there. From The Republic:
The $21.9 million estimate includes several big-ticket items:

Salaries and employee benefits to launch a seven-member unit to implement changes recommended by the court order, plus five vehicles, six computers, supplies and fuel for the unit.

An electronic data-entry system, cameras for all patrol vehicles, and training for deputies to use the system to input data detailing the reasons for and lengths of their traffic stops.

Salaries and benefits for enough new supervisors to assure "effective supervision" for patrol deputies. No more than 12 deputies will be assigned to each supervisor, per the court order. The county will pay for seven additional sergeants, three additional deputies, and all their equipment, stun guns and radios.

After fiscal 2015, additional changes ordered by the court will cost an estimated $10 million annually, mainly in salaries, benefits and overtime hours for additional staff.
In other words, as The Republic reports, by consistently and flagrantly violating the constitutional rights of his constituents, Arpaio has brought upon those constituents a level of federal oversight that is entirely unnecessary for hundreds of other sheriffs in Arizona and elsewhere. Sheriff Joe rails against this federal intrusion upon his county's autonomy-- a court-ordered monitor now is at hand-- even as his colleagues in office scramble to comply with their legal obligations. He plays the victim—the embattled symbol of sensible enforcement—while the people he is supposed to protect are the ones who have to pay his bill.
And now come PR-infused rumors that Arpaio is urging the actor Steven Seagal to run for governor. They are a perfect pair, aren't they? An actor who built his career on a film called Above the Law and a lawman long documented to be among the most lawless in the nation. They truly deserve to waste each other's time. The only problem is that while the earnest voters of the state, if given the choice, may never elect Seagal, the earnest voters of Maricopa County keep sending Arpaio back on the job—he's been reelected six times since 1992, even after the worst civil rights allegations against him were proven true.
There is some evidence, however, that as the year begins and the toll mounts, local sentiment may at last be turning away from Arpaio's costly and divisive brand of law enforcement. The editorial board of the Republic, no bastion of weak-kneed liberalism, published a pitch-perfect piece last Thursday that frames the issue in a way that precludes the sheriff's supporters—the silent majority that has supported him through thick and thin—from continuing to justify the extraordinary costs of his tenure. From the house editorial, titled "Joe Arpaio, America's Most Expensive Sheriff":
Every extra dollar the county appropriates to comply with the court's ruling is a dollar unavailable for other county services. That is one affront Arpaio should not be allowed.

To date, he has had to pay nothing for his abuses. Thomas was disbarred and former Chief Deputy David Henderschott lost his job. Innocents caught in his crime sweeps were handcuffed, detained and had to hire attorneys. Fear spread through entire communities. Public officials targeted for nonexistent corruption lived through hell.

Through it all, Arpaio remained in office. Fans lined up to get autographed pink boxers. Candidates clamored for his endorsement.

Unbelievable. Arpaio is a burden on the taxpayer, needlessly costing this county tens of millions of dollars. This is money that would be put to much better uses if he just stuck to what other Arizona sheriffs do: patrol their counties and enforce the law. It doesn't sell books, but it keeps communities safe.
There is no good answer to this argument. Arpaio's transgressions are forcing his constituents to rack up these unnecessary bills at the expense of policies and practices that are best suited to protect them. The taxpayers of this county, put another way, are paying an exorbitant premium for the privilege of having Sheriff Arpaio violate the constitutional rights of their friends and neighbors. Maybe that's something the good people of Maricopa County will ponder this year as they watch the long-anticipated reality series: Steven Seagal, Lawman-Maricopa County. That is, if they can find it on cable. A&E evidently cancelled the show and now it is reportedly appearing on a network called Reelz.