The Black Students Who Wouldn't Leave the Lunch Counter
On civil rights, the Sixties actually started on February 1, 1960. And one of the four men who started it was Franklin McCain, who died Thursday at the age of 73.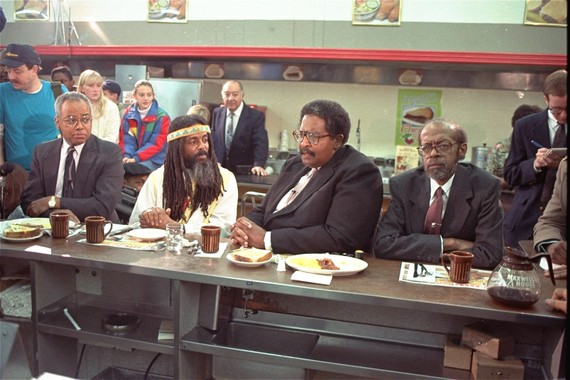 What happened in Greensboro, North Carolina on February 1, 1960, took even John Lewis by surprise. In his memoir, Walking With the Wind, the future civil rights icon (whose most intense days at the head of the movement were yet ahead of him as that decade began) recounted the episode:
There were four guys in Greensboro, all of them freshman at North Carolina A&T College. They had no plan, no preparation. One of them had read that FOR comic book about King and Montgomery, they had begun talking about the process of nonviolent action, and on this particular afternoon they simply decided it was time for them to do something.

Which they did, taking four seats late that day at the whites-only lunch counter of Greensboro's downtown Woolworth's store and touching off what would come to be called the sit-in movement across the South. It happened so spontaneously, so suddenly, that the next morning's newspapers contained no accounts of the incident.
One of those brave students was Franklin McCain, who died Thursday at the age of 73. In its obituary Friday, the Charlotte Observer recounted this story, which offers some insight into McCain's motivations:
In an Observer story in 2010, on the 50th anniversary of the sit-in, McCain said he had been told by his parents and grandparents that if they followed the Bill of Rights, Constitution and Ten Commandments, and if they worked hard and helped others, they had a good chance of success. "The system still betrayed us," McCain said. "I considered myself as part of the big lie. All four of us did."
And the University of North Carolina at Greensboro has available an old audio interview with McCain and one of his fellow protestors, Jibreel Khazan, who offered this nuance about the events of those days:
It was really designed to be carried out at the Woolworth lunch counter originally. But I remember Frank making a statement as the protest developed during the week. We didn't want to put the world on fire, we just wanted to eat. But behind it, we, I feel, did have the idea that this would catch on. We were hoping it would catch on and it would spread throughout the country, but it went even beyond our wildest imagination.
After he helped integrate the nation's lunch counters, after he helped spark the civil rights revolution of the 1960s, after he and his friends acted while others were still only pondering whether they should act, McCain dutifully completed his undergraduate work with a degree in chemistry and biology and spent three decades working as a chemist and raising a family in Charlotte. And, blessedly, he lived long enough to see the state that once had segregated him honor him.
There are several excellent pieces online about this man's life and times and at least a few nice tributes to him in death. The best by far comes from NPR in a piece put together Friday morning by Mark Memmott. NPR, in turn, cites the work of its local affiliate, WUNC, which offers an audio recollection by McCain on the events of that fateful day. Please do check out those links but here is the heart of the story:
On February 1, 1960 McCain and his classmates walked into the store, purchased some items and then walked over to the segregated counter. McCain recalls:
Fifteen seconds after I sat on that stool, I had the most wonderful feeling. I had a feeling of liberation, restored manhood; I had a natural high. And I truly felt almost invincible.
He hadn't even asked for service. When McCain and the others did they were denied. A manager told them they weren't welcome, a police officer patted his hand with his night stick. The tension grew but it never turned violent.
As McCain and the others continued to sit at the counter, an older white woman who had been observing the scene walked up behind him:
And she whispered in a calm voice, 'boys, I'm so proud of you'.
McCain says he was stunned:
What I learned from that little incident was don't you ever, ever stereotype anybody in this life until you at least experience them and have the opportunity to talk to them.
Woolworth's closed early and the four men returned to campus with empty stomachs and no idea about what they had just started. The next day another 20 students joined them and 300 came out by the end of the week. Word of the sit-ins spread by newspapers and demonstrations began in Winston-Salem, Durham, Asheville and Wilmington; within 2 months of the initial sit-in, 54 cities in nine different states had movements of their own. The Greensboro lunch counter desegregated six months later.
McCain and his three colleagues were heroes in the old-fashioned, soldier's sense of the word: Sick of their situation, unwilling any longer to tolerate it, fearing the cost of inaction less than the cost of action, they stood up and went over the top, out into battle.
UPDATE
Rep. Lewis offered this tribute late Friday: "Franklin McCain was one of the founders of a New America, a nation that was transformed because he lived.  Every citizen of this country owes him a debt of gratitude because he insisted that we create a more fair, more just democracy.  We are a better people and a better country because Franklin McCain lived."
Rev. William Barber II, President of the North Carolina State Conference of the NAACP offered this: "Like the Hebrew boys of the scriptures, Franklin McCain and his colleagues walked into the fire of hate, racism, and legalized segregation. They walked in and sat down. But the fire didn't consume them. Instead they transformed the fire. They turned it into the light of freedom. They lit a fire in the hearts of other youth across the nation for justice and freedom."
Anita Earls, executive director of the Southern Coalition for Social Justice, offered this: "We extend our deepest sympathy to the family of Franklin McCain.  He was a beacon of courage and hope for many of us in the civil rights community in Charlotte over the years, and an inspiration to generations of civil rights activists.  He will be keenly missed but his spirit will live on in our hearts."