Rare Southern Ice Storm Strands Kids in Schools and Drivers on Highways Overnight
A massive storm has blanketed Georgia, Alabama and other deep southern states, leaving children stranded at school and on school buses and generally wreaking havoc in the state and across the deep south.
This article is from the archive of our partner
.
A massive storm of freezing air and snow has blanketed Georgia, Alabama, and other deep southern states, leaving children stranded at school and on school buses and generally wreaking havoc in the state and across the deep south. 
Though the storm only led to a few accumulated inches of snow at most, the weather event is such a rarity in the south that most states were totally unprepared — especially when roads turned icy. According to officials in Georgia, slippery road conditions led to 940 car accidents and at least 100 injuries during the storm.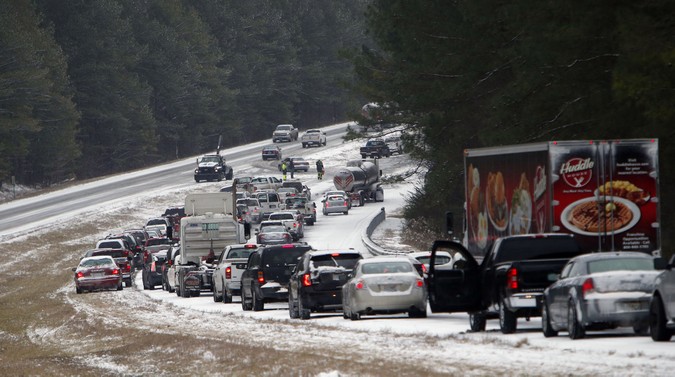 Those accidents also lead to massive gridlock, particularly in Atlanta, which is already treacherous to drive in on good days. It was so bad that many people stayed on the road for hours, some overnight, including roughly 50 children who spent the night on school buses and are still awaiting rescue. Some motorist simply abandoned their cars, walking to nearby churches, firehouses, and business, where they simply slept on the floor overnight. 
Local residents tweeted their frustration and concern:
Atlanta Public School spokesperson is "pleased to report" that they only have one child still on a bus at 6:50am. There are no words...

— Brian Carroll (@Pastor_Brian) January 29, 2014
Many children also were forced to spend the night at their school, since there was no way to get them home (or for parents to reach them) after the snow started falling.
It seems like a small storm to us, but the 6cm of snow that fell in the Gulf regions has crippled the area. 600 kids slept at school! #Leon

— Emily Vukovic (@EmilyTWN) January 29, 2014
Georgia Governor Nathan Deal declared a state of emergency on Tuesday afternoon, and many schools shut down in anticipation of the storm. But many locals are saying that measures could have been taking to prevent the situation from escalating as it has:
There are two buses of school children stuck in Atlanta traffic since yesterday. We knew! This did not have to happen. #atlsnow

— thatgirl (@blackhippychick) January 29, 2014
My sister in Atlanta says schools didn't close until the afternoon, and left little time for parents to pick them up. Spent night at school.

— Margarita Noriega (@margafret) January 29, 2014
And Atlanta's notoriously poor public transit system didn't help much.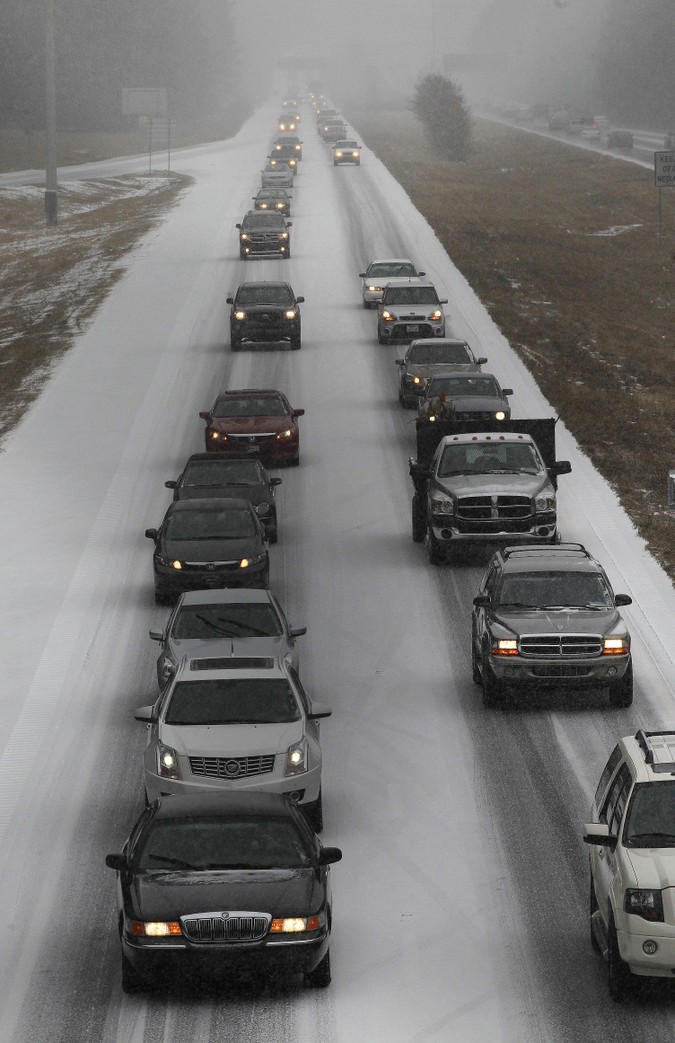 The Associated Press reports that the situation may have been exacerbated by poor planning, as folks went to work and school as normal in the morning, then everyone tried to go home at once, as everything closed. Gov. Deal said: "Within a very short time frame, from when the snow started falling here, it became very obvious that everyone was leaving at the same time to go home."
Deal said the National Guard has been sent in military Humvees to help save children stuck in schools and on the road, and to distribute food and water to others still stranded by the storm.
Louisiana, Georgia and South Carolina also declared states of emergency due to the storm, and drivers in Texas and Virginia were warned to stay off the roads. Appalachian Power requested that customers in Virginia, West Virginia and Tennessee ease power use to prevent outages during the storm, and many in the South lost cell phone service due to high demand.
Those stranded by the storm described a "zombie movie" scene. Rebekah Cole spoke to CNN in Atlanta after spending the night in her car:
Streets, highways, interstates gridlocked with people in cars and trucks in the same situation she was in -- stranded on the ice for 8, 10, 12 hours. She heard an unusual drone of voices. "You couldn't hear where they were coming from," she said. Droves of people had gotten out of their cars and were having conversations. They talked and walked between cars covered in white powdery snow in the dead of the night.
Some posted took to Facebook to document their experiences:
Some posted less literal interpretations of the event:
And of the aftermath:
And some just wanted, as we all do, to bring back the phrase "snowpacalypse"
Luckily, warming temperatures should melt some of the snow on Wednesday morning, allowing people to start returning to their normal, snow-free lives.
This article is from the archive of our partner The Wire.