Poverty in a Cup: Why a Federal Judge Rejected a Florida Drug-Test Requirement
The biggest recent court decision you may have missed involved a proposed state law that would have put up a new hurdle for welfare recipients.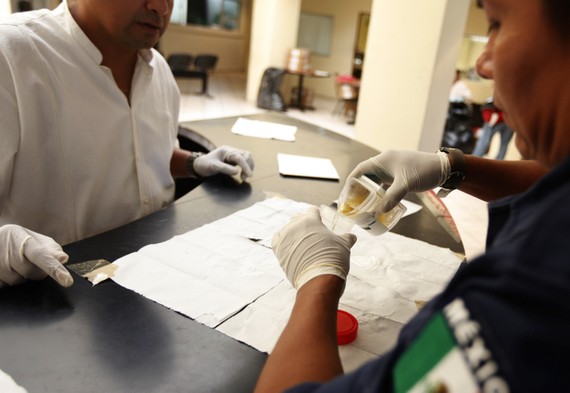 You didn't miss much on the privacy beat if you spent the first days of 2014 on an off-the-grid tropical vacation. The Justice Department notified U.S. District Judge Richard Leon that it intends to appeal his December ruling that jeopardizes the nation's metadata bulk surveillance operations. And the ACLU notified U.S. District Judge William Pauley that it intends to appeal his ruling last month that endorsed the legality of that very program. It will be springtime, at least, before all the briefing in these appeals are completed. In the meantime, the program will continue, according to an even newer ruling by the nation's secret spy court.
You didn't miss much—except a major legal victory for privacy advocates (and  for those who advocate on behalf of the least fortunate among us). Last Tuesday, on New Year's Eve, a federal judge, a nominee of President George W. Bush, struck down for good a dubious Florida law that required state welfare recipients to submit to (and pay for) drug testing as a precondition of receiving benefits. The ruling was not a surprise—the 11th Circuit Court of Appeals presaged it in a February 2013 injunction ruling in this case—but it was nonetheless bracing: a good, old-fashioned screed against a very bad idea.
The 30-page order by U.S. District Judge Mary Stenson Scriven, in Orlando, is an easy read and comes down to an essential point: The government may not condition the receipt of a benefit upon the violation of a constitutional right. What is remarkable is not that every federal judge who has ever looked at this law has found it unconstitutional but that Florida officials—led by the indefatigable Governor Rick Scott—defended it as long as they have.
What was Florida's argument in defense of the statute, passed with overwhelming support by Republicans in May 2011? Both before and after the 11th Circuit ruling last year, the rationale remained the same. The mandatory drug tests were necessary (and legally justified) for all candidates under the "Temporary Assistance for Needy Families" program to: 1) ensure TANF participants' job readiness; (2) ensure the TANF program meets its child-welfare and family-stability goals; and (3) ensure that public funds are used for their intended purposes and not to undermine public health.
Judge Scrivens rejected these arguments as factually and legally insufficient when she granted a preliminary injunction temporarily halting the law late in 2011. Then the 11th Circuit, one of the most conservative federal appeals courts in the nation, did, too. Language from the 11th Circuit ruling last year that upheld Judge Scrivens' injunction gives you the best sense of how far short Florida fell in meeting its obligation to keep its citizens free from "suspicionless drug testing." The court concluded:
[T]he only pertinent inquiry is whether there is a substantial special need for mandatory, suspicionless drug testing of TANF recipients when there is

- no immediate or direct threat to public safety,

- when those being searched are not directly involved in the frontlines of drug interdiction,

- when there is no public school setting where the government has a responsibility for the care and tutelage of its young students,

- or when there are no dire consequences or grave risk of imminent physical harm as a result of waiting to obtain a warrant if a TANF recipient, or anyone else for that matter, is suspected of violating the law.

We conclude that, on this record, the answer to that question of whether there is a substantial special need for mandatory suspicionless drug testing is "no."
How did Florida respond to that analysis? By offering "expert" witnesses whose testimony was excluded after Judge Scrivens declared it unreliable, and by offering lay witnesses whose testimony about drug use among TANF recipients was unsupported by statistical information. And by arguing that test results were skewed because Florida welfare recipients were refusing to take the test for fear they would fail. Indeed, the most reliable statistical evidence, Judge Scrivens found, was a study commissioned by the state in 1998, the findings of which vitiated the new law. From her ruling:
In fact, the study commissioned by the State undermines its argument on this point. In 1998, DCF conducted a study known as the Demonstration Project after the State passed legislation requiring the Demonstration Project to test empirically whether individuals who applied for TANF benefits were likely to abuse drugs and whether such abuse affected employment opportunities. In the study, researchers found a lower rate of drug usage among TANF applicants than among current estimates of the population of Florida as a whole.

This would suggest that TANF funds are no more likely to be diverted to drug use or used in a manner that would expose children to drugs or affect "family stability" than funds provided to any other recipient of government benefits. The researchers also found no evidence that TANF recipients who screened and tested positive for the use of illicit substances were any less likely to find work than those who screened and tested negative. To date, the Demonstration Project remains the only competent evidence of record addressing drug use among the Florida TANF population.
There is the political issue of how America treats welfare recipients—the myth of the drugged-out welfare queen is indeed a powerful one. There is the racial and moral issue as well. And of course there is the legal issue. But the outcome of this Florida case, and of this divisive law, cannot merely be explained by citing the application of obvious constitutional principles to a patently flawed law. It also must be explained by acknowledging that there was terrible lawyering by state attorneys. Just read the final 10 pages of Judge Scrivens opinion and ponder the ways in which Florida took a bad law and made it look even worse (just like California took Proposition 8 and then utterly failed to justify it at trial).
That's something to keep in mind when this issue comes up again, in 2014, in a different state. The kind of legislation that happened in Florida is happening all over America. In 2012, Utah, Georgia, Oklahoma, and Tennessee passed similar laws. In 2013, according to the National Conference of State Legislatures, "at least 29 states have introduced legislative proposals requiring drug testing or screening for public assistance applicants or recipients in 2013. One state, Kansas, passed legislation to require drug testing when reasonable suspicion exists that the applicant is using controlled substances."
We will certainly see more federal court rulings about these laws in the months to come. And, having contributed in a myriad of ways to the poor becoming poorer, state officials will certainly become wiser after this Florida ruling as they gin up legal justifications for treating the poor differently from everyone else. Need a real-life example of the people these laws will impact? Here's one. The Florida case was styled Lebron v. Wilkins and the named plaintiff in it was a man named Luis Lebron. Why was Lebron seeking help in the first place? Here's why:
Luis Lebron, who is also the sole caretaker of his disabled mother, was a 35 year-old full-time student at the University of Central Florida when he applied for temporary assistance in July 2011, to support his then 4-year-old son.
No matter what justifications lawmakers offer, they will never be able to rationalize this sort of suspicionless testing aimed at a class of people desperately trying to survive.