Personal History: Life in the 1970s as 2 Women Lived It
Reader responses to a look back at the August 1976 issue of Good Housekeeping.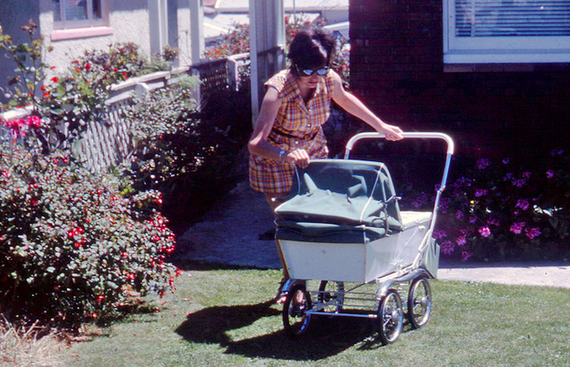 My article "A Trove of History As 1970s Housewives Lived It" explored an old issue of Good Housekeeping magazine, in hopes of gaining insights into a particular subculture from a bygone decade. Many readers responded by sharing their own memories of the mid-1970s. Two of the notes struck me as particularly interesting. One reader described her life in rural Minnesota (below is a condensed version):
Most women sewed clothing to save money. Unlike today, it was much less expensive to purchase fabric than finished clothing.  In 1976, most girls in my fairly rural community harangued their mothers to make them a Holly Hobbie dress.  
1976 was the year of the bicentennial, and it was considered a very big deal to get a bicentennial quarter, with a 1976 logo on the back.  Our lunch money came in coins, and most of us tried to get our parents to take us to McDonald's, where we could get a lunch money holder we could wear on wrists like a watch. 
I was considered a somewhat dangerous oddity, because my mother had gone to college (this was unusual in my community) and because I planned to go. I was freakishly bright, which was difficult to take in a boy, but almost intolerable in a girl, and many people spent a lot of effort trying to convince me that women were incapable of learning science and mathematics. 
Malls were a brand-new concept. We would go sit in Santa's lap at these huge new shopping centers. Kids would start heading out to the mailbox, starting in October, looking for the J.C. Penney, Sears and Montgomery Wards Christmas catalogs, which were filled with toys.  The more affluent would ask their parents for some of the items (in my community, most of us knew without asking that the most expensive things were out of range), and the less affluent kids, with no hope of getting those toys, would take the catalogs and dream.
There were no co-payments on our health insurance or our prescriptions, but cancer was rarely survivable, and treatment usually required travel to a distant city.  There were no CT scans or MRIs. Parents were not allowed to stay overnight with their children in the hospital, no matter how upset they were.
Meat was very expensive, and it wasn't as common to eat it as the main course every day.  Macaroni and cheese and soups were common. They might have meat in smaller amounts. Cheap potted meat, cheese, bologna and peanut butter sandwiches were more common than ham or turkey in a kids' lunch.
Things like shampoo bottles were frequently made of glass.