Now This Is Team Spirit
What the Wright Brothers have wrought.
I am taking no sides in The Big Game this weekend. I don't care.*
But I have to admire the combination of team spirit, precision flight planning, and disregard for practicality shown by the group at Boeing that produced this flight yesterday in solidarity with the Seahawks' "Twelfth Man" concept. Here is the radar record of the flight track, via Flight Aware.
If you'd like to replicate the route, here are the waypoints, also courtesy of Flight Aware:
SEA SEA146051 KS06G 4625N 12000W 4625N 11945W 4725N 11945W 4725N 12000W 4743N 12000W 4800N 11945W 4800N 11925W 4625N 11925W 4625N 11910W 4600N 11910W 4600N 11850W 4653N 11850W 4712N 11830W 4712N 11800W 4737N 11800W 4737N 11825W 4725N 11825W 4725N 11850W 4743N 11850W 4800N 11830W 4800N 11753W 4743N 11733W 4707N 11733W 4649N 11753W 4649N 11825W 4625N 11825W 4625N 11800W 4635N 11800W 4635N 11730W 4600N 11730W 4600N 11850W 4600N 11910W KS06G SUMMA SEA 
It's up to you to find your own 747 to match** what Boeing flew.
Update Here's the plane itself! Thanks to many readers in the Hawks diaspora who pointed me to stories about it (and this company photo).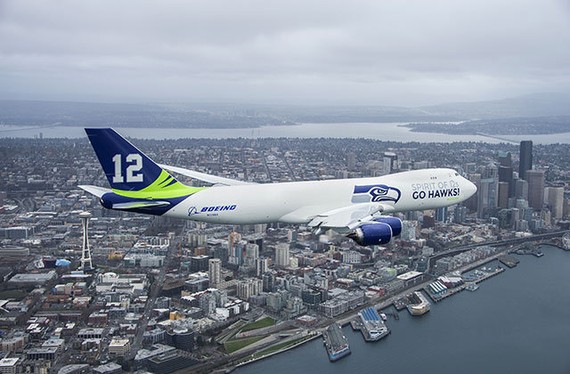 Update-update A reader who examined the Flight Aware charts adds this:
Check the detailed flight data. They flew the 747 at 15,000 ft at 200 kts. In a way, that impresses me even more. Imagine flying your SR-22 at 1,500 ft and 80 kts for six hours straight.
Yes, for an airliner this is quite low and slow -- comparable to early stages of an arrival/approach as an airliner is getting near an airport. For some other installment, what would be easier and harder about flying this way.
---
* I grew up with the LA Rams: no más. My kids grew up with the DC NFL team: at this point, its continued flailing is not even interesting, the 15-year achievement of the league's worst ownership and management. So I decided that henceforth the community-owned Packers would be my team. For them, maybe next year.
** You'll probably also need to line up an RNP-style navigation system to plot out and follow this exact track, despite the powerful and variable jetstream winds blowing at those flight altitudes. I described the way some American-designed RNP systems were used for a different national-pride purpose, getting Chinese airliners into remote valley airports in Tibet, in China Airborne.