NFL Punter Chris Kluwe Says He was Driven Out of Football for Supporting Gay Marriage
Former NFL punter Chris Kluwe writes he is "pretty confident" his same-sex marriage activism ended his NFL career.
This article is from the archive of our partner
.
Former Minnesota Viking punter Chris Kluwe has been an outspoken advocate of same-sex marriage over the last couple of years, a stance that has won him a lot of fans and a few enemies. He didn't play in the NFL this season after being cut by the Vikings in the spring, in a decision he now says was motivated in part by his political views.
In an essay published on Deadspin on Thursday, Kluwe writes he is "pretty confident" that his activism ended his tenure with the Vikings, and has perhaps even prevented him from catching on with another team. Specifically, he blames the "two cowards and a bigot" who ultimately decided to fire him. The cowards are his old head coach, Leslie Frazier, and the team's general manager Rick Spielman. (Frazier was fired on Monday after another disappointing year.) The "bigot" is special teams coordinator Mike Priefer, Kluwe's position coach and the leading "in-house" candidate to replace Frazier.
Kluwe says he wrote most of this story as it happened last May, but published now to avoid an in-season distraction, but also to "make sure that Mike Priefer never holds a coaching position again in the NFL, and ideally never coaches at any level."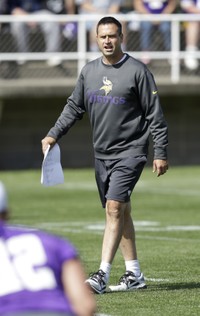 In his story, Kluwe says that almost immediately after he began publicly expressing his support for gay marriage in 2012, Frazier began asking for him to keep quiet, despite getting encouragement from team owner Zygi Wilf. Spielman also told him to "fly under the radar please" after a series of tweets criticizing Pope Benedict and the Catholic Church.
But it was Priefer who made things especially difficult. Through the 2012 season, Priefer was openly hostile to Kluwe's activism, often making homophobic statements, like "denounc[ing] as disgusting the idea that two men would kiss," and "said on multiple occasions that I would wind up burning in hell with the gays." He then began to threaten Kluwe's job, bringing other punters in for tryouts, even though his play was consistent and the team had no intention of replacing him.
During one player meeting, Priefer allegedly said to the whole group, "We should round up all the gays, send them to an island, and then nuke it until it glows." The next off-season, despite not getting any complaints about his play, the Vikings drafted a punter and then cut Kluwe before the next practices began. Kluwe accuses Priefer of orchestrating his departure, and calls Frazier and Spielman "cowards" for not standing up for him.
When people ask: why don't gay players just come out? That Kluwe writing should be shown as the definitive answer.

— mike freeman (@mikefreemanNFL) January 2, 2014
It's pretty much impossible to read Kluwe's story and imagine an NFL team sincerely embracing an openly gay player. So that's depressing.

— Andrew Sharp (@andrewsharp) January 2, 2014
The football reasons given for Kluwe's axing are that as a league veteran, he's expensive; his talents were replaceable; and an off-season surgery made him a potential liability. But Kluwe says that doesn't explain why none of the other 31 teams in the league took a chance on him in 2013.
I can still hit the ball 45 yards outside the numbers with good hangtime, and at the tryouts I've had this year I've gotten praise from the scouts and personnel people on hand, but for whatever reason I cannot find a job ...

It's clear to me that no matter how much I want to prove I can play, I will no longer punt in the NFL, especially now that I've written this account. ...

I realize that in advocating noisily for social change I only made it easier for them to justify not having me around. So it goes.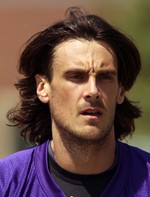 Perhaps Kluwe has burned his last bridges with these straightforward accusations, but they remain consistent with his reputation for speaking his mind. Unfortunately, that's dangerous behavior in a league so obsessed with its own public image. In the end, Kluwe doesn't blame the NFL or the culture of the NFL locker, but merely says that he hopes someone, somewhere will hold Mike Priefer accountable. "There are homophobic people in the NFL, in all positions, but that's true for society as well, and those people eventually get replaced."
This article is from the archive of our partner The Wire.