Money, Power, and College Sports in 1905 America
A moment in U.S. history as seen in the pages of The Outlook magazine.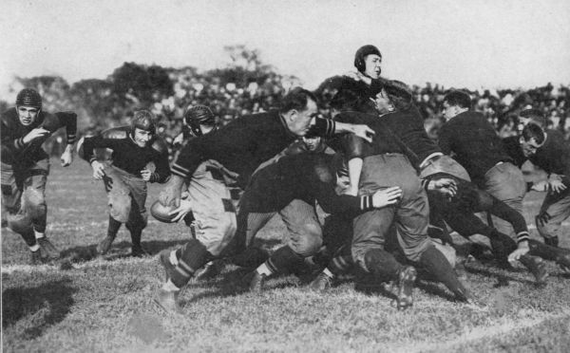 After 8 years in the White House, President Theodore Roosevelt left Washington, D.C., took up residence at his home in Oyster Bay, New York, and found a job. His first commute as a private citizen happened on March 10, 1909: he took a 7:58 a.m. train to Long Island City, boarded a crowded ferry boat to Manhattan, disembarked at a slip on 34th Street, hopped on a crosstown streetcar, transferred to a northbound line at Madison Avenue, and finally arrived at 48th street. His employer was on the 7th floor. His occupation: magazine editor.
The Outlook was a progressive newsweekly that began publication in 1870 and kept going until 1935. The bulk of its run is now available online. Today's installment in my occasional series looking at American history through old magazines will focus on the issue published Saturday, July 1, 1905, when its future associate editor was still president. That is the best indication of its politics that I can give. Its ads are sprinkled through this article so that you may see them for yourself. And the table of contents illustrates the range of subjects covered: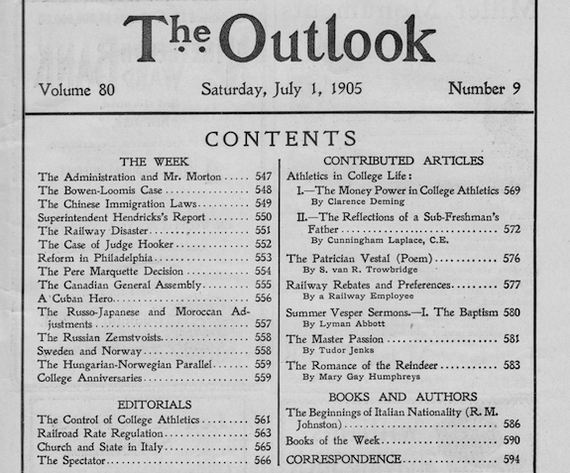 The Cover
Several years ago, The Atlantic published a well-received cover story on money and power in college athletics, "The Shame of College Sports." More than a century earlier, The Outlook dedicated a much plainer cover to that same subject: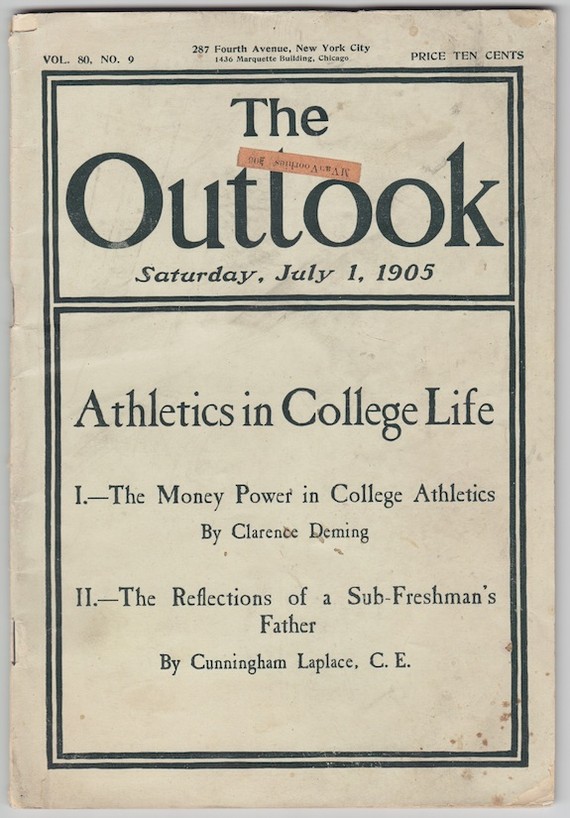 The editors explained their decision to publish two stories on college athletics by arguing that they "have largely lost their recreative value because undergraduates have taken them too seriously, and have not been of educative value because college authorities have not taken them seriously enough." Other alleged ills included professionalism, violation of rules, "the solicitation of athletic school-boys," extravagant spending, and "the concentration of effort in the specialized training of a few instead of the general development of many," a feature of college athletics that is universal and totally unquestioned in America today.
One suggested reform was for colleges to take control of their athletic programs away from professional team coaches, for reasons illustrated by a rowing anecdote:
Before a boat race between Harvard and Cornell at Cambridge, the Harvard captain, acting within his rights, deprived the visiting crew of a chance to row over the course. This action humiliated every Harvard man who heard of it; for it was the action of a hostile commander, not the action of a host. The Harvard captain had merely acted on the advice of the professional coach–a man in no way responsible to the University, unacquainted with Harvard traditions, and without an inheritance of college sentiment and idealism. He was hired to turn out a winning crew, and he gave this advice simply in the performance of his duty.
The magazine went on to posit that intercollegiate athletics had better be taken more seriously, because it affords "the principle medium in which the undergraduate's social morality is practically developed" and "the most potent means for the development of character." How many college coaches today would make winning subservient to treating the opposing team as esteemed guests? My guess is that the authors of the 1905 Outlook article would shudder to know.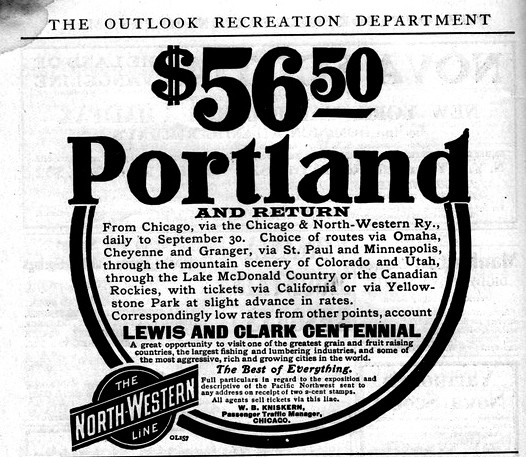 'The Money Power in College Athletics'
The cover story's author, Clarence Deming, is a Yale alumnus who dissents from the large athletic budgets he witnessed during his scholastic days, as well as the tendency to recruit young talent at ever more impressionable ages. He begins by quoting a letter from a prep school student who explains how he wound up at Phillips Exeter Academy, where enrollment was flagging due to 5 years of athletic losses*. The youngster had established a reputation in baseball, and a man he knew asked if he wanted to return to school, where he would get tuition and rent covered:
I was to start at Christmas. Mother and I talked it over and thought it would be a good thing to take it. A week or two afterward the same man wanted to know how I would like football. I told him first-rate, and it all ended with my leaving _____ and coming over here immediately. I tried for the big team and got there.

The football game was grand. We pushed into their center time and time again until we had it all worn out, and then ran the ball right up the field. All one side the field was blue and white, Andover's colors, and the other side Crimson and Gray, our colors. There were 5,000 people in attendance. When the game finished, the crowd rushed into the field and swung us on their shoulders and away we went down the field to the dressing-room. Fireworks, horns, etc., were started before we left Andover, and when we got to Exeter they got out the band and we marched all over town and we made every one of the faculty make a speech. Then there was a monstrous bonfire on the campus amidst the fireworks and general rejoicing. Everybody was shaking hands and cheering, and, in fact, I never saw or experienced anything like it before.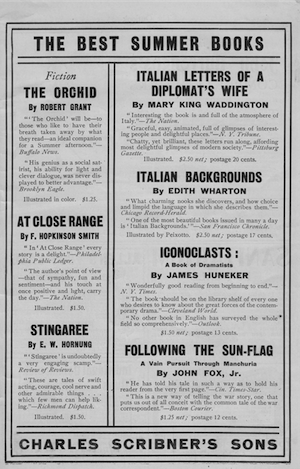 It happens that NFL quarterback Carson Palmer, who won the Heisman trophy at USC, was in my high school class. Our teams won state championships in football, basketball, and several other sports besides that year. I can imagine us caravanning back to campus and even a bonfire. But a popular demand that every one of the faculty make a speech? I wish I knew what was said in the Exeter speeches!
Anyhow, Mr. Deming was alarmed by the young Exeter man's experience.
"All the phenomena are there incarnate in the single budding athlete," he writes. "The village youth of prowess on the rural ball field detected by the keen-eyed Exeter 'scout;' the temptation unrecognized by the simple boy as a lure to professionalism; the quick transfer to the field of athletic heroics; and the first sowings of the seed to ripen into the masked academic 'ringer' at some big university."
He goes on to detail what he regards as the excessive budgets dedicated to athletics at 4 year universities, even when profitable. The athletic programs at Yale reported income of $106,396 in 1904 (roughly $2.5 million in today's dollars), he reported, a figure that represented the pay of 30 full professors at the time.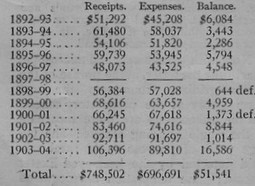 He worries, too, about the luxuries to which the student athletes are accustom. "'Traveling' has its parlor cars and its host of substitutes taken along, not to fill athletic gaps, but as a present privilege," he observes. "'Hotels and meals' have their best rooms and special fare... 'Trophies'–they cost $2,623 two years ago–spell gold and silver watch charms, silken flags ornately hung, photographs, individual, collective, and of rival teams..." And only then does he finally come to the core of his anti-athletics argument:
Thus at Yale, as at her sister universities, the athletic system falls into paradox. On the one side are the strenuous physical effort and discipline which in many respects are good; on the other side are the mercenary spirit, the wastage, and the luxury which are in all respects bad. The college athlete of the sward or of the water on the physical side finds temptation to masked professionalism, to the sacrifice of scholarship in athletic excess, and to the giving of undue dominance to the verb to win. But from all these, particularly if he is poor or of moderate means, he incurs less peril to character and purpose than in his transit from simple living and high thinking to the training table that costs $20 a week per man, and the fiscal regimen that it symbolizes. 

He will find in that changed life of his some things that must confuse his logic and his ideals. If he takes a dollar for private athletic instruction, he is unfrocked as an amateur; yet he may have daily and intimate contact with a high-salaried professional coach, and take from him all the tricks of the trade. He must not enter a contest for the smallest money prize; but he may barter his athletic fame for a commission from a tobacco trust or be subsidized through college by the grant of a score-card privilege. He will be told–very likely by some of his professors–that all this is but a reflection on the academic life of the mania of materialism in the outside world; but not so often told that, even if such is the facts, it rests upon the culture, the refinement, the scholarship and the ideals of the university to set the pace toward the opposite pole. Statistics of graduate vocations are showing us much in these days of the drift of the new college men away from the learned professions toward a life work of "affairs." It would be edifying if we could know how large a factor in those returns is supplied by the athletic group in whose college life the dollar is so vivid, so pervasive, and so potential. 
'Reflections of a Sub-Freshman's Father'
The Outlook kept on the subject of college athletics in the other piece teased on its cover, a father's reflection on higher education on the eve of his son's matriculation.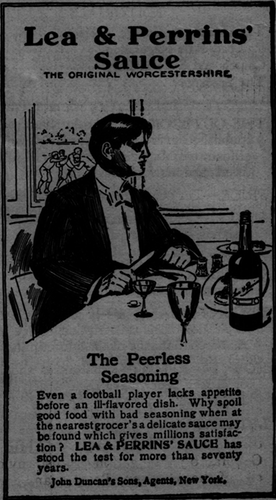 How to choose the right institution? "Most important, proper, and natural of all is the feeling that he should go to his father's Alma Mater," he writes, but not every son will follow his father's path, so he muses on a more idiosyncractic method:
One of my friends, an older and a wiser man than I, once had this question to solve for his son, and he did it in the following original way. He said to his boy, "Now let us make up our minds regarding the six or eight colleges which may attract you. Then you and I will pack our bags and visit each. You will investigate in your way, and I will in mine. Thus they set out. Arriving in place, the young man inspected the laboratories, lecture-rooms, the library, and dormitories. The father, however slipped off by himself and hunted up the janitors of the various halls and dormitories, made himself agreeable to them with a few cigars, and asked them how the students behaved at night; what was the general spirit regarding disorder and mischief of various kinds, etc. 
While enamored of this approach, the author himself opts for a very different method. He chooses to focus on an institution's approach to intercollegiate athletics. His counsel turns out to be more radical than what The Outlook's editors suggested:
To my mind, there can be but one conclusion: intercollegiate contests as at present conducted are demoralizing and harmful in almost every particular; and when it comes to a question of my own son, that college would claim him whose president or other powers had the 'sand' either to abolish intercollegiate contests completely or to restrict them to one or two games or boat races with a natural rival and in vacation. Nor can I imagine any president reaching any other conclusion if he rids himself of the pressure of insistent and misguided alumni...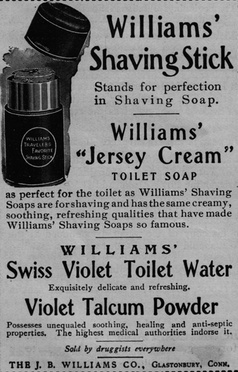 The important lessons that a young man learns from athletics, of which their are many, can all be gleaned from what we now call intramural sports, he argues, but as soon as sport is treated not as recreation, but as serious work, it displaces academics. Take football, with its daily practices, complicated formations, and difficult signals: whole afternoons are given over to it! "Every fall we read of teams that are sent off into the country to cool down and get their nerves in order several days... before an important Saturday match," he writes. "All the while these young people were away at games abroad, or were refreshing their nerves, all the while the cripples were nursing their strained knees or other wounds, their classmates were marching uniformly ahead through the propositions of Euclid, the pages of the classics, or the experiments of the laboratory. What folly to think or speak of the members of the team as otherwise than shirking!"

Then there's the "brutality of the game," the fact that "to 'do up' the players of the opposing side is one of the chief moves."
In an aside that anticipates a subsequent generation's racially prejudicial attitudes about black people in sports, the author then muses on the "curious fact" that the better a college football team, "the more strongly do the names of the players suggest that Celtic or Germanic flavor which we associate with the police force of, say, New York or Boston." (The mascot of my alma mater, Pomona College, was the Huns in those pre-World War I days.)
"The haunting question arises," the author continues, still speaking of the allegedly super-athletic Celts and Germans (perhaps even an ancestor Friedersdorf among them?) "as to whether they are the real thing in the line of college student, or a kind of student for revenue mostly." In any case, he continues, the newspapers and magazines of the day are filled with the height, weight, statistics, and injuries of college athletes, and yet "surely no man properly informed can believe that good work will be done by any student whose mind is constantly on a contest of this sort, in which he feels the honor of his college to be at stake."
The Classiest Ad For Sugar Wafers Ever Published?
The brand is Nabisco, and its advertising copy verges on poetic: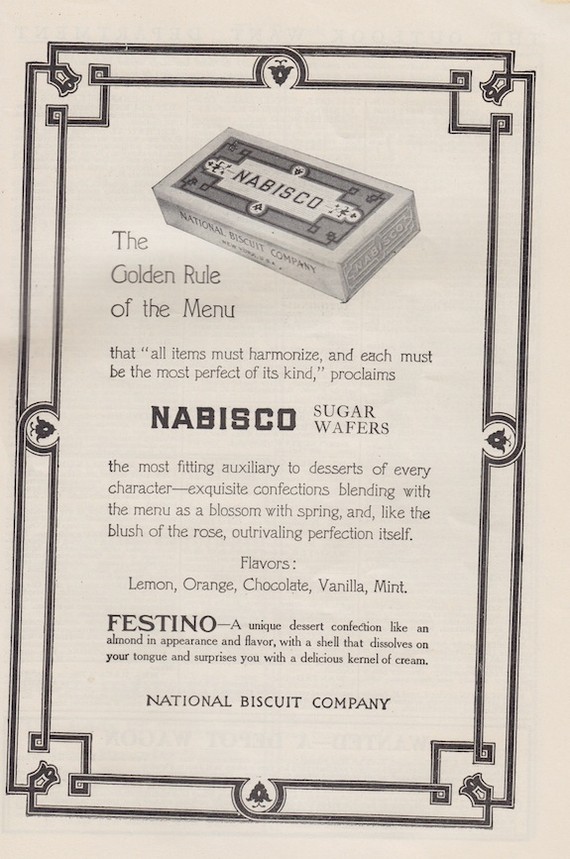 The Front of the Book
As noted, The Outlook was a newsweekly, and its opening section is a digest of current events. The lead item: a controversy about railroad rebates given to certain freight customers. Subsequent items hold more interest for the modern reader.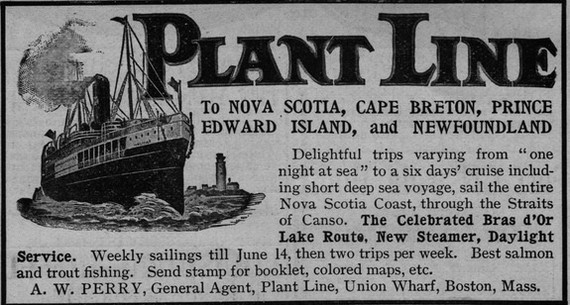 For example:
"The threatened boycott of American goods has awakened the commercial interests of this country to a realization of the truth that we cannot habitually insult China by treating with indignities her citizens traveling in this country and at the same time develop a profitable commerce with the Chinese..." This during a period when Chinese laborers were forbidden to immigrate, and even lawful Chinese visitors were treated with hostility and suspicion as a result.
A "18-hour" train traveling from New York to Chicago derailed, causing 21 deaths, many injuries, and a fire.

"Much of the mail matter carried on the train was destroyed or damaged by the fire, direct evidence of which has been received by The Outlook in the form of many half-burned letters from Western subscribers," the magazine noted. The wreck was caused by a switch in the wrong position, and it's wild to read speculation about the cause: "It may have been a boy who thought that a freight train wanted to go in on the siding; it may have been by a person who had a grievance against the road; or it may have been by some one who was curious to see what would happen when a train traveling at the rate of seventy or eighty miles an hour left the track." The Outlook suggested safety reforms be taken, including slowing down.
One dispatch reported on political turmoil in Sweden and Norway. The best part? A description of Swedish parliament convening to discuss the matter: "The session was opened by King Oscar in person, arrayed in royal robes of purple and ermine, with the crown on his head, the scepter in his hand, and surrounded by the princes of his high court functionaries in full uniform." Presumably a turkey leg and a bejeweled goblet of mead were at hand too. 
Several items were dedicated to the Presbyterian Church in Canada and its several successes–notable mostly because that was considered a subject of general interest.

 

"Havana's streets were densely packed on Tuesday of last week by tens of thousands of Cubans who were there to show their love and reverence for Maximo Gomez, hero and patriot. More than once the people manifested a desire to remove the coffin from its place on the gun-carriage in the midst of an imposing cortege and carry their leader's body in their hands. The love for Gomez is not mere admiration of a soldier and revolutionist. In peace he showed eminently the qualities of restraint and wisdom. Men who urged him to head a political faction now see that he was more farsighted than they when he gave his allegiance to President Palma and urged his countrymen to abstain from opposing the guardianship of the United States."
 "The news allowed to be published last week regarding the conferences to end the Russo-Japanese War and the Franco-German conflict over Morocco confirm the opinion that these meetings will make for permanent peace."
Amid general strikes and protests, the Czar of Russia was said to utter these words: "Dissipate your doubts. My will is sovereign, and it is my unalterable will that the admission of elected representatives to the works of the State shall be regularly accomplished."

Later, his minister did what flacks do, clarifying, "His Majesty's words contain absolutely not the least indication of the possibility of modifying the fundamental laws of the Empire." The Outlook observed that "despite all the ups and downs of progress in Russia, one characteristic stands out with increasing clearness–the greater freedom and boldness of speech indulged by Russians of all classes. At the recent trial of the murderer of the Grand Duke Sergius, the murderer's lawyer declared that 'as a result of the complete bankruptcy of our present economic, political, and military systems... two great forces are at war–the old regime, established centuries ago, and young Russia, which aspires to liberty. Civil war is close at hand.'" 
President Roosevelt spoke at Clark University's commencement and waxed germanic: "Germany has contributed a great element to the blood of our people, and it has given the most marked trend... to the whole system of training students and scholars. In taking what we should from Germany, from this great kindred nation, I wish that we could take specially the idealism which renders it natural to them to celebrate such an event as Schiller's life and writings; and also the keen, practical common sense which enables them to turn their idealistic spirit into an instrument for producing the most perfect military and industrial organization that the world has ever seen."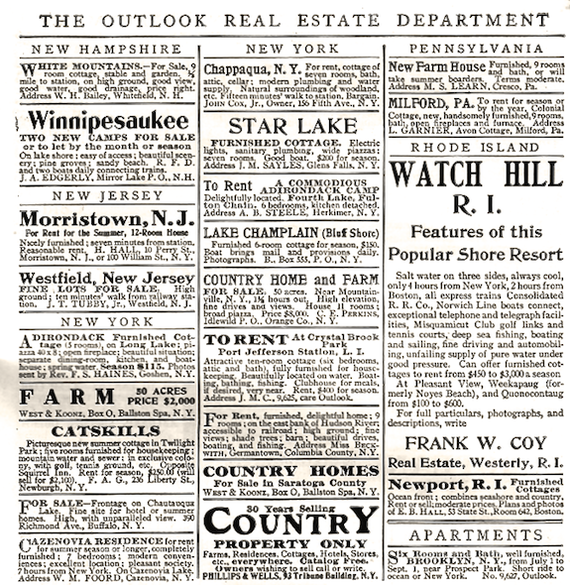 Got Reindeer Milk?
There is too much in this one magazine to render it in full, but it would hardly be fair to close without alerting readers to a passage about surviving in the Alaska territory:
A mistress went to Castle Garden, when that was a port of entry, for a maid. She found a demure little Swede.

"Can you cook?" the mistress asked. "No men." "Can you sweep and make beds?" "No, mem." "What, then, can you do?" she asked, in desperation. "I can milk reindeer, men."

In that day, to come to this country to milk reindeer was like going to Tahiti to cut ice. Now you can cut ice in Tahiti, and there are thousands of reindeer in this country waiting to be milked, and prepared to furnish butter and cheese and perform duties which they alone can perform.

The civilization of Alaska by reindeer is one of the prettiest stories ever told of imagination justified by experience; one of the most convincing stories of the glance of the prophetic eye fully and speedily realized. It is also the story of discouragement, ridicule, persistence against overwhelming odds, and, what is more difficult, of the combat with skepticism, against which only the most enlivening faith, undaunted hope, and unconquerable energy can make way.
If you're hooked, the rest of the article can be read here. If you'd like to be notified by email the next time an installment in this series on U.S. history as seen in magazines is published, email me at the address below with "mhistory" in the subject line.
A previous installment in this series is here.
_____
*"Exeter has been defeated in everything for the last five years, and as athletics are what keeps both schools running, it means a great deal to Exeter. Exeter has been going down and down, till this year she has only about 250 students to Andover's 500. This victory will bring lots of students to Exeter next year, and if we defeat them at baseball in the spring it will bring lots more."