Just How Bad Was the Great Blizzard of 2014?
The first blizzard of the very young new year is (still) here and the East Coast is digging out on a freezing morning.
This article is from the archive of our partner
.
The first blizzard of the very young new year is (still) here: the East Coast is waking up to a freezing morning, New York City school kids are getting a rare snow day, and Topsfield, Mass., saw an incredible 23 inches of snow get dumped on it. See how everyone is coping on the morning after the winter storm.
Boston Strong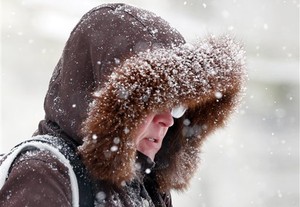 The storm had a special place in its snowy heart for Massachusetts, dumping feet of the white stuff down on the state. According to snowfall totals compiled by the Weather Channel late last night, the storm dropped 23.5 inches in the town of Topsfield. (around 30 mins north of Boston.) The neighboring towns of Boxford and Georgetown saw some 21 inches and 17 inches of snow respectively. And Boston proper got walloped with close to 11 inches of snow. That's almost double the amount of snowfall reported at Central Park last night, so New York still can't claim to out-weather its neighbor to the North.
Of course, to move all that snow you need plows and the indispensable human beings who operate them. In Boston, the city's snow plows were having a rough go of it last night, and struggled to keep up with the falling snow. In suburban Philadelphia, one worker was tragically crushed under pile of road salt that collapsed, New York's Daily News reported. In New York City, you can actually track the snow removal status online.
A Rare Snow Day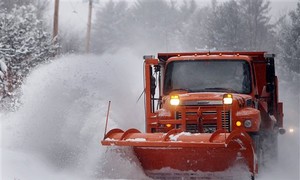 There should be some unwritten rule that East Coast kids, because they have to put up with way more terrible weather than their California counterparts, are entitled to least one snow day per year. Unfortunately, this is not always the case. And it's especially not true for New York City's public school kids — since 1978, the city's public schools have only shut down eight times due to weather. (Today will be the ninth.) Today's closure will be the first since Hurricane Sandy crippled the city in 2012 (which was exponentially a lot less fun.) We would urge New York  City kids to grab a sled, but they probably don't have one since they don't know what snow days are.
No Fly Zone
Trying to get in and out of cities in the storm's path was close to impossible over the last 24 hours. The storm has temporarily grounded all flights at JFK Airport in Queens, and over 500 flights slated for Friday at New York City's three major hubs have been canceled, The Wall Street Journal reports. There were also massive delays and cancellations out of Boston, Philadelphia, and Chicago's airports, too, as the cancellations rippled out across the country. Fox News reports that at least 1,500 flights were canceled on Friday and 2,300 cancellations and 3,900 delays on Thursday afternoon.   To the East Coast and Midwest folks who were planning to have a nice vacation in Hawaii this weekend — you have our deepest sympathy.
... And It's Freezing Out
Many New Yorkers, (including some of staffers at The Wire) are working from home today, in an effort to avoid messy roads and snarled public transit. Lucky for them they haven't yet faced the cold outside, with record lows up and down the Eastern seaboard. Weather genie Eric Holthaus pointed out that this morning's air temperatures were plummeting all over the country. (On this map, the red does not mean hot.)
All that said, thankfully Seamless is still working and there are plenty of restaurants still delivering. Tip well. Be safe. Stay warm.
This article is from the archive of our partner The Wire.