I have no world-changing point to make, but the scene below, this weekend, was quite amazing. Here is the back story:
Yesterday afternoon, my wife and I came back to DC after a productive initial visit to Greenville and its environs in "the upstate" of South Carolina. We'll go there again, with a lot more to report.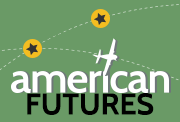 Reinvention and resilience across the nation
Read more
As always, I'd been obsessively studying the aviation weather forecasts to figure out the right time to make a shortish (two-hour) flight. We couldn't start too late in the day, to avoid worries about racing sunset. We wouldn't go at all if there was a prospect of icing.* I was looking for surface winds within the comfort zone, and so on.
The result was that early afternoon yesterday looked like the sweet spot. The same jet-stream "clipper" pattern that has brought yet another polar freeze to the eastern United States had pushed away most of the clouds -- both the low-level clouds that complicate the process of landing, and the ones that, at altitude, would make you worry about airframe icing. The winds would be strong but would diminish through the day, and were lined up directly with the runway at our destination. And if, as we were traveling, they turned out to be worse than expected, we could land somewhere else with bigger runways, better aligned with the wind, and wait them out.
It was cold enough yesterday morning in Greenville to ice up a fountain in front of the landmark Poinsett Hotel.** After taking off we encountered, as foreseen, very cold and fairly bumpy conditions.  At 7,000 feet, the winds aloft were blowing at 50 to 60 knots, or almost 70 miles per hour -- similar to when I flew with the Marketplace crew into Eastport, Maine. This makes for a kind of jostling that isn't dangerous but can be unpleasant. Through most of this flight it wasn't bad at all.***
Here is the FlightAware track of the journey, more accurate than Flight Aware sometimes is. The dotted blue shows the Victor-airways based initially cleared route; the green, the route we actually flew, including shortcuts we were given along the way.