Georgia's Debtors' Prisons Belong in a Dickens Novel
In 2000, the state had the bright idea to privatize its probation services. The result has been unjust, unconstitutional, and entirely predictable.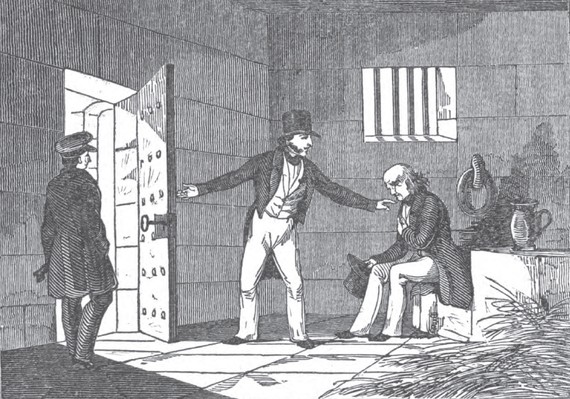 Largely lost with a Sunday posting during a holiday weekend were two pieces of excellent reporting by Rhonda Cook in the Atlanta Journal-Constitution. Cook shone a light on private probation companies and the damage they have wrought in Georgia. Both pieces, sadly, are still hidden behind the Journal-Constitution's paywall (I've asked the good folks there to "tear down those walls!") but this is a national scandal—other states have tried to privatize their probation services—and it deserves national attention.
The main piece from Cook is titled "Spotlight Falls on Private Probation Companies Over Fees, Supervision," and it tells the story of how one state has outsourced its probation services to private companies, the executives of which have huge financial incentives for charging as many people as much as possible for "services" that would keep them out of jail. The result is a form of  the statewide "debtors' prison" you've probably read about in Dickens (whose father, incidentally, spent time in such a prison). Cook's story begins with this:
In 2000, Georgia cleared the way for private companies to supervise low-level offenders, claiming it freed up overburdened state probation workers while costing taxpayers nothing.

But records reviewed by the Atlanta Journal Constitution show some in the industry have pocketed large fees while, in at least some cases, doing little to supervise those under their watch. And despite promises that taxpayers would pay nothing to supervise the offenders, they have footed the bill when the probationers are arrested and jailed because they owe money to the company, not the courts.

A string of lawsuits argue the system effectively criminalizes poverty and that some companies have illegally forced offenders to pay for things, such as electronic monitoring and drug testing, beyond what was ordered by the courts.

Siding with that argument, a Georgia judge last year temporarily stopped the state's largest private probation company from doing business in east Georgia. the Georgia Bureau of Investigations is also looking into whether another company has illegally tacked on fees.
This is not exactly a new development and Georgia officials can hardly claim to be surprised by what the Journal-Constitution has found. In November 2012, for example, the Southern Center for Human Rights, based in Atlanta, issued a report warning of the dangers of the state's move to privatize its prisons and probation services. "There are 35 private probation companies in Georgia operating in over 600 courts that enjoy minimal oversight because of a state statue that excludes them from open records requests," the SCHR report noted.
When you have a lack of transparency and public accountability, when you have perverse profit motives, you get optics like these. Cook writes: "For example in Cobb County State Court, which supervises its own probationers, charges $22 a month to supervise felony probationers. The private companies, however, charge nearly double—$39. There are also add-on fees, and probationers can be required to pay even more for drug testing, electronic monitoring and classes." Probationers like Kathleen Hucks:
Hucks was walking her dog early on Memorial Day 2013 when an officer stopped to question her in an unrelated case and discovered an outstanding warrant from a $156 debt to Sentinel from years earlier.

Hucks had completed 24 months on probation for misdemeanor possession of marijuana and traffic offenses in 2008 She had also paid more than $3,200 in fines and restitution, and then continued to pay Sentinel a monthly supervision fee and for drug testing through the end of the year even though that was not part of the judge's sentence, according to documents.

Hucks said she thought she owed Sentinel nothing until she was picked up more than 4 1/2  years later. The 58-year-old woman was in jail for 20 days—at a cost to taxpayers of more than $1,000 plus medical care—until her husband could raise the $156 to resolve her debt to Sentinel.

"Georgia's gone back to being a debtor's prison state," said attorney John Bell, who represents more than a dozen people who were jailed because the private companies said they still owed supervision fees.
In some ways, Cook's sidebar piece, titled "Connections Matter in Private Probation Industry," may be even more disturbing than the main story for in it she explains precisely how all of this happened. It's the eternal story of American politics: money, lobbying and special interests all combining to make life more difficult and unfair for the poor and the dispossessed-- those who most need the law's protections. Cook writes:
Politics have figured in the private probation movement from the beginning.

Two of the most powerful allies of the idea were Board of Pardons and Paroles Chairman Walter Ray and board member Bobby Whitworth, also once the commissioner of the Department of Corrections.

Whitworth and Ray were accused of taking money from a company founded by two former Department of Corrections officials. Whitworth said the $75,000 that Detention Management Services paid him was for consulting and not lobbying, but he was still convicted and sentenced to six months in prison, but he was sentenced as a first offender so he has been cleared of the conviction. Ray was forced to resign.

DMS, headed by two former prison officials, Lanson Newsome and Bud Black, was then sold to Sentinel Offender Services for $8.2 million just a few months after the law took effect.

Another official who left his government job to start a private probation business was former Deputy Corrections Commissioner Walter Zant, who died in 2009. He secured contracts for ZSI Probation Services with several small towns just south Atlanta—Barnesville, Hampton, Jackson, Locust Grove and Molena to name a few.
And so on. There is the Private Probation Association of Georgia, which plans a legislative "presence" this session to try to fight back against these doubts. There are beleaguered state court judges, who have begun to express skepticism about Georgia's experiment even as they note there is nothing unconstitutional about a state outsourcing one of the key functions of its criminal justice systems (the Georgia Supreme Court is expected this year to wade into the dispute). And then, from Cook, there is this wonderful passage:
Tony Moreland, the co-owner of Georgia Probation Services, said the industry is filling a need yet has an image problem. "We have become the big, bad bogey man," he said. In response to allegations that some companies have used the threat of jail to get more money out of probationers by requiring extra services, Moreland said, "It doesn't mean the whole industry is crooks and thugs."
America's new love-affair with private prisons is bad enough. But here we have private entities, acting under color of law, protected by law from having to be transparent or accountable, preying on people who traditionally have had little access to the courts or political power. Georgia's lawmakers should end this experiment now, before it gets worse and before the state judiciary, or the federal courts, put an end to this grim business.  Public probation has never been perfect. But private probation, and debtors' prisons, went out with Oliver Twist.