America Passed More Abortion Restrictions in the Last 3 Years Than the Previous 10
A survey of abortion trends has produced a somewhat startling quantification to the increasing effort to legislate restrictions to abortions.
This article is from the archive of our partner
.
A survey of abortion trends has produced a somewhat startling quantification to the increasing effort to legislate restrictions to abortions. From 2011 to 2013, 205 abortion restrictions were enacted in the U.S. That's more than the total number enacted for the entire decade between 2000 and 2010, according to the Guttmacher Institute's year-end report.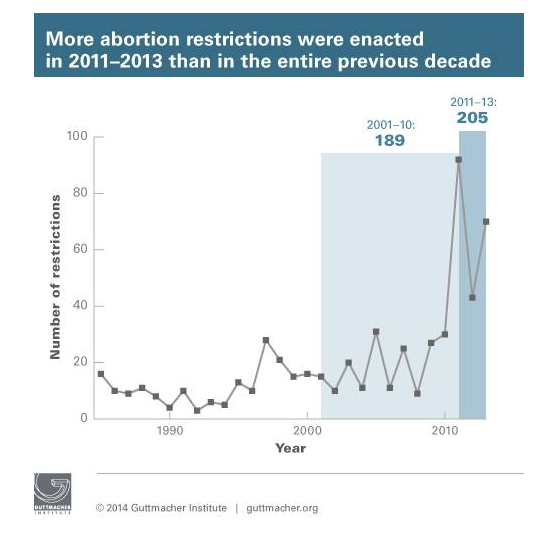 Their numbers also detail another effect of that increased legislation: essentially, the percentages of women living in abortion-supportive states and abortion-hostile states have flipped. In 2000, 31 percent of women lived in states hostile to abortions, and 40 percent of women lived in states supportive of access to the procedure. Now, 31 percent of women live in supportive states, while 56 percent of women live in hostile states.
According to the report, 2013 was the second most active anti-abortion law year, second only to 2011. The relative lull in 2012 is explained in part by the quirks of state legislative sessions. Texas, for instance, didn't hold a legislative session in 2012, nor did North Dakota. The two states combined to enact 13 restrictions against abortion in 2013.
Some of the active states on that front include:
Texas: In one of the most high-profile cases of state abortion legislation last year, the state passed a wide-ranging bill that banned abortion after 20 weeks of pregnancy, and placed a number of new restrictions on clinics. Those restrictions, including a requirement that all abortion-providing doctors have admitting privileges at a nearby hospital, forced the closure of about a third of the state's clinics when the law took effect in the fall. Meanwhile, as Al Jazeera America reported Thursday, Texas-based anti-abortion "pregnancy centers" are doing just fine, and face virtually no restrictions in the state. That's despite the fact that "pregnancy center" workers can provide ultrasounds, often dress in white coats, and frame themselves as a competing resource to women's health clinics.
Michigan: In late 2013, the state enacted a measure that bars private health insurers from covering abortions, unless the woman's life is in danger. Michigan is now one of nine states with private insurance restrictions on abortion, including Arkansas, North Carolina and Pennsylvania. In Michigan, women will have to purchase a separate rider before they get pregnant (that provision is derisively called "rape insurance") in order to have the procedure covered by their providers.
North Dakota: This state now has what's widely regarded as the toughest abortion laws in the country. The state passed four anti-abortion measures in 2013, including a "fetal heartbeat" ban on abortions, which can effectively ban the procedure after six weeks of pregnancy. But abortion access advocates believe that particular provision can be overturned in court, and the provision is blocked while those legal challenges proceed. Other provisions of the law are also facing legal challenges, including one limiting the use of drug-induced abortion procedures. The state has only one abortion-providing clinic.
Ohio: Ohio had its own omnibus anti-abortion law take effect this fall, one of a series of incremental laws in the state passed with a quickened pace since John R. Kasich's election as governor in 2011. The measures were passed as part of the state budget. Doctors in the state must test for a fetal heartbeat, and inform women seeking an abortion of the likelihood of her carrying the fetus through a full-term pregnancy. Public hospitals are also barred from signing required admitting privileges agreements with abortion providing clinics and doctors. And, the budget bill makes it harder for abortion-providing clinics to get family planning funding from the state.
There are other states, like Kansas, Wisconsin, and North Carolina, also facing a recent wave of restrictions on abortion that nudge at the procedure's constitutional protections stemming from the Roe v. Wade decision. Last year's uptick in legislation was inspired in part by the anti-abortion movement's determination to use the Kermit Gosnell trial as a rallying cry for state-by-state restrictions. But Guttmacher's numbers indicate that the foundation for the latest anti-abortion push comes from conservative Republican victories in recent statewide elections.
This article is from the archive of our partner The Wire.