The Surveillance City of Camden, New Jersey
A community beset by crime, and the intrusive tools they're using in hopes of stopping it.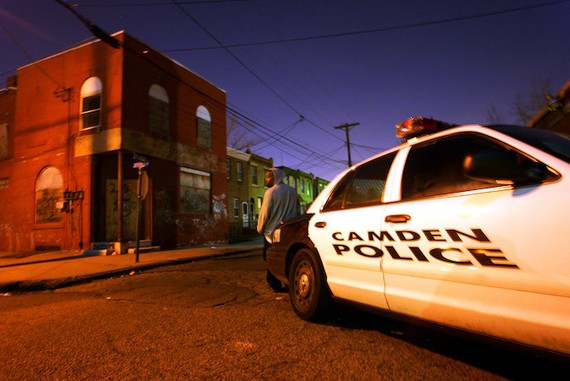 Any list of America's most dangerous cities puts Camden, New Jersey near or at the top. Camden's murder rate is a staggering 12 times higher than the national average.
Burglaries recently jumped 65 percent in one year.
More recently, its reorganized police department, run under county auspices, has made gains against a crime epidemic that peaked in 2012. They've done so in part by patrolling one of the most impoverished cities in the country with cutting edge technology that would creep me out if it were imported into my neighborhood, but that I'd perhaps welcome if I lived in a place with third-world crime rates. A Matt Taibbi dispatch from the city describes the "force multipliers":
One hundred and twenty-one cameras cover virtually every inch of sidewalk here, cameras that can spot a stash in a discarded pack of Newports from blocks away. Police have a giant 30-foot mobile crane called SkyPatrol they can park in a neighborhood and essentially throw a net over six square blocks; the ungainly Japanese-robot-style device can read the heat signature of a dealer with a gun sitting in total darkness. There are 35 microphones planted around the city that can instantly detect the exact location of a gunshot down to a few meters (and just as instantly train cameras on escape routes). Planted on the backs of a fleet of new cruisers are Minority Report-style scanners that read license plates and automatically generate warning letters to send to your mom in the suburbs if you've been spotted taking the Volvo registered in her name to score a bag of Black Magic on Seventh and Vine.
The South Jersey Times has more:
When Camden police first began bugging the city with gunshot-recording microphones in the Whitman Park neighborhood, officials realized the challenge ahead of them was much lager than expected when it was discovered a full 30 percent of shots fired weren't even being reported... all Camden County patrol cars are equipped with cameras that automatically take pictures of every single license plate it passes on the road... the department is currently developing a plan to work with selected block captains and community leaders, granting them access to views of street cameras in their own homes. The residents — selected by the department — would be able to view a panorama of a specific intersection in their neighborhood, and alert police to any problems they see.
Technology that's surely a relief to many besieged residents of crime-ridden neighborhoods is, in addition, a chilling reminder of how quickly a state of dystopian surveillance could be installed in any city, even one where crime rates are normal. All I can hope for after reading about Camden is that crime there is stopped so successfully that residents one day push for an end to surveillance and win.