The Navy Fraud Scandal That Just Won't Go Away
The DOJ is continuing an investigation which has already ensnared more than a handful of Navy officials.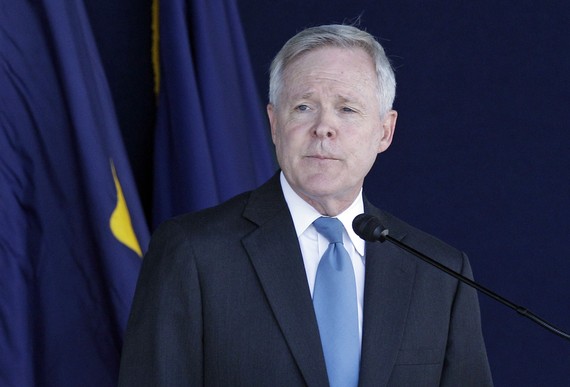 A Navy fraud investigation is becoming one the largest scandal's for the armed service in recent years, and the investigation is spilling over into 2014.
Leonard Glenn Francis, the CEO for Singapore-based Glenn Defense Marine Asia, was arrested in September for allegedly bribing officials with cash, trips, and other items in exchange for ship information.
So far, six Navy officials have been tied to the incident with two arrested.
"I certainly don't think we've seen the end of it," Navy Secretary Ray Mabus said earlier this month, discussing the case publicly for the first time during a press conference. "I think it's fair to say that there will be more disclosures coming in."
The secretary declined to say if he believes those disclosures will result in the arrest of more Navy officials.
The investigation—and resulting media focus— has put how the Navy handles its contracting unwillingly under the spotlight, but Mabus said he would "rather get bad headlines than let bad people get away."
John Bertrand Beliveau Jr., a supervisory special agent with the Naval Criminal Investigative Service, also plead guilty earlier this month to participating in the alleged fraud.
And the Justice Department noted in a press release that the investigation is still ongoing to determine the full scope of the alleged attempt to defraud the Navy. Mabus couldn't comment on the amount of money that has been defrauded. But in court documents, U.S. attorneys characterize it as a "multi-national, multi-year, multi-million dollar fraud on the United States Navy."
Mabus touted the Navy's hand in launching the investigation. Though that started in 2010, GDMA continued to hold naval contracts well into this year. Mabus explained that suspending a contract with GDMA before they were ready to move forward with charges would have signaled that something was wrong and "GDMA would have gotten the contract back."
"Without the Navy and Navy's actions, there would almost certainly be no story today," Mabus said.
While the investigation continues, the allegations of fraud already have the Navy rethinking how it handles some of its contracts. Those actions include increasing the number of items it can set a certain price for while at foreign ports, centralizing and standardizing how top commanders deal with supplies overseas, and putting together a "red team of experts" who are to review and possibly recommend changes to how the Navy handles contracting. An audit of husbanding and port services contracts is expected in June.
Mabus said since 2009 the Navy has suspended more than 250 contractors and blocked approximately 400 more from holding naval contracts. Elliott Branch, the deputy assistant secretary of the Navy for Acquisition and Procurement, said that represents a fraction of the tens of thousands of contractors the Navy deals with.