I mentioned yesterday that it was surprisingly odd to visit, as a reporter, a place I thought I knew by heart. It turns out that I didn't -- or that it has changed, or that you see different things this way, or some combination of the above. In any case I am seeing things in Redlands, California, that I hadn't seen through the years of my youth. Overall they are encouraging.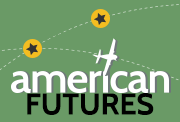 Reinvention and resilience across the nation
Read more
Yesterday we went out with the Marketplace crew to see the last operating fruit-packing house in Redlands, and for that matter in all of (enormous) San Bernardino County. When I was growing up, there must have been 20 of these operations within the city itself. Since then the citrus groves have largely -- though not completely, as we'll explain --  moved to cheaper land and larger tracts in California's Central Valley. And as computerization has come to the packing houses, a single facility can handle as much fruit as three or four of them would have done in the 1960s. Volume is high and times are good for the Redlands Foothill Groves packing house, we were told, as it handles fruit from a wider geographical range of groves for a still-growing global market. But it's the only one that is left.
As a teenager I'd earned money picking oranges, which is unbelievably difficult and skill-demanding work, and managing smudge pots on cold nights. But until this week I  had never been inside a packing houses.
We had a tour of this one, courtesy of its manager, Manuel Martinez, which was impressive in two ways. One was the speed, volume, intensity, and industrial scale of the process as a whole. The other was the combination of early machine-age and recent computer-age technologies embodied there.
In the first category: belts, bins, pulleys, boxes, and other devices to handle huge quantities of freshly picked fruit, plus the human inspectors and sorters who judge the oranges as they go by and pack them accordingly. In the second: computerized scanners that quickly conduct 360-degree views of every one of the millions of oranges that speed along on a belt, to detect any blemish or color variation.